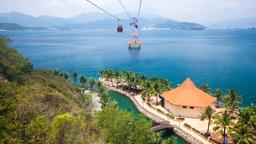 Hoteles en Nha Trang
Busca Nha Trang en cientos de webs de viajes en segundos
Información útil
| | |
| --- | --- |
| Temporada baja | mayo |
| Temporada alta | agosto |
| Precio medio (entre semana): | $ 5213 |
| Precio medio (en fin de semana): | $ 5751 |
el mes más barato
68%
bajada de precio esperada
el mes más caro
112%
aumento de precio esperado
(precio promedio en las últimas 2 semanas)
dom. - jue.
(entre semana)
(precio promedio en las últimas 2 semanas)
vie. y sáb.
(noche de fin de semana)
Preguntas frecuentes al reservar hoteles en Nha Trang
¿Cuánto cuesta un hotel económico en Nha Trang?
Los usuarios de KAYAK encontraron habitaciones dobles en Nha Trang a partir de $ 360 en los últimos 3. El precio promedio es de $ 4433.
¿Cuáles son los barrios más populares para hospedarse en Nha Trang?
¿Cómo encuentro hoteles cerca de mi ubicación?
Echa un vistazo a nuestros
mapas de hoteles
y encuentra los mejores cerca de ti.
¿Dónde hospedarse en Nha Trang?
Heatmaps te muestra la distancia entre tus opciones de hotel y las zonas principales de actividad para que encuentres el sitio ideal para hospedarte en Nha Trang
Las mejores habitaciones en Nha Trang
Los mejores hoteles en Nha Trang cerca de Sailing Club Nha Trang
Ver todo
1
9,1 Excelente (5.294 opiniones)
Este hotel ofrece 154 habitaciones con balcón con vistas a la hermosa costa de Nha Trang con sus apacibles aguas cristalinas y las lejanas islas tropicales con exuberante flora y fauna marina. Bienvenido a Novotel Nha Trang, un hotel de 4 estrellas convertido en un número uno en la ciudad y situado a unos minutos de las principales atracciones y tiendas locales. Entre las instalaciones de categoría internacional de Novotel se incluyen una piscina al aire libre, playa privada, un exclusivo spa y mucho más.
10,0 Excelente
Ventajas: Everything. A great hotel doing everything right.
7,5 Bueno
Ventajas: Tks for upgrade
Desventajas: Bathroom, spa area need more cleaner
8,8 Excelente
Ventajas: Very well appointed, classy property.
Desventajas: Steps in hotel room were a nuisance - not good for people with mobility issues.
10,0 Excelente
Ventajas: me encanto la habitación, con balcón y vista al mar, el desayuno maravilloso¡
7,1 Bueno
Ventajas: I am very grateful to Mr. Rayan at the front desk for my mother's sudden illness during our stay. At that time, I dialed the phone at the front desk very flustered. After answering Mr. Rayan, let us go to the front desk and tell us the nearest hospital in Chinese. Because we don't understand Vietnamese, we asked him to go to the hospital to communicate with the doctor. We communicate in Chinese and he tells my doctor the symptoms of my mother in Vietnamese. He gave us a lot of help and helped me calm down. Thank you very much Mr. Rayan of the novetel! Novetel will be our first choice for our next trip.
Desventajas: When I took a shower, the water in the shower leaked easily. My mother and I almost fell. We booked for four nights for this stay, but due to my mother's sudden illness on the first night, we had to leave and return to China immediately. After communicating with the hotel staff, the hotel is not willing to refund the remaining three nights. We had to waste three nights of room rates. This is a pity.
10,0 Excelente
Ventajas: The best sleep I have had In a long time, And the room was cleaned perfectly . Thank you . I will return . Anthony
Desventajas: Would be good if you could also have a list in the room for recommended seafood And baroque. Restarts outside the hotel. Thanks Anthony
8,8 Excelente
Ventajas: Central location Very close to the beach, good view from the balcony Food was good Breakfast was awesome
Desventajas: Very noisy on the balcony (rooms are quiet though) Pool water was very cold This was our second stay, there were less beach chairs, and they were further away from the water than before.
2
8,9 Excelente (3.320 opiniones)
Con vista a la bahía de Nha Trang, el Sheraton Nha Trang Hotel & Spa ofrece impresionantes vistas, 280 habitaciones y suites, gimnasio abierto las 24 horas y más de 1.500 metros cuadrados de espacio para eventos flexible para bodas, reuniones y eventos sociales.
10,0 Excelente
Ventajas: NOS ENCANTÓ su hotel. Todo era perfecto. Desde la céntrica ubicación, hasta las elegantes y modernas habitaciones, el servicio profesional y cálido, el excelente desayuno buffet y la piscina! Todo era de primera categoría, no podríamos haber estado más contentos. Su hotel hizo nuestro viaje a Nha Trang. Era nuestro oasis. Vale la pena cada céntimo. ¡le recomendaremos su hotel una y otra vez!
10,0 Excelente
Ventajas: The rooms are always clean, comfortable and I enjoy my sleep. Staff are always very polite and go out of their way to provide any assistance you may require. Thank you Sheraton for another great stay.
Desventajas: Sometimes the english language is limited but is overcome by other staff providing further assistance who are more english speaking
9,0 Excelente
Ventajas: Very close to the Beach, hotel had free sun beds and towels available for guests. Room was very comfortable and clean. Staff were helpful.
Desventajas: Can't really fault the hotel or our stay, just one small issue, No chairs on the balcony. The reason we booked a hotel with a balcony was to sit outside and have a drink, however it didn't ruin the stay.
10,0 Excelente
Ventajas: Our room was spacious and clean and had 2 toilets! We absolutely loved the location, right in front of the beach and the staff were always friendly and helpful.
Desventajas: The club lounge in my opinion wasn't worth it. We had to make our own drinks and sometimes the ingredients were not even there. I'd rather go to the rooftop bar and take advantage of the happy hour.
9,0 Excelente
Ventajas: Comfortable and clean room. Infinity pool is great. Location is good within the town center and walkable distance to many food options, from local to upscale choices. Also enjoyed the Gym and game room.
Desventajas: Many noisy Chinese tourists
10,0 Excelente
Ventajas: Everything ! Location was perfect !
Desventajas: Nothing !
3
8,7 Excelente (2.946 opiniones)
Liberty Central Nha Trang está en una fantástica zona de Nha Trang (Playa Trần Phú), a solo diez minutos a pie de Torre Tram Huong y Mercado nocturno de Nha Trang. Tendrás un centro de negocios, periódicos gratuitos en el vestíbulo y tintorería o lavandería a tu disposición. Pagando un pequeño suplemento podrás aprovechar prestaciones como servicio de transporte al aeropuerto (ida y vuelta) de pago y aparcamiento sin asistencia gratuito.
4,6 Aceptable
Ventajas: Location. Staff tried to help. View from hotel.
Desventajas: 1. Check in guy was noy service friendly. I told hin that he can extra charges to me and I am OK to pay. He kept showing me amount to pay. :( 2. They show loy of english channels on list. Most of them not available. My kids were hugely disappointed as cartoon channel listed was not working. They wasted lot of time as if they tries to solve it. 3. Forbuffet dinner. I asked at 8 about opening times. They said it will be open till 9:30. We went there at 9 and it was already closed. No explanation given. 4. Bathroom water was not draining properly. By this time i was tired of complaining. We had to get out pf hotel at 9:30. God knows how much time they will take to fix it.... At checkout there were only apologies and then smile.. They wanted us to wait as they send somebody to check room and see if everythibg is there. Thia is too bad for 4 star property.
10,0 Excelente
Ventajas: Large breakfast spread with lots of styles and choices. Located right in the middle of the action adjacent to the beach. Staff were so helpful and always friendly. We booked one of the executive rooms and came with a private lounge on the 20th floor, afternoon tea plus 6-8pm light dinner and free flow cocktails. Great value.
Desventajas: Nothing, the place and staff are first rate.
9,2 Excelente
Ventajas: Everything was great especially our room since our room was a signature room . It was amazing 5 nights of my stay in Nha trang
Desventajas: I don't the staffs are able to communicate with foreign english people and they have lack knowledge of the hotel facilities, quite disappointed with that. the skybar was permanent close , i do not know why nor an explanation was given to me but i did enjoy my stay nevertheless
10,0 Excelente
Ventajas: Clean. Good service. Price /quality. Polite n friendly staff. Particularly F&B staff
9,2 Excelente
Ventajas: The bedroom & bathroom was clean and the bed was comfortable
Desventajas: The roof top bar as been closed for over a month for so called renovation and I think it should be removed from the description of that part of the hotel Upon checking out the staff had told me that before the closure they were going to reopen it but they had received complaints from customers staying strictly below the roof top lounge area