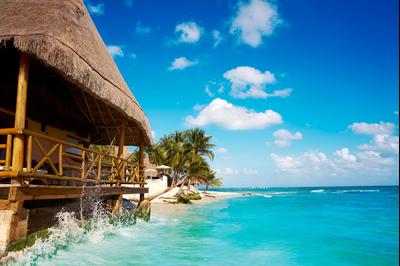 Información útil
| | |
| --- | --- |
| Temporada baja | septiembre |
| Temporada alta | abril |
| Precio medio (entre semana): | $ 11876 |
| Precio medio (en fin de semana): | $ 9059 |
el mes más barato
25%
bajada de precio esperada
el mes más caro
59%
aumento de precio esperado
(precio promedio en las últimas 2 semanas)
dom. - jue.
(entre semana)
(precio promedio en las últimas 2 semanas)
vie. y sáb.
(noche de fin de semana)
Preguntas frecuentes al reservar hoteles en Playa del Carmen
¿Dónde hospedarse en Playa del Carmen?
Nuestra herramienta Heatmaps te ayuda a encontrar el mejor lugar para hospedarte en Playa del Carmen mostrándote opciones de hotel próximas a las actividades que te interesan.
Los mejores hoteles en Playa del Carmen cerca de Playa principal de Playa del Carmen
Ver todo
1
9,1 Excelente (3.112 opiniones)
En la playa, este alojamiento de Playa del Carmen se encuentra a menos de 3 kilómetros de Paseo del Carmen, Quinta Avenida y Terminal marítima de Playa del Carmen. Playa principal de Playa del Carmen y Club de golf Playacar también están a menos de 3 kilómetros.
9,5 Excelente
Desventajas: El recibimiento no fue bueno, somos pareja y nos dieron 2 camas de 2 plazas, sin embargo me dijeron serían 2 camas queen, pedimos el cambio y todo ok, pero no sentimos calidez, comenté era cumpleaños de mi novio y no hubo ningún saludo
10,0 Excelente
Ventajas: Very nice and big resort with a wonderful integration between nature and architecture: there are a lot of free animals (monkeys, iguanas, tserekes, peacocks...) in the beautiful gardens. The buildings are clean and beautiful too. The bedroom was big, clean and convenient, although the decoration is a bit old (apparently they're planning to renovate it soon). The food and drinks are amazing! That is the best. Totally worth it!!! The staff is fantastic: they bring you drinks to your sun chairs in the beach or pool very kindly.
Desventajas: The dinner time in the buffet and restaurants goes from 6:30 to 9:30, hence the shows in the theater shouldn't start at 8:30! Otherwise, you go to the restaurants and miss half or almost the entire show... Likewise, the shows end at 11:00 and there is no disco or club in the hotel for those who want to dance at night... Sunch a bummer!
6,8 Bueno
Ventajas: El personal de entretenimiento y animación . Lejos lo mejor del hotel
Desventajas: Este hotel no te sirve si tienes un medicamento de cuidado Lleve un medicamento que necesitaba refrigeración , pero el frigobar de la habitación funcionaba mal. Al solicitar una solución, me dijeron que todos los frigobar del hotel funcionaban igual Dado que el medicamento de mi hijo, al igual que una insulina , necesita refrigeración entre 2 y 8 grados, solicite que me guardaran el medicamento ellos. pero me indicaron que no disponían de refrigeradores, sólo congeladores y que no había posibilidad de refrigerarlo en la cocina Finalmente tuve que invertir mucho tiempo yendo y viniendo a la habitación para cambiar hielos y así mantener el medicamento a una temperatura adecuada Esto opaco todo lo bueno que pudo haber tenido nuestra estancia y nos dejó un dejo amargo El hotel jamás buscó una solución ni ofreció disculpas Creo que es muy delicado ofrecer algo que funciona mal ya qué esto podría haber sido muy grave para mi hijo
5,0 Aceptable
Ventajas: - The resort is located directly on the beach and has a beautiful tropical garden with animals. - The pool was spacious.
Desventajas: - We didn't have an incredible experience with a couple of staff members who were unhelpful and sometimes downright rude. - The quality of the food was poor and at the best times below average even in the restaurants where we booked dinner. - The quality of the alcohol was poor. - There seemed to be constant exception to the all inclusive stay which were quite restrictive. - The rooms were quite aged and even the bed covers were old and scratchy/itchy.
9,3 Excelente
Ventajas: Las opciones para el desayuno.
Desventajas: Fue una Navidad vacía del real contenido religioso. Todos festejaban la llegada de Papá Noel y no había un sólo lugar donde poder festejar el nacimiento de Jesús. Sería bueno en pensar para los católicos la existencia de una capilla donde celebrar una misa.
9,3 Excelente
Ventajas: El bosque que hay entre el hotel y la pileta/playa y el contacto con la naturaleza. Volvería sin dudarlo.
9,3 Excelente
Ventajas: Todo el hotel esta muy bueno, es muy agradable el caminar por sus caminos ya que muchos se siente como internarse en el bosque. Muy agradable el área de pileta y playa, así también como los restaurantes.
Desventajas: Las habitaciones si bien están en buen estado, son cómodas y amplias, se sienten antiguas. Y por un lado lo son. Necesitarían una actualización o modernización en cuanto a detalles. (Interruptores, toma corriente, luces)
8,3 Excelente
Ventajas: Su tranquilidad, la atención del personal, la piscina muy linda y la playa, los Chef muy amables, atentos, los helados buenos, los tragos, la comida de calidad y para escoger, muy bueno gracias por todo, los chicos de la animación excelentes, la habitación es grande y cómoda igual el baño.
Desventajas: Que me tenía que levantar muy temprano en mis vacaciones para poder obtener una silla en la piscina o en la playa y quedarme ahí por dos horas que mi familia se acercara para ir a desayunar, eso es de mal gusto, me enferme y no tienen medicinas si quieres te la pueden pedir a una farmacia o te ofrecen un servicio de medico que tienes que pagar, lastima la playa que se puede usar muy poco. El olor de la habitación no pude dormir la primera noche por su olor a humedad es muy fuerte y las sabanas olían igual.
8,8 Excelente
Ventajas: Food selection good a few more healthy options would be nice.
Desventajas: Staff not used to solo female travellers. I was constantly asked where my husband was and they had a problem providing a table in the Restaurant for just one person. No proper policing of use of sunbeds at pool or beach. Towels left out before 7 am.
10,0 Excelente
Ventajas: Excelente todo! Para recomendar. Lo que destaco es la predisposición de todos los empleados. En especial de Yohel, su calidez, predisposición y orientación hacia la experiencia del cliente es para recomendar. También quiero destacar la actitud de Gilberto de front desk y alma la camarera del lobby. Buena gente, siempre con una sonrisa y atentos a responder todas nuestras consultas.
Desventajas: Nada
6,3 Bueno
Ventajas: I liked the beaches.
Desventajas: Nice n clean.
10,0 Excelente
Ventajas: Todo es fabuloso, comida, bebida, espectáculos. Pero lo mejor es la jungla con los animales sueltos que andan por todos lados. Muy lindos los pavos reales, monos, cereques, flamencos y otros. También los enjaulados, como tucanes y tortuga, aunque dan un poco de pena. Eché mucho de menos las iguanas que había hace 20 años. Había muchas iguanas andando por todas partes. ¿Por qué ahora hay muy pocas? ¿Es la invasión inmobiliaria? También en Xcaret hay menos peces que hace 20 años.
Desventajas: Todo es fabuloso, pero no me gustó que las personas puedan reservar reposeras (tumbonas) poniendo simplemente una toalla, reservando así varias de ellas por todo el día, sin usarlas y sin permitir que otros puedan usarlas. Falta un letrero: NO SE PUEDE RESERVAR TUMBONAS. ESTÁN PARA SER USADAS. Así, estarían todas ocupadas, en vez de estar muchas de ellas desocupadas gran parte del día, sin cumplir su función. PS. En la encuesta falta la opción Familia (con hijos mayores de 18 años), que es justamente la nuestra.
2
9,0 Excelente (1.016 opiniones)
Este hotel de lujo de la zona de Gonzalo Guerrero se sitúa a menos de cinco minutos a pie de Quinta Avenida, Playa principal de Playa del Carmen y Club de playa Mamitas. Terminal marítima de Playa del Carmen y Playa Punta Esmeralda también están a menos de 3 kilómetros.
9,5 Excelente
Ventajas: The room was very clean and comfortable, it has plenty of space. It was so easy and staff was very helpful and friendly. One of the best place I've stayed in, cant fault anything
Desventajas: Nothing
9,5 Excelente
Ventajas: Location was amazing, rooftop was has an incredible view. Loved the perks that you can stay at Reef 28 and also go to Reef Coco and Reef Playacar without spending more. The Staff is very nice to the guests.
Desventajas: The food is very low quality, including all the restaurants. Also, the amount of waiting for food or drinks is excessive. I think this is an issue that there aren´t enough staff members at the resort.
10,0 Excelente
Ventajas: the breakfast was GREAT! the location was perfect and was within walking distance from shops, restaurants and Playa Del Carmen nightlife! I can't wait to visit again!
Desventajas: I can't really think of anything that could have been better. everything was excellent!
7,5 Bueno
Ventajas: Me gustó Luigi, un barman externo que trabaja esporadicamente, sus cócteles son para enmarcan. La música house que pinchan. El personal es muy atento y amable.
Desventajas: L comida es mediocre. Se salva algo el redtaurante mejicano. Los cócteles, salvo los que prepara Luigi cuando monta su stand, son infames.
9,1 Excelente
Ventajas: The Asian restaurant food/drinks were great. The rooftop bar food was great. Basically, almost all the food is very good. The cocktail menu is mostly what you will be choosing from for drinks. The rooms are very big and comfy and get cleaned very nicely. The staff organizing excursions are very friendly and helpful. The spa is amazing!
Desventajas: You have to accept the fact you will be unable to sleep before 2 am. There is so much noise going on, both outside as well as reverberating inside from the rooftop. Basically, in your room, you can listen to 3 parties at once. Why 2 am? Then it probably legally has to stop everywhere. Little selection of whisky, only the typical bland ones. It takes a long time to get food, but that seems to be in most of Playa del Carmen.
10,0 Excelente
Ventajas: An all inclusive hotel/resort is really worth it. Unlimited food & drinks plus room service ! The resort has sister resorts so we were able to take a shuttle from our hotel to the other two & still be accommodated because we were all inclusive. Definitely have to look for a Reef 28 wherever I travel to.
Desventajas: I feel like they should extend their shuttle times. My group and I went to another resort to have dinner, but the last shuttle going back to our hotel was at 10:55 so we missed it because we were still eating. So maybe having the shuttle run till at least 11:55 would've been helpful.
10,0 Excelente
Ventajas: La ubicacion, las instalaciones y la limpieza. La habitacion muy comoda. La terraza con la piscina increible vista!!! Muy amable todo el personal
9,5 Excelente
Ventajas: Everything was amazing. Huge modern rooms. Excellent food at the hotel. Hotel staff is friendly and very helpful. Most speak at least some English.
Desventajas: Rooftop staff and service is horrible. Good luck getting a drink or food unless you hunt down a waitress or go directly to the bar. Service everywhere else in this hotel is top notch. I don't understand why they can't figure this part out.
10,0 Excelente
Ventajas: Loved the 'all inclusive' features (including meals and drinks) that could be used across the three Reef properties
Desventajas: Inclusions weren't clearly explained. For example - We didn't know the hydrotherapy spa was included in the all inclusive package until hearing from another guest
10,0 Excelente
Ventajas: I liked everything about my stay from the clean large hotel room to the wonderful fresh made meals by the chefs at the restaurants.
Desventajas: There was nothing that I didn't like at the hotel. Everything was super.
10,0 Excelente
Ventajas: Todo fue excelente ! Volveré sin duda! Gran opción para quedarse en Playa del Carmen
7,0 Bueno
Desventajas: Food was horrible
3
8,2 Excelente (595 opiniones)
Si decides alojarte en Senses Quinta Avenida By Artisan Adults Only, te encontrarás en una fantástica zona de Playa del Carmen (Gonzalo Guerrero), a solo unos pasos de Quinta Avenida y a apenas 4 min a pie de Playa principal de Playa del Carmen. Tendrás periódicos gratuitos en el vestíbulo, tintorería o lavandería y un servicio de recepción las 24 horas a tu disposición. Se ofrece servicio de transporte al aeropuerto (ida y vuelta) de pago (disponible las 24 horas).
9,5 Excelente
Ventajas: Me gusto mucho la habitación ya que era muy cómoda también también muy buena ubicación prácticamente frente al mar
Desventajas: No me gusto el desayuno es muy simple y nada especial también es algo ruidoso debido a todo el movimiento y vida nocturna fuera del hotel
7,0 Bueno
Ventajas: La Ubicación
Desventajas: Aunque las personas eran amables, no prestaban el mejor servicio, iba a comprar el paquete turístico a isla mujeres y Cozumel y me cobraron US80 más
2,5 Regular
Ventajas: Pesimo
Desventajas: Poca privacidad por parte de los empleados
10,0 Excelente
Ventajas: Calidad de atención del personal, en especial las mujeres, muy atentas y cordiales.
5,5 Aceptable
Ventajas: Buena ubicación
Desventajas: El hotel está muy descuidado, mal la limpieza de la habitación, olor a humedad, en el techo había humedad y hongos, el ares de la alberca tmb se ve muy descuidada La habitación estaba en primer piso y el ruido del bar no deja dormir
7,5 Bueno
Ventajas: Clean and spacious rooms, comfortable beds. Breakfast is good.
Desventajas: Pool area needs to be better maintained.
8,8 Excelente
Ventajas: The location is absolutely perfect. Right in the middle of everything. The rooms are nice and clean. Very comfortable
Desventajas: The breakfast was really bad. Too small. Not many choices and also the food felt old and not tasty. Ate there only once while we stayed for 4 nights.
4,3 Aceptable
Ventajas: The location
Desventajas: The place need at list a mini- refrigerator.
10,0 Excelente
Ventajas: Son muy amables
8,0 Excelente
Ventajas: La ubicación es perfecta. La habitación tiene todo lo necesario para una buena estancia.
Desventajas: Que la recepcionista de nombre Nune, me pidió propina en el check in (le di $200) y durante el check out me quiso cobrar $20 "según " de un monto que faltó cargar a mi cuenta. Me pareció muy abusivo de su parte.
8,8 Excelente
Ventajas: Location: very close to everything, rooms and bathroom wonderful. Rooftop pool great. There was a poolparty organized on Saturday.
Desventajas: For me it was not an issue, but if you want to go asleep early, look for another place. The location is 5th Street ...
10,0 Excelente
Ventajas: We can't say enough about the property the location was great in the heart of everything in Playa and the staff went over and above to accommodate us in every way possible!!
Popular en Playa del Carmen
Aeropuertos en Playa del Carmen