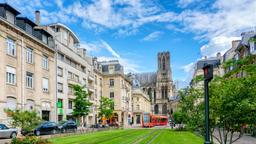 Hoteles en Reims
Busca Reims en cientos de webs de viajes en segundos
Información útil
| | |
| --- | --- |
| Temporada baja | abril |
| Temporada alta | enero |
| Precio medio (entre semana): | $ 4220 |
| Precio medio (en fin de semana): | $ 4715 |
el mes más barato
60%
bajada de precio esperada
el mes más caro
132%
aumento de precio esperado
(precio promedio en las últimas 2 semanas)
dom. - jue.
(entre semana)
(precio promedio en las últimas 2 semanas)
vie. y sáb.
(noche de fin de semana)
Preguntas frecuentes al reservar hoteles en Reims
¿Dónde hospedarse en Reims?
Heatmaps te muestra la distancia entre tus opciones de hotel y las zonas principales de actividad para que encuentres el sitio ideal para hospedarte en Reims
Las mejores habitaciones en Reims
Los mejores hoteles en Reims cerca de Reims Cathedral
Ver todo
1
9,0 Excelente (3.081 opiniones)
El Best Western Premier® Hotel De La Paix goza de una emblemática ubicación en el corazón de Reims, a poca distancia de la Catedral, el centro de conferencias y las tiendas.Nuestro hotel, que combina la modernidad y la herencia patrimonial, cuenta con habitaciones totalmente insonorizadas con aire acondicionado y acceso gratuito a Internet Wi-Fi.El hotel ofrece también un bar con terraza privada, una piscina cubierta y el restaurante Café De La Paix, que ofrece mariscos y especialidades de pescado, así como menús variables según la temporada.Es necesario reservar la plaza de estacionamiento antes de la llegada. Se aplicará una tarifa adicional.
9,6 Excelente
Ventajas: La ubicación del hotel extraordinaria, cerca de la Catedral y en la zona peatonal. El personal muy amable y servicial. , Las instalaciones comunes del hotel y las de la habitación muy cómodas. El restaurant del hotel muy bueno, sobre todo en su especialidad de mariscos y frutos de mar.
Desventajas: No tengo nada que reseñar
9,2 Excelente
Ventajas: La ubicación
Desventajas: Nada
8,0 Excelente
Ventajas: la ubicación fantástica, en el mismo centro. Había un garaje justo en frente, aunque no barato. El personal muy amable. la piscina muy agradable.
Desventajas: El precio del desayuno es un poco caro.
10,0 Excelente
Ventajas: The staff were SUPER helpful.
9,6 Excelente
Ventajas: Location very central, good ambience in the bar area, room very nicely decorated and staff very helpful
Desventajas: Expensive and breakfast not included, storage space very limited in the room. No drawer space.
8,0 Excelente
Ventajas: The warm water from the swimming pool. After complaining of cold, we received a free breakfast in the morning.
Desventajas: The dirty and smell from the sauna. The cold rooms
10,0 Excelente
Ventajas: Everything almost....
Desventajas: The newly refurbished bathrooms have very long and thin basins/troughs with one tap right at the end - which look nice but are very impractical and leave barely any space to put your own products, cosmetics etc. I am an interior design so appreciate good design but this unusually for this hotel is a big mistake.
9,2 Excelente
Ventajas: La ubicacion es muy buena, a pocas cuadras de la catedral. El desayuno es excelente!
7,9 Bueno
Ventajas: Muy buena ubicacion Muy buen desayuno Habitación amplia Cuenta con estacionamiento a precio razonable
10,0 Excelente
Ventajas: La ubicacion es excelente, sales y ya hay restaurantes y tiendas. El area abierta del restaurante es super linda en las noches. Las habitaciones son super amplias, modernas y muy limpias.
Desventajas: Todo me gusto.
9,6 Excelente
Ventajas: Ubicación. Bar hotel nuevo en ubicación excelente
8,3 Excelente
Ventajas: Está bien situado y es confortable.
Desventajas: Reservé el hotel porque en la información aparece que hay parking pero al llegar dicen que el parking es muy pequeño y está completo; es cierto que un aparcamiento público está enfrente pero deben informar correctamente. El cuarto de baño necesitaría de algún lugar donde poder colgar las toallas. El precio del desayuno es elevado. 17 euros es razonable si haces un desayuno copioso, quizás podría haber dos opciones con dos precios distintos. Gracias
2
8,3 Excelente (3.100 opiniones)
Descubre la Ciudad Sagrada con Novotel Suites. Situado a tan solo 5 minutos a pie de la estación de tren Reims Centre y a 10 minutos del centro de la ciudad y del centro de convenciones, el hotel Novotel Suites Reims Centre cuenta con habitaciones insonorizadas y climatizadas y suites de 30 m² idóneas para viajes de negocios o escapadas en familia. Los jueves por la noche, relájate con un masaje de espalda.
8,3 Excelente
Ventajas: Everything you would expect from a Novotel. Easy stay.
9,6 Excelente
Ventajas: Easy to get to it when going into Reims and in a good distance from the centre
Desventajas: The bathrooms look a bit like a plane bathroom, all plasticky. But the rooms are ok and comfortable.
7,9 Bueno
Ventajas: Excelente habitacion cómoda . La brasserie al frente muy buena
10,0 Excelente
Ventajas: When we left the hotel I carelessly left some clothes in my room and didn;t discover until I was 300 km away. I called the hotel, they found the clothes, promised to return them if I'd provide my address and a credit card number to pay for the postage. The shipped the clothes, which were carefully packed and arrived, and so far haven't even charged me for the packing and shipping. I find this exceptional!
7,1 Bueno
Ventajas: Cerca el centro, aparcamiento privada y un desayuno con zumo de naranja fresco!
Desventajas: Es un edificio viejo en un barrio entre un calle y el tren.
9,6 Excelente
Ventajas: Location and ease of sting in and out of the city for day trips to WWI cemeteries and monuments. Breakfasts were excellent. Open lobby area allowed mingling with other guests.
Desventajas: Satisfied so mark this N/A. I
10,0 Excelente
Ventajas: Porque es de fácil acceso y es muy cómodo
Desventajas: Q faltarán artículos de tocador
6,3 Bueno
Ventajas: No tiene buena ubicación y la verdad la suite bonita pero el baño peor que de crucero de pequeño
10,0 Excelente
Ventajas: Disposición de la habitación,Limpieza , ubicación, es mejor que lo que aparece en las fotos
8,8 Excelente
Ventajas: Spacious rooms, comfortable and quiet. Excellent breakfast with good range of food.
Desventajas: Located at the back of the train station, the area is pretty quiet with no restaurants nor shops. Have to walk 8 mins to the front of the train station to access restaurants and shops.
4,6 Aceptable
Desventajas: todas las habs son iguales (segun el personal ) por lo que una "suite superior " es igual que otra , no limpian la habitación entre dias de estancia si no lo requieres , el hotel solo es accesible desde el centro cruzando la estación y esta cierra por la noche , sino hay que dar un gran rodeo. En resumen ni centre ni suites.
Lugares de interés en Reims