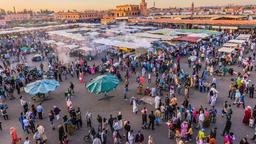 Hoteles en Marrakech
Busca Marrakech en cientos de webs de viajes en segundos
Información útil
| | |
| --- | --- |
| Temporada baja | febrero |
| Temporada alta | septiembre |
| Precio medio (entre semana): | $ 15177 |
| Precio medio (en fin de semana): | $ 8302 |
el mes más barato
26%
bajada de precio esperada
el mes más caro
57%
aumento de precio esperado
(precio promedio en las últimas 2 semanas)
dom. - jue.
(entre semana)
(precio promedio en las últimas 2 semanas)
vie. y sáb.
(noche de fin de semana)
Preguntas frecuentes al reservar hoteles en Marrakech
¿Dónde hospedarse en Marrakech?
Heatmaps te muestra la distancia entre tus opciones de hotel y las zonas principales de actividad para que encuentres el sitio ideal para hospedarte en Marrakech
Las mejores habitaciones en Marrakech
Los mejores hoteles en Marrakech cerca de Mouassine Mosque
Ver todo
1
8,2 Excelente (5.707 opiniones)
Si decides alojarte en Savoy Le Grand Hotel, disfrutarás de una fantástica ubicación en el centro de Marrakech, a unos pasos de Centro comercial Menara Mall y a solo 13 min a pie de Palacio de Congresos. Tendrás un centro de negocios, tintorería o lavandería y un servicio de recepción las 24 horas a tu disposición. Las instalaciones para eventos de este hotel incluyen zona para conferencias y salas de reuniones. Pagando un pequeño suplemento podrás aprovechar prestaciones como servicio de transporte al aeropuerto (ida y vuelta) (disponible las 24 horas) y servicio de transporte al punto de embarque de cruceros.
10,0 Excelente
Ventajas: Personal muy amable
Desventajas: Vecinos ruidosos
7,1 Bueno
Ventajas: Good hotel. It's our third stay over the past 12 months, and things are improving significantly on the restaurants side.
Desventajas: Poor performance at check in: my wife arrived one hour before me to the hotel. At check in (Nov 6th) she was requested to give her personal credit card, and was immediately debited mad 5741.49, although they already had my personal credit card details and had used it to block a deposit. At check out (Nov 9th), my personal credit card was used for the full payment of our stay bill. And the front desk assured me that the amount debited to my wife's cc will be immediately canceled. However, as of today (Nov 13) my wife account is still showing a debit of mad 5741.49!!!
5,0 Aceptable
Ventajas: location good. rooms clean. that was about it. close to the airport also.
Desventajas: service. the worst I've ever seen in a so called five star. pool far too cold, no one could go in it. food very average. breakfast awful and too crowded. the list goes on.
9,2 Excelente
Desventajas: piscina muy fría
2,5 Regular
Ventajas: Nothing at all - Poor quality of rooms, staff were so unprofessional and whole hotel was the worst experience of my life. This hotel should be 2 stars at most! AVOID AVOID AVOID
Desventajas: Everything
5,0 Aceptable
Ventajas: La ubicacion y el desayuno
Desventajas: Nos dieron una habitacion que no era la que habiamos escogido nosotros. La cama estaba sucia y sin hacer bien la primera noche. El primer dia no nos hicieron la habitacion. Habia un ruido constante, muy molesto para dormir, al lado de nuestra habitacion. El agua de la piscina esta helada (con lo que se paga por noche y el numero de habitaciones que hay, podrian calentarla artificialmemte)
9,0 Excelente
Ventajas: very good breakfast, plenty to choose from.
Desventajas: food could have been a little warmer.
5,0 Aceptable
Ventajas: Located next to the mall. Can buy cheaper food and takeaways if feeling peckish and don't want to pay in the hotel. Very clean. Room was spotless. Had good access to the gym and outside pool. World best breakfast!! Super nice. Amazing service. I was serviced by a young man called mustapha. Brilliant hospitality skills.
Desventajas: Check in was horrible. Had too wait nearly 1 hr to be checked in. There was only one person on the desk so I respect that he was trying his best. I was directed to the concierge to show me too my room. He half heartedly led me half way too my room. Half way though the tour he just verbally directed me in broken English to where my room was located. I then spent the next 30 mins looking for my room. For the price I was paying. I expected more. Room had no mini bar or a working fridge. Yet I had too place a 5000 md deposit incase I used it??! The coffee machine was broken and the scales in the bathroom was broke. There was zero information about the hotel or the surrounding area in the room. Apart from 1 piece of paper and a blunt pencil. No room service menu. Nothing. Just a tv remote. I dined at the Bella restaurant. Tagine was amazing! Highly recommend. Service was awful. Try give 3 weeks notice each time you want a drink refill.
7,0 Bueno
Ventajas: Buen desayuno y ubicacion
Desventajas: En el bar -restaurante de la piscina , desde que pedías una cerveza y unos espaguetis y te los traían a la mesa podía pasar más de una hora larga , eso es desesperante
7,5 Bueno
Ventajas: facilities location
Desventajas: cleanliness & lighting furniture and decoration are a bit outdated need renew
8,3 Excelente
Ventajas: La ubicación , se agradece un poco de tranquilidad después de la Médina y tan solo a 5' en taxi y 50dr. , habitaciones amplias y bonitas . Desayuno espectacular y camareros muy amables siempre pendientes de los que pudieras necesitar
Desventajas: El personal de recepción no muy amable y no saben ni español ni casi inglés
7,1 Bueno
Ventajas: The hotel
Desventajas: The stuffs seem to be interested just by the foreigners certainly at the restaurant, as a Moroccan no one will bother himself to tell you even good morning or to ask about your needs.
5,0 Aceptable
Ventajas: Rooms where a good size. Location good distance from airport and Médina.
Desventajas: Staff were incredibly rude. After waiting in a queue for an extremely long time (40mins approx) to checkin we were eventually told checkin is at 3pm and we could not get our room, however if we came back 2pm (1 hour later) they would have a room ready for us. When we returned after lounging about the hotel waiting we where extremely rudely told that we still can't check in until 3pm. There was no apology for wasting our time and more of tough luck. I am amazed that this hotel is 5star which such bad service from staff. What was more frustrating my wife(Arabic speaker) understood when the staff spoke to each other in Arabic saying why were they promised a room and his reply was "it was busy and I needed to get rid of them." Stayed in many 5star hotels and surprised to see the slow and bad service we received. Should of stayed in hotel I have stayed in previously in Marrakech where the good service is guaranteed. Also anyone wishing to stay here bring you own travel adapters hotel will not lend you one.
2
8,1 Excelente (1.660 opiniones)
Hivernage Hotel And Spa está en una fantástica zona de Marrakech (Hivernage), a solo 15 minutos a pie de Minarete de Kutubía y Centro comercial Menara Mall. Tendrás un centro de negocios, un servicio de limusina o coche con chófer y check-in exprés a tu disposición. Pagando un pequeño suplemento podrás aprovechar prestaciones como servicio de transporte desde el aeropuerto hasta el hotel (disponible las 24 horas) y aparcamiento con asistencia gratuito.
7,9 Bueno
Ventajas: Very friendly staff. Close to the Casino and the Night Club El Theatro.
Desventajas: I booked a massage for 50 Minutes at the Spa. After +/- 40-45 minutes the massage was finished. Later I complained at the reception. They apologized and offered me a massage for free during my next stay at the hotel.... I came back to my room late at night. I wanted to take a shower before going to bed. There was no water at all, I couldn't even brush my teeth....the reception told me they had a problem with the water pump.
9,2 Excelente
Ventajas: La situación es perfecta, en una zona tranquila y próxima al centro.
Desventajas: Seguramente no fue culpa del hotel, pero durante dos días el agua de la ducha funcionó intermitentemente. El desayuno simplemente correcto
10,0 Excelente
Ventajas: Fantastic massage in the spa, lovely scent in reception and superb location
Desventajas: The waiter picked the most expensive wine off the menu, however management were very good at sorting out the issue and provided a discount. Just be careful when you order!
8,0 Excelente
Ventajas: Location was great and staff for breakfast were so sweet. Abdulraheem from reception team made sure we had a pleasant stay, but unfortunately he wasn't there on the last day for the checkout.
Desventajas: The checkout experience was terrible with all thanks to abdulaziz whom forcingly charged 500 dhms for leaving 2 hours later where we stayed 4 nights. This act of racism and blackmailing for GCC citizens is unacceptable, and honestly i never saw it anywhere else in Marrakech nor the world. Unfortunately this bad ending made me not wanting to come back even though everything was good.
7,0 Bueno
Ventajas: Location was perfect & hotel design was well suited to the location. surrounded by great restaurants nearby.
Desventajas: At over $220 a night the value for money was not there. Room was dark and poor selection of english TV channels. Breakfast was never fully set up to receive guests on time. Lifts were busy a lot of the time in particular with staff...though I believe at the time of my stay the staff elevator was broken.
7,5 Bueno
Ventajas: The staff were friendly and welcoming. I was celebrating my birthday and was surprised with a birthday cake in my room which was lovely. One of the managers at reception (sorry I can't remember her name) arranged a restaurant on my actual birthday with a car arranged to take us to the restaurant. The restaurant was nice but I was very disappointed that I wasn't wished a happy birthday or get a cake in the restaurant.... another manager called Mina arranged dinner at another restaurant on our last night which was lovely. The managers and staff were very helpful and accomodating.
Desventajas: 1.We initially waited a while for the room and from what we could see from the discussion at reception there seemed to be some miscommunication about something... but we were offered a cocktail whilst we waited for the room. 2. The door lock to the balconey in the room was broken.... we were offered a room on the 5th floor but that was too near the music at the rooftop bar so we stayed in the same room. We were told someone would fix the lock the next day.... but they didn't and so we had to stay and put a chair behind the door just to feel safe. 3. The water in the shower was luke warm (when it should be hot)... the hotel were maintaining the water system which was shut off overnight one day and during the evening on one day. We weren't able use the water to wash/shower/brush our teeth for a good few hours. 4. I enjoyed the breakfast but some of the hot food was cold! My partner did not like the breakfast but they made a nice omelette for us every day, which was the only thing he liked!
7,9 Bueno
Ventajas: Staff were friendly property clean
Desventajas: You can hear the desk agent arguing over the phone with housekeeping to get the rooms ready. Breakfast was limited. No good signage for the property to recognize it
3,0 Regular
Ventajas: The one saving grace about this hotel were the check in staff - who were very pleasant upon arrival, the service staff - who were very nice, and the location - very central to the delights Marrakech has to offer.
Desventajas: The first day of my stay upon waking - there was no running water. NO RUNNING water at a 5 star hotel. I went to Réception and I was told it was a hotel-wide issue that they were working on. A few hours later when the water finally started working, it was a dirty brown colour - couldn't shower - it was awful. Needless to say, my entire first day was put off - and I continued to experience issues with the water pressure throughout my stay, at one point even being stuck unable to rinse shampoo out of my hair because the water would stop mid shower. In general - the room smelled old and musty - and it just wasn't an enjoyable stay. Yes; sounds like first world problems, but this is NOT what I would expect of a 4+ star hotel. I understand there can be issues, but they offered very little help or explanation and basically shrugged it off - not accommodating at all; Very disappointing. Additionally, I was overcharged on my credit card - the hotel debited more than they were supposed to/more than what I signed off on. I have reached out to booking.com to assist me in helping to get those funds back. The people/workers were very friendly and service at the hotel was overall good - but the facilities overall and the experience in the room definitely left something to be desired. I actually paid a daily rate to use the facilities at another hotel...
7,0 Bueno
Ventajas: La ubicación, está muy cerca del centro
Desventajas: Es un hotel antiguo, necesita urgente remodelación para ser calificado como 5 estrellas, no las tiene , puertas baño no cierran bien , etc Y el restaurante muy bueno pero carísimo, no vale lo que cobran , 30 euros por una botellita de 187cc de champán El personal impecable nada que decir, solo falta personal que hable español
5,4 Aceptable
Desventajas: No answer to several emails I sent before our arrival. I asked for the manager but he was never there.
9,2 Excelente
Ventajas: Breakfast was very good - lots of choices
Desventajas: n/a
10,0 Excelente
Ventajas: Absolutely everything apart from the loft
Desventajas: The lift took ages coming down apart from that it was Great!
3
8,0 Excelente (1.379 opiniones)
Si decides alojarte en Es Saadi Marrakech Resort - Hotel, disfrutarás de una magnífica ubicación en pleno centro de Marrakech, a solo 15 minutos a pie de Minarete de Kutubía y Centro comercial Menara Mall. Tendrás un centro de negocios, un servicio de limusina o coche con chófer y check-in exprés a tu disposición. Pagando un pequeño suplemento podrás aprovechar prestaciones como servicio de transporte al aeropuerto (ida y vuelta) (disponible las 24 horas) y aparcamiento sin asistencia gratuito.
9,6 Excelente
Ventajas: habitaciones muy cómodas e instainstalaciones y personal estupendos
Desventajas: el sistema de llaves de las habitaciones
10,0 Excelente
Ventajas: Personal en general! Ubicación y comodidad
Desventajas: Nada
5,8 Aceptable
Ventajas: Its very old and not renovated. For the price you pay you can get much better
6,0 Bueno
Ventajas: desayuno normal casino y teatro ok
Desventajas: concerge y recomendaciones para visitar lugares de interes muy pobre habitacion sin instrucciones de hotel. frigobar vacio hotel sin pileta de agua caliente sauna se debe pagar extra
10,0 Excelente
Ventajas: Absolutely amazing hotel. Could not fault anything. Beautiful location. Breakfast was exceptional, so much choice. Great wifi. Room was large with large balcony. Staff were amazing. The whole grounds of the hotel are stunning and include swimming pools, spa, palace, casino, bars, restaurants.
Desventajas: Nothing could be better. Everything was perfect. Staff would fix it for you if anything was wrong.
10,0 Excelente
Ventajas: Hotel excelente. Las habitaciones estaban muy limpias. Las instalaciones elegantes y muy agradables. El personal atento. Ubicación buena en frente de la parada del bus turístico y a unos 13 minutos andando de la plaza. Los alrededores del hotel muy bien con restaurantes cercanos y buen ambiente. A 5 minutos andando del Ménara Mall un centro comercial. Volveríamos!
Desventajas: Que no hablaran mucho español
10,0 Excelente
Ventajas: The hotel is amazing. Clean, great location and facilities. The staff is great, polite, lovely and very helpful. I will definitely come back.
8,0 Excelente
Ventajas: Siempre que vamos a Marrakech nos alojamos aquí por su relación calidad-precio
6,7 Bueno
Ventajas: The Palace, the pool, the food
Desventajas: Staff asked us during check-in why did we come today if we booked the room for yesterday? which was their mistake of course. throughout the entire stay, the staff was terribly not nice
5,4 Aceptable
Ventajas: Breakfast was good and a few warm hearted staff members with great customer service made our stay comfortable and very pleasant
Desventajas: The first 5 star hotel that doesn't offer you tea and coffee facilities in your room. Nor hair conditioner and vanity cotton bud sets. There were more than a few staff members in all areas who were only interested in rinsing you of cash than offering customer service or friendly recommendations. One restaurant staff was particularly rude and if it weren't for making a scene I would have decked him
10,0 Excelente
Ventajas: Convenient and safe
Desventajas: Baths needed a refreshing update, clean just a bit old
8,3 Excelente
Ventajas: El trato del personal y las instalaciones exteriores
Desventajas: La habitación no merece un 5 estrellas. Mobiliario antiguo y con moqueta...