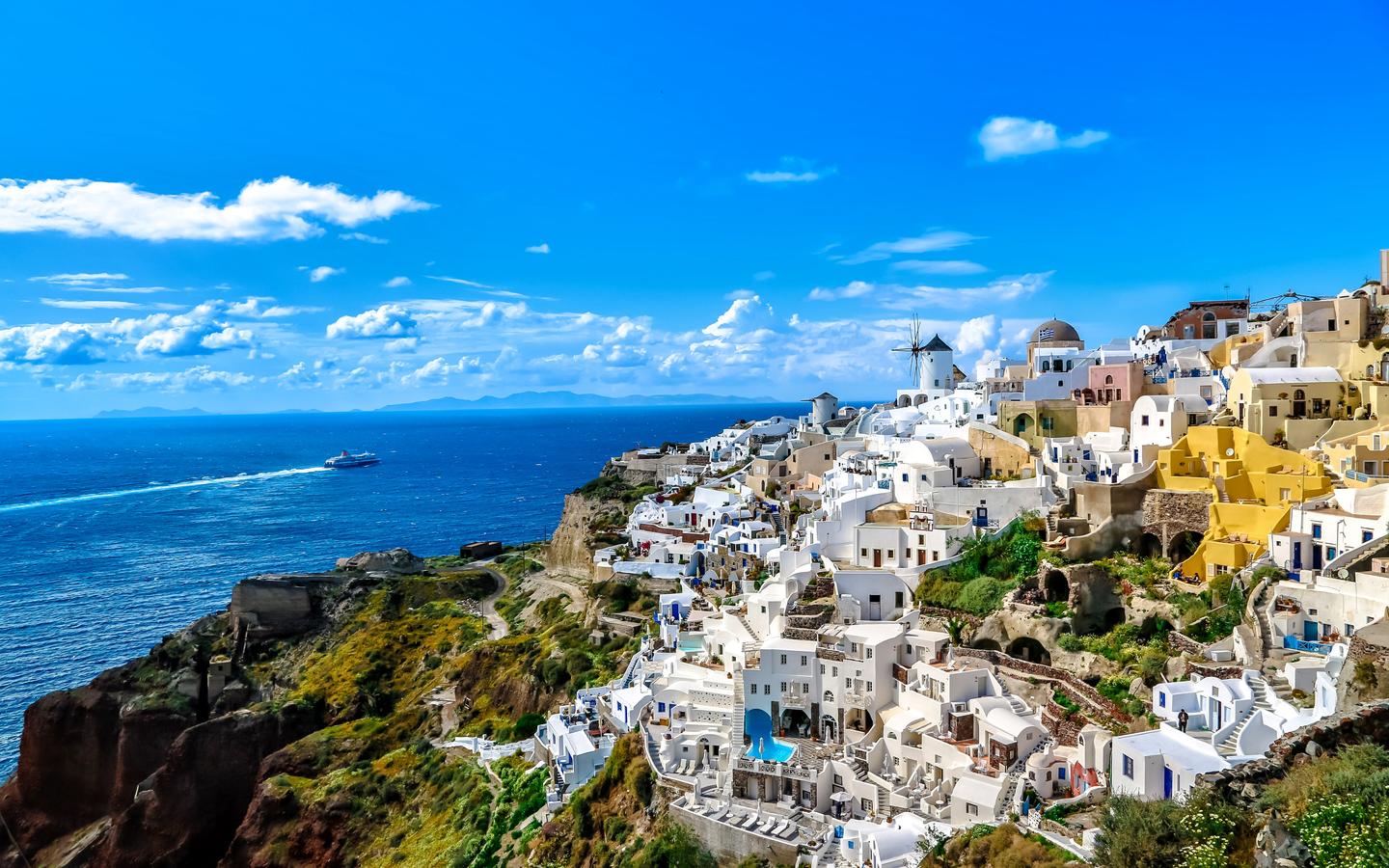 Información útil
| | |
| --- | --- |
| Temporada baja | enero |
| Temporada alta | julio |
| Precio medio (entre semana): | $ 13073 |
| Precio medio (en fin de semana): | $ 13596 |
el mes más barato
37%
bajada de precio esperada
el mes más caro
51%
aumento de precio esperado
(precio promedio en las últimas 2 semanas)
dom. - jue.
(entre semana)
(precio promedio en las últimas 2 semanas)
vie. y sáb.
(noche de fin de semana)
Preguntas frecuentes al reservar hoteles en Fira
¿Cuánto cuesta un hotel económico en Fira?
Los usuarios de KAYAK encontraron habitaciones dobles en Fira a partir de $ 1608 en los últimos 3. El precio promedio es de $ 13071.
¿Cómo encuentro hoteles cerca de mi ubicación?
Echa un vistazo a nuestros
mapas de hoteles
y encuentra los mejores cerca de ti.
¿Dónde hospedarse en Fira?
Nuestra herramienta Heatmaps te ayuda a encontrar el mejor lugar para hospedarte en Fira mostrándote opciones de hotel próximas a las actividades que te interesan.
Los mejores hoteles en Fira cerca de Dominican Convent
Ver todo
1
9,3 Excelente (475 opiniones)
El Nectarios Villa, de gestión familiar, está situado en la pintoresca localidad de Fira y ofrece un alojamiento independiente y tradicional con WiFi gratuita Además, alberga una piscina con vistas panorámicas al mar Egeo. Las habitaciones del Nectario presentan una decoración en tonos vivos y cuentan con camas de hierro. Disponen de zona de cocina con nevera, TV, aire acondicionado y caja fuerte. El desayuno se sirve todos los días en las habitaciones. Junto a la piscina hay una zona de estar, donde los huéspedes pueden tomar una bebida o cóctel del bar. Bajo petición, se proporciona un servicio de traslado al aeropuerto de Santorini, situado a 5,5 km. A pocos pasos del Nectarios Villa hay bares, restaurantes y tiendas. Cerca del hotel hay aparcamiento público gratuito.
9,2 Excelente
Ventajas: La amabilidad y las recomendaciones de la anfitriona y la ubicación del hotel. Además nos permitieron guardar las maletas
10,0 Excelente
Ventajas: Everything was fab. Fab location. Fab host. Fab accommodation.
9,2 Excelente
Ventajas: Excelente el servicio que brindan y la preocupacion por el pasajero, en especial la que brinda Katherina. Tranquilo y acogedor, recomendado totalmente.
9,6 Excelente
Ventajas: It was clean and extremely spacious.
Desventajas: Nothing, it was wonderful
10,0 Excelente
Ventajas: Katherine was a wonderful host she made us so welcome and put a great itinerary together for us to make the most of our 2 days. Everything was perfect..... the rooms are lovely with a terrace and sunbed outside. Beautiful views of the sea from the terrace were katherina spoilt us with homemade cakes. We loved the location as you are in the centre of everything in less than 10minutes walk.....yet quiet and tranquil as the centre of Santorini can be very busy and crowded. We highly recommend to stay here. Mary and Paul
10,0 Excelente
Ventajas: beautiful and sweet host She helps us a lot
10,0 Excelente
Ventajas: Had a very comfortable stay, Katerina was very helpful and friendly, she even provided us with pizza one night then cake another night. Our room was small but very comfortable and clean, sheets and towels changed every day. Location was excellent, 10 minutes walk to the caldera, 10 minutes to the main square and 15 minutes to bus station, enjoyed our 4 night stay.
8,8 Excelente
Ventajas: Katerina the host was very friendly and was very generous with offers of food and drinks during our stay!
10,0 Excelente
Ventajas: Nectarios Villa is a wonderful place to stay for anyone traveling to Santorini. Good location (near Fira), a spectacular view of the city and cozy surroundings. Katerina, the hostess, is super cool and friendly. Thanks again for a lovely stay!
8,3 Excelente
Ventajas: The room is ok, basically has everything needed. The sea view is really amazing.
Desventajas: It was a bit difficult to find the place. The bathroom is quite small to take a shower.
8,0 Excelente
Ventajas: Location and view where both excellent. The room was clean and comfortable and very good size.
Desventajas: They should have had some minimum items like water, sugar, salt, coffee, tea, ... in the room. Also at checkout time I felt I was pushed and rushed out of the room. Off course with smile but nevertheless it was unprofessional.
9,6 Excelente
Ventajas: Great location, Katarina was a wonderful host
Desventajas: The pool was very small
8,0 Excelente
Ventajas: La calidez y la atencion de sus propietarios. Excelente
Desventajas:
7,0 Bueno
Ventajas: Cuando decides viajar a Santorini existen un sinfín de sitios donde poder alojarse pero tan solo encontré uno cuyos comentarios eran solo positivos. A veces no solo cuenta la ubicación o un buen precio sino tb el echo de recibir un buen trato y en eso Katerina y su familia ganan la partida. Nada mas llegar se preocupan por ir a buscarte, ya vengas via ferry o via avión, como fue mi caso y de igual modo a la hora de efectuar el regreso. Cada mañana ellos mismos te preparan un completo desayuno (cafe o leche, zumo, una pieza de fruta, un trozo de bizcocho y las tipicas tostadas de mantequilla y mermelada con su pan griego) y tras tocar educadamente a tu puerta, te lo sirven en la terracita exterior para que disfrutes de las vistas. Y si te gustan los animales, Romeo, te dará mejor que nadie la bienvenida a Nectarios Villas! Gracias por todo!!!
Desventajas: No hay nada que me haya disgustado pero si quiero aclarar algo que creo es importante, el hotel se encuentra en el lado opuesto a la famosa Caldera pero yo os aconsejo que no descarteis este hotel por ello, porque estais a 4min a pie de las vistas mas famosas de Santorini y al final la diferencia de precio es considerable. Las mejores vistas se disfrutan a pie, no desde una miniterraza de una costosa habitacion!!!
6,7 Bueno
Ventajas: Both Katarina and Nectarios are excellent, friendly and good service. Katarina fetched us from the port and Nectarios sent us to airport. Room is lovely with a big terrace facing the sea, although it's not the caldera view. Breakfast is good and it's delivered to the terrace every morning. Walking distance to town and bus terminal.
Desventajas: there is no computer and i had a hard time getting replies from the hotel on my port pick up. Finally my son in Singapore called the hotel and managed to get Katarina to acknowledge the port pickup. Bathroom a bit dark and shower flooded each time yo bath.
8,0 Excelente
Ventajas: Nectarios Villas were perfectly located centrally in Fira. Hosts were so very gracious. View was lovely; room was very cheery. They provided transport from/to the ferry-very helpful. Great vacation!
7,3 Bueno
Ventajas: Firts of all: we're in Thira (read "Fira"): the main town in Santorini, with a lot of bars, shops etc. Hotel is 5 minutes away from centre of town. But in a secondary street, far enough from noise of Thira's night life. Rooms are well-refined and big. Even a cooking corner with a fridge where keeping your beer from supermarket. Katerina is always at your command for everything you need. What do you want more? The beach? Rent a quad for 15€ a day or a city-car for 4 people for 25€ a day and you will be 10 minutes away from the beach, but in the biggest and best-organized place in Santorini.
6,7 Bueno
Ventajas: Price,free pick up and drop off to the port, good free breakfast, location (walking distance from all amenities), privacy were the best features.Excellent value for your money. I will definitely stay again at this hotel for future trips.
Desventajas: The features that could have been better/changed were twin beds,small shower area, no staff 24 X 7. There may have other rooms with better features but had we known that during booking, then we would have definitely chosen a different option. Please check with the owner after you book for different room options.Also, you will need to pay in cash after your stay - even though you need to give credit card information during booking.
7,0 Bueno
Ventajas: Free transfer to and fro, delicious breakfast served to the room, relaxing by the small pool right outside our room and the exclusiveness. Not to forget clean sheets and hot shower.
Desventajas: Free WiFi would be helpful.
7,3 Bueno
Ventajas: Un muy bien situado (en Fira, la capital) con todo a mano para moverte por la isla. Unos dueños muy agradables que nos recogieron y nos dejaron en el puerto. Nos encantó el desayuno, las vistas y la pequeña piscina. Es un hotel tranquilo e ideal para parejas y familias.
Desventajas: Que en la habitación faltaba sal o aceite y algún cubierto, plato o cazuela.
6,0 Bueno
Ventajas: Sin duda, la calidez de los dueños, Katerina y Nectarios. Todo bondad y atenciones. Te van a buscar al puerto o aeropuerto y te llevan cuando te vas. Katerina te lleva el desayuno a la habitación por las mañanas.
Desventajas: Un poquito lejos del centro, aunque el paseo no se hace desagradable. La piscina es muy pequeña, más de lo que parece en las fotos y la vista desde la habitación no es muy allá, aunque se ve el mar al fondo.
8,0 Excelente
Ventajas: el confort y las vistas desde el balcon, la amabilidad de la gente
7,0 Bueno
Ventajas: Nos atendio katrina, la cual fue encantadora y muy atenta. ella misma nos llevo al puerto el domingo a las 06:00 am. nos trajo el desayuno a la hora que le dijimos, y constaba de tostada, zumo, trozo de pastel, sanwich recien hecho, y cafe con leche o te, mas que suficiente, si te gusta. nosotros cojimos el apartamento, y constaba de salon con sofa, tv, cocina ofis. un baño pequeño pero suficiente. la habitación tenia dos camas. fuera tenia una piscina pequeña pero muy bonita, comun para la tres o cuatro habitaciones que tenia la villa. una terraza con mesa y dos sillas por habitación, donde las cervezas por la tarde -noche, y el desayiuno, estaban genial. tiene unas vistas chulisimas de la parte este de la isla.
Desventajas: La situacion real no tiene nada que ver con la que aparece en el mapa, la situacion real es en el google earth 36º25'24.42"n, y 25º25'57.35"E. esto son unos 200 metros mas arriba, y en un cruce, giramos a la derecha. en realidad no es ningun problema. como dicen otros comentarios, estas a cinco minutos del centro, y no te enteras de nada.
4,0 Aceptable
Ventajas: limpieza, estado de las instalaciones
Desventajas: Ubicación, está en el ala oriental de la costa. Todo el movimiento turistico esta en el otro lado