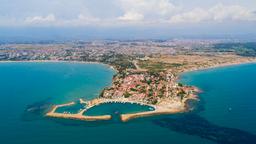 Hoteles en Side (Antalya)
Busca Side (Antalya) en cientos de webs de viajes en segundos
Información útil
| | | |
| --- | --- | --- |
| Temporada baja | marzo | Mes más barato para alojarse con una media de 75% bajada en el precio. |
| Temporada alta | julio | Mes más caro para alojarse con una media de 19% de aumento en el precio. |
| Precio promedio (entre semana) | $ 11781 | Precio medio para un dom. - jue.en las últimas 2 semanas. |
| Precio promedio (fin de semana) | $ 12445 | Precio medio para un vie. y sáb.en las últimas 2 semanas. |
¿Cuánto cuesta un hotel en Side (Antalya)?
Consejos para encontrar el hotel ideal en Side (Antalya)
Preguntas frecuentes al reservar hoteles en Side (Antalya)
¿Los hoteles son seguros en Side (Antalya) durante la crisis del coronavirus (COVID-19)?
¿Cómo encuentro hoteles cerca de mi ubicación?
¿Dónde hospedarse en Side (Antalya)?
Heatmaps te muestra la distancia entre tus opciones de hotel y las zonas principales de actividad para que encuentres el sitio ideal para hospedarte en Side (Antalya)
Las mejores habitaciones en Side (Antalya)
Los mejores hoteles en Side (Antalya) cerca de Antik Tiyatro
Ver todo
1
9,1 Excelente (3.615 opiniones)
En Side, este alojamiento en primera línea de playa ofrece una buena ubicación en el casco histórico, a menos de 5 kilómetros de Playa del lado oeste, Playa del lado este y Puerto Side Harbor. Teatro de Side y Ruinas romanas de Side también están a menos de 5 kilómetros.
1,0 Malo
Ventajas: We wonder that too
Desventajas: No diner for kids served after 20:30. No food is served 20:30 to 22:15, 22:15 very limted food served. As a family must eat before 20:30 and get out latest 20.30 , It will leak regn water into the room and if Windy weather Will blow wind into the room. The room vi choosed was extremly nice on picture on booking .com . Our rekomendation for other is Make sure you know what you are booking , unproffecional workers not service mind, polling food from the tabel, cleaning while we are eating was very normal .
6,7 Bueno
Ventajas: The veriety of the food at breakfast and dinner The entertainment program was rich The moni club did great job with the kids, dancing, playing,...
Desventajas: The room needs refurishment The Check in tok too long The resturant was crowded and did not meet the amount of visitors
8,0 Excelente
Ventajas: hotel location and indoor pool
Desventajas: No internet and noise at night with garbage containers
9,0 Excelente
Ventajas: Great hotel, nice territory and service, high level of customer orientation from staff. Good location -just walk to antic Side.
Desventajas: Sometimes there was a loud music after dinner. If I want to go to bed earlier, it is difficult to fall a sleep.
9,6 Excelente
Ventajas: Great location, clean and the staff were really friendly.
7,5 Bueno
Ventajas: Many swimming pools for various ages, very good meals in a large variety - the all inclusive restaurants are more than enough. The rooms are big and have a big balcony as well.
Desventajas: The beds are not that comfy and the furniture is quite old. Most of the hotel's personnel doesn't speak english - you won't have a problem if you speak russian or german. The hotel displays the prices for extra services (e.g. massage) in EUR and if you want to pay in Turkish Lira the exchange rate they ask is 30-40% bigger than the one in the airport for example. Sadly the sea water is full of big rocks.
8,3 Excelente
Desventajas: The only down point that we don't like and most of the people is the internet at the lobby area only. There is no internet at the bedrooms. When you have young children and got to fallow your emails now a day the internet is something MUST at our daily life. So we have to stay in the reception area with the kids to use the internet prior to go to bed, check emails and contact relative. If you pay over £1000 for a holiday it should have good internet coverage around the hotel.
2
8,9 Excelente (209 opiniones)
Si decides alojarte en Sunprime Dogan Side Beach - Adults Only de Side, estarás a 3 min a pie de Playa del lado oeste y a 10 de Ágora de Side. Tendrás un servicio de recepción las 24 horas, una lavandería y café o té en las zonas comunes a tu disposición. Hay un aparcamiento sin asistencia gratuito disponible.
3
8,5 Excelente (2.682 opiniones)
Este alojamiento de Side para familias se encuentra junto al mar, a menos de 3 kilómetros de Playa del lado oeste, Playa del lado este y Museo de Side. Puerto Side Harbor y Teatro de Side también están a menos de 3 kilómetros.