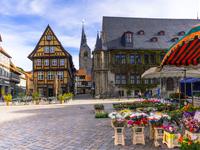 Información útil
| | |
| --- | --- |
| Temporada baja | noviembre |
| Temporada alta | diciembre |
| Precio medio (entre semana): | $ 4765 |
| Precio medio (en fin de semana): | $ 6007 |
el mes más barato
17%
bajada de precio esperada
el mes más caro
17%
aumento de precio esperado
(precio promedio en las últimas 2 semanas)
dom. - jue.
(entre semana)
(precio promedio en las últimas 2 semanas)
vie. y sáb.
(noche de fin de semana)
¿Dónde hospedarse en Quedlinburg?
Heatmaps te muestra la distancia entre tus opciones de hotel y las zonas principales de actividad para que encuentres el sitio ideal para hospedarte en Quedlinburg
Las mejores habitaciones en Quedlinburg
Los mejores hoteles en Quedlinburg cerca de Castillo Quedlinburg
Ver todo
1
8,6 Excelente (443 opiniones)
Este establecimiento con encanto ofrece conexión WiFi gratuita en todo el edificio, un restaurante acogedor de carne y habitaciones amplias en el centro histórico de Quedlinburg, declarado Patrimonio de la Humanidad por la UNESCO. Las habitaciones del Pension St. Nikolai presentan una decoración de estilo rural. Tienen baño, zona de cocina pequeña y conexión WiFi gratuita. El restaurante del Pension St. Nikolai sirve especialidades de carne deliciosas y una variedad de bebidas. En verano, los huéspedes pueden beber y comer en el acogedor patio jardín. El Pension St. Nikolai está cerca a pie de muchos lugares de interés, como el castillo Quedlinburger Schloss, la catedral Quedlinburger Dom y numerosos ejemplos excelentes de la arquitectura de entramado.
10,0 Excelente
Ventajas: Nice old style, well decorated. Not cheesy.
9,6 Excelente
Ventajas: Beautiful old building right in centre. Comfy room, bathroom could be updated.
3,3 Regular
Ventajas: El pueblo El desayuno el restaurante griego al lado de la pensión La señorita que atendía en el desayuno
Desventajas: Realmente fue una mala experiencia No estaba nadie para abrirnos,a pesar de llegar a un horario que estaba en la reserva El horario era hasta las 22hs y llegamos a las 21 No hubiéramos podido hacer nada sino fuera por la ayuda del mozo del restaurant griego cerca de la pensión que muy amablemente nos hizo de intérprete, porque llamamos por teléfono al teléfono de contacto de la pension que no contestaba y recién después de un rato nos atendió Apareció 15 minutos despues,nos abrió, no nos dio el lugar reservado del auto Lo contratamos con parking y tuvimos que dejar el coche en un parking publico a las 12 de la noche El servicio de wi fi no existe Las valijas hay que subirlas uno hasta el tercer piso Nadie habla ingles
9,6 Excelente
Ventajas: We loved the room - very large and comfortable with a nice homely feel. Fantastic view out on to the square. Location very quiet apart from the intermittant ringing of church bells from across the road. Our bed was comfortable and the kitchen would of been handy for doing some cooking should our stay had been a little longer. We were pleasingly surprised when our room was made up the following morning as we didnt expect this and they provided us with a more suitable pillow to meet our NZ tastes, without us having to ask. Great pub next door that served cheap but quality beers and traditional German food. Owner was able to speak some english so that was very useful. Breakfast was a typical German fare - cold buffet with beautiful meats, bread, pickles and cheeses with cereal available as well. We would of liked to have stayed longer and would definitely stay here should we get the chance to visit the Harz mountains again..
Desventajas: No air conditioning in room. The weather was very warm (heat wave) during our stay. But we do realise the age of the building and historical status would make this addition difficult. Church bells started ringing at 6am in the morning which made it difficult to sleep in.
10,0 Excelente
Ventajas: Small property. Evriting ok.
Desventajas: -
7,5 Bueno
Ventajas: It was great to have the kitchenette and prepare our own food one night.
Desventajas: Uncomfortable mattress. We ended up moving it on to the floor after the first night. For the price we would also have liked cotton not synthetic sheets.
8,8 Excelente
Ventajas: Staff was extremely friendly and welcoming. The room was comfy and in general the location was perfect to go into the city centre of Quedlinburg and surrounding towns. Breakfast was great, a small and selective choice, but everything we wanted and of very good quality.
Desventajas: The only thing to say is that I wish organic eggs would be served for breakfast.
2
8,0 Excelente (698 opiniones)
Si decides alojarte en ACRON Hotel Quedlinburg de Quedlinburg, estarás a menos de cinco minutos en coche de Iglesia de San Nicolás y Museo Klopstock. Tendrás periódicos gratuitos en el vestíbulo, atención multilingüe y consigna de equipaje a tu disposición. Hay un aparcamiento sin asistencia gratuito disponible.
9,6 Excelente
Ventajas: Close to the train station and historical center but it's a new building in a very quiet area (I could only hear birds singing in the morning :) ). Wonderful staff, tasty breakfast, comfortable room. I would definitely stay there again!
Desventajas: Nothing to complain.
4,6 Aceptable
Ventajas: The hotel was very well located, and had a pretty big parking lot. You can walk to the hotel and be on the main square of Quedlinburg in less than 10 minutes. There is an ALDI around the corner and pretty nice restaurants near by. The hotel is clean. The breakfast is... acceptable. The water pressure and temperature in the bathroom is OK, and the heat is good.
Desventajas: The hotel is bad, in general terms. The staff doesn't care about you, really. When we arrived we did not get any "welcome" and when we left we did not get any "have a nice trip". Nothing!!! I am pregnant and a crazy woman hit me on purpose during breakfast, pushing my belly against the table (I was sitting on my chair on my table and apparently this woman, sitting more than 1 meter away, did not like the fact that I had to put my hair into an elastic band to have breakfast, so she hit me. Naturally. :/). When I informed the staff about this, nothing happened. The beds are so old that we had to place the matrices over the floor to be able to sleep. There was a shiny light coming out of the (tiny and old) TV that is so bright and pointing directly at the beds, that we had to cover them with a towel. The hotel includes a tourist fee of 2.5 Euro per person per day that is not mentioned anywhere during our booking. We were 4 and stayed for 4 days, so do your math :/. During breakfast the eggs are overcooked and smell like rotten. There are no sweet options for breakfast, just nutella. There is no water for breakfast, neither with nor without gas.
6,7 Bueno
Desventajas: La recepcionista de noche no hablaba español ni inglés.
9,2 Excelente
Ventajas: La ubicación muy buena
Desventajas: No tiene aire acondicionado
Lugares de interés en Quedlinburg