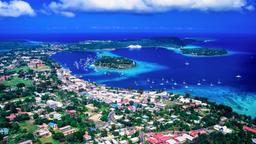 Hoteles en Port Vila
Busca Port Vila en cientos de webs de viajes en segundos
Información útil
| | |
| --- | --- |
| Temporada baja | febrero |
| Temporada alta | agosto |
| Precio medio (entre semana): | $ 5928 |
| Precio medio (en fin de semana): | $ 6695 |
el mes más barato
18%
bajada de precio esperada
el mes más caro
98%
aumento de precio esperado
(precio promedio en las últimas 2 semanas)
dom. - jue.
(entre semana)
(precio promedio en las últimas 2 semanas)
vie. y sáb.
(noche de fin de semana)
Preguntas frecuentes al reservar hoteles en Port Vila
¿Cuánto cuesta un hotel económico en Port Vila?
Los usuarios de KAYAK encontraron habitaciones dobles en Port Vila a partir de $ 689 en los últimos 3. El precio promedio es de $ 7427.
¿Cuánto cuesta un hotel en Port Vila esta noche?
En las últimas 3 horas los usuarios encontraron Port Vila hoteles para hoy a partir de $ 5646. También encontraron hoteles 3 estrellas desde $ 5646 y 4 estrellas desde $ 6777.
¿Cómo encuentro hoteles cerca de mi ubicación?
Echa un vistazo a nuestros
mapas de hoteles
y encuentra los mejores cerca de ti.
¿Dónde hospedarse en Port Vila?
Heatmaps te muestra la distancia entre tus opciones de hotel y las zonas principales de actividad para que encuentres el sitio ideal para hospedarte en Port Vila
Las mejores habitaciones en Port Vila
Los mejores hoteles en Port Vila cerca de National Museum
Ver todo
1
8,1 Excelente (670 opiniones)
Si decides alojarte en Warwick Le Lagon - Vanuatu de Port Vila, estarás en la zona ribereña y a apenas 2 min en coche de Isla Iririki y a 6 de Pango Point. Tendrás un centro de negocios, check-in exprés y check-out exprés a tu disposición. ¿Estás organizando un evento en Port Vila? En este complejo tienes a tu disposición 275 metros cuadrados de espacio con centro de conferencias. Pagando un pequeño suplemento podrás aprovechar prestaciones como servicio de transporte al aeropuerto (ida y vuelta) (disponible las 24 horas) y aparcamiento sin asistencia gratuito.
9,0 Excelente
Ventajas: good food, great pool.
Desventajas: Slow check, it took about 30 mins to check in a and it wasn't particularly busy. The rest has the worst golf course I've ever seen, I wish i hadn't brought my golf clubs with me. It is a paddock, long grass and they don't have the equipment to cut the grass short enough
7,0 Bueno
Ventajas: Nice resort in a quiet location. If you do not want to eat at the hotel, you need to walk about twenty minutes elsewhere or take a Taxi. It takes about half an hour to walk to the city center.
Desventajas: Value for money is not that good. Although the place is nice, it is a bit overpriced. Also, payable wifi is not what you expect resorts offers nowadays. (Though quality of the wifi was good)
8,8 Excelente
Ventajas: Fantastic swimming pool setup. Bar prices on par with NZ Size and layout of room very spacious Lovely garden grounds well maintained Staff very friendly and happy to work there. Buffet breakfast was huge selection and catered for all dietary needs.
Desventajas: Erakor Lagoon foreshore scattered with plastic and debris. We collected up plastic bottles and left on the side but no staff were allocated to clear away during our stay. Rubbish on the side of the road at the 'entrance' way to the resort not cleaned up during our 10 day stay. Some outdoor lighting on pathways need attention. Recommended to management they support the local village and pay them to keep the roadside and Lagoon foreshore tidy as this impacts on the overall holiday stay and experience. The local children need the funding to pay for schooling and the resort can lead by example in helping keep Vanuatu's environment clean.
7,9 Bueno
Ventajas: The grounds were easy to walk around our room was not to far away from the pool , eating facilities and the lagoon
Desventajas: Small improvements they need a proper full size pool table placed maybe in the lobby area ., the pool tables were for children in the games area very poor condition
8,0 Excelente
Ventajas: The location, Views, Facilities
Desventajas: If I am paying massive money for a night, the least I would expect a complimentary WiFi Breakfast had everything but tasteless
7,5 Bueno
Ventajas: Location the staff were amazing made you feel welcome went well out of their way to give you a wonderful time
Desventajas: Their needs to be a clean up along the beach every few days try to use local produce and display a sign that we are supporting local business produce , etc in restaurants
9,0 Excelente
Ventajas: The staff were amazing, the choice of restaurants, the pool, location was great.
Desventajas: We booked a king and got a double twin and the bed was uncomfortable, we needed to turn the toilet tap off as it screeched when not in use, the air conditioner only just coped, UHF milk pods insufficient, the bathroom toiletries were not replaced, only one out of four catamarans was maintained and usable so we missed out when we wanted to use it. Breakfast was not as expected for this class of hotel, should not have to pay extra for proper coffee when the coffee in the room is so bad.
2
8,0 Excelente (307 opiniones)
Holiday Inn Resort Vanuatu de Port Vila está a orillas del río, a solo 5 minutos en coche de University of the South Pacific (universidad) y National Museum (museo). Tendrás un centro de negocios abierto las 24 horas, un servicio de limusina o coche con chófer y check-in exprés a tu disposición. ¿Estás organizando un evento en Port Vila? En este complejo tienes a tu disposición 200 metros cuadrados de espacio con centro de conferencias. Pagando un pequeño suplemento podrás aprovechar prestaciones como servicio de transporte desde el hotel hasta el aeropuerto (disponible las 24 horas) y aparcamiento sin asistencia gratuito.
9,6 Excelente
Ventajas: Relaxing.
Desventajas: Nothing.
10,0 Excelente
Ventajas: Great place for a couple to spent quality times by themselves.
10,0 Excelente
Ventajas: The whole property itself is so amazing. The place is clean and location is great.
Desventajas: What I didn't like was leaving it to go back to Australia. A really nice place to live at.
8,0 Excelente
Ventajas: The room was sizeable. Good hours and facilities for the kids club. Warm welcome from staff. Staff very helpful especially when our flight was cancelled.
Desventajas: The food quality was quite poor and very expensive. Considering the price of the room, it was a shame breakfast wasn't included. It was an additional $40 AUDpp.
7,5 Bueno
Desventajas: Food was expensive and not so great.
3,8 Regular
Ventajas: The Pool areas were OK
Desventajas: Poorly Trained and unfriendly Staff! We arrived and weren't even greeted nicely, we then were given our room and were overcome with a musty wet smell. We immediately requested a room change which took them over an hour. Only to be given another room that had clearly been doused with air freshener to disguise the musty smell. We later realised that they have a major issue with their aircon in this hotel and were ignorant about it. We had friends staying in the same hotel with us and they also had to move rooms in the middle of the night as they were feeling sick from the smell. The hotel tried to tell them that they weren't aware of any issues with the aircon which was a blatant lie as we had already made a complaint and later found out others had too. Also the food at the restaurant is rubbish and extremely overpriced as are the breakfasts which they wanted $40 AUD per person for DAILY! Do yourself a favour, don't bother with this hotel, there are far better hotels in Port Vila that are great value for money and run by competent staff. We checked in to the Fatumaru Lodge for 7 days after this week experience and loved it.
5,0 Aceptable
Ventajas: The space was positive
Desventajas: I was travelling on business so it was not really suitable. It is a hotel geared for young families and package holidays. It needs to be modernized and although the breakfast was excellent I only once had dinner, as that experience has enough. Having to go into Port Vile each night for dinner was not appreciated. It has the potential to be great hotel.
10,0 Excelente
Ventajas: Ambience is good close to downtown .. reception staff is very helpful. Specially willams who was the manager at the hotel he is good he helped us. Close to the airport