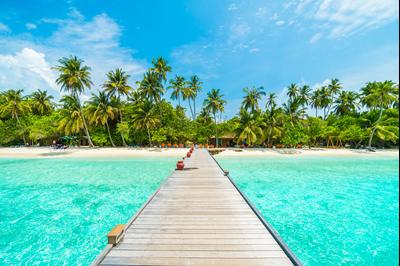 Información útil
| | |
| --- | --- |
| Temporada baja | mayo |
| Temporada alta | diciembre |
| Precio medio (entre semana): | $ 20738 |
| Precio medio (en fin de semana): | $ 23330 |
el mes más barato
35%
bajada de precio esperada
el mes más caro
45%
aumento de precio esperado
(precio promedio en las últimas 2 semanas)
dom. - jue.
(entre semana)
(precio promedio en las últimas 2 semanas)
vie. y sáb.
(noche de fin de semana)
Preguntas frecuentes al reservar hoteles en Malé
¿Dónde hospedarse en Malé?
Nuestra herramienta Heatmaps te ayuda a encontrar el mejor lugar para hospedarte en Malé mostrándote opciones de hotel próximas a las actividades que te interesan.
Los mejores hoteles en Malé cerca de Male Fish Market
Ver todo
1
8,2 Excelente (83 opiniones)
House Clover de Malé está a menos de 15 minutos en coche de Centro Islámico de Maldivas y Playa Hulhumale. Tendrás tintorería o lavandería, consigna de equipaje y una lavandería a tu disposición.
8,8 Excelente
Ventajas: Good value for money. Location is good. I don't have anything negative to say about the room, too small trash bin though!! Kind staff - let me to check-out later when it was Friday. In Male you don't have much options so this is totally fine.
7,5 Bueno
Ventajas: Very accommodating Good location Had a nice common area outside our room to hang out, play cards, make a tea or coffee
Desventajas: Bed was a little soft rolled into the middle
8,3 Excelente
Ventajas: checking in early and checking out late is allowed. The workers in hotel are very nice and helpful.
Desventajas: driver cannot find the right place
10,0 Excelente
Ventajas: Rooms & bathrooms clean. Staff friendly and helpful. Location is pretty Central to the few attractions in Male. Good value for money esp including breakfast.
10,0 Excelente
Ventajas: Excellent location, very clean, perfect for my stay
8,3 Excelente
Ventajas: The staff is very nice. The room is bigger and the price is nice.
Desventajas: The breakfast is not included.
10,0 Excelente
Ventajas: Strategic location, nice room and nice staff
8,0 Excelente
Ventajas: No Breakfast available
Desventajas: A good Breakfast and little more privacy
10,0 Excelente
Ventajas: The staff is very accommodating. The hotel location is near the restaurants and souvenir shops.
Desventajas: None
10,0 Excelente
Ventajas: staff are accommodating
8,0 Excelente
Ventajas: Ubicación y trato del recepcionista.
Desventajas: no sabíamos que ofrecían servicio de traslado al aeropuerto, lo hicimos por nuestra cuenta. no tienen servicio de desayuno, pero hay varios cafés/restaurantes alrededor. precio elevado para el nivel del alojamiento, aunque me temo que dentro del precio medio de los alojamientos en Malé.
Todos los hoteles en Malé