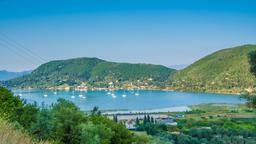 Hoteles en Lefkáda
Busca Lefkáda en cientos de webs de viajes en segundos
Información útil
| | | |
| --- | --- | --- |
| Temporada baja | mayo | Mes más barato para alojarse con una media de 48% bajada en el precio. |
| Temporada alta | agosto | Mes más caro para alojarse con una media de 76% de aumento en el precio. |
| Precio promedio (entre semana) | $ 4882 | Precio medio para un dom. - jue.en las últimas 2 semanas. |
| Precio promedio (fin de semana) | $ 5108 | Precio medio para un vie. y sáb.en las últimas 2 semanas. |
Consejos para encontrar el hotel ideal en Lefkáda
Preguntas frecuentes al reservar hoteles en Lefkáda
¿Los hoteles son seguros en Lefkáda durante la crisis del coronavirus (COVID-19)?
¿Cómo encuentro hoteles cerca de mi ubicación?
¿Dónde hospedarse en Lefkáda?
Heatmaps te muestra la distancia entre tus opciones de hotel y las zonas principales de actividad para que encuentres el sitio ideal para hospedarte en Lefkáda
Las mejores habitaciones en Lefkáda
1
9,6 Excelente (188 opiniones)
10,0 Excelente
Ventajas: El trato de la gerencia que nos ayudó muy amablement en todo lo que necesitamos. Muy servicial y atenta. El entorno y el sitio está Cuidado Hasta el mínimo detalle. El sitio nos ha enamorado.
10,0 Excelente
Ventajas: La habitación... Y la filoxeneia
Desventajas: Nada todo perfecto
9,6 Excelente
Ventajas: The accomodation has a very nice, relaxed atmosphere. Perfect location to explore the island. Owner and staff are extremely friendly and helpful making our stay very comfortable and complete.
9,6 Excelente
Ventajas: The moment we arrived we got a super warm welcome and were told which places of Lefkada are worth visiting and all the ins and outs! This way we started the holiday well informed. The property is in a super great state, the garden well kept and the rooms are super clean. We had a couple of the most "zen" and relaxing days laying next to the nice and clean pool. The owner and employees are so nice and make you feel welcome like we have never experienced before. The owner bakes her own cake now and then and were surprised finding a piece of it in our appartment after a day at the beach. The property is a 3 min walk to the sea and 3 min walk to some restaurants/supermarkets on the main road. Lygia is a quiet village and 25 mins away from Nidri (which we personally enjoyed the most)
Desventajas: I liked everything about it
10,0 Excelente
Ventajas: Lygia is a very quiet area, there are a few tavernas in walking distance and the local beach which is stony is a stroll away, but very peaceful and beautiful.
10,0 Excelente
Ventajas: Everything - so clean. Lovely staff and owner were amazing. Perfect location - beautiful place.
Desventajas: Nothing it was perfect
10,0 Excelente
Ventajas: Amazing atmosphere and attention to detail . Such friendly staff and they were so generous. Delicious bougatsa!
Desventajas: Not much to complain about. Maybe that I had to leave !
10,0 Excelente
Ventajas: Everything is perfect!!! Unreal attention to detail and customer care!!! Feels like home!!! Wish it was :)
10,0 Excelente
Ventajas: Great experience at a wonderful accommodation in Lygia, Lefkada (stayed 3 nights): - Suitable area for relaxation and peace of mind, a walk's distance away from top rated taverns, cafeterias and 5 minutes car-ride to Lefkada Town to explore bars, pubs, nightclubs, shopping - The owner was really friendly and welcomed us at our arrival with local delicacies & snacks before getting a quick tour guidance from the ever helpful sisters at the reception - Stayed at Calypso Room B4, top floor with an amazing pool & garden view, large enough for 4 people to sleep in - Spotlessly clean facilities (pool, garden, bar, bathrooms) & quick service by the staff (cleaning ladies were lightning fast - everything was ready to go in 10-15' & clean towels everyday) 10/10 Will visit again - look no further choose Alkyon
Desventajas: Nothing, everything was great!
9,6 Excelente
Ventajas: what an unparalleled friendly welcome! it was clear that we should feel at home and everything was done about that. Our 3 room apartment was spacious and very clean. The swimming pool with bar was cozy in design. For us a location to remember for next time. We'll definitely be back!
10,0 Excelente
Ventajas: Perfect place for sea&sun vacation. Very warm late welcome, very warm and helpful friendly staff, very good pool and bar. A beautiful, clean, quiet place. Close to Lefkada town and walking distance to market, bakery and greek taverns. Sea with small rocks nearby and multiple choices for other beaches. We will come back.
10,0 Excelente
Ventajas: Everything was catered for to enjoy a perfect self catering break. Lovely pool with enough sun beds and great friendly, cheerful staff.
2
9,5 Excelente (155 opiniones)
Si decides alojarte en Villa Elia de Lefkada, estarás cerca de la playa y a menos de cinco minutos ne coche de Playa de Agios Ioannis y Monasterio Faneromeni. Hay un aparcamiento sin asistencia gratuito disponible.
10,0 Excelente
Ventajas: I left the villa yesterday and it was a wonderful experience. It is absolutely perfect for people who need a serene place to relax and recharge their batteries. The pool was amazing, the beach is a 2 minute walk from the Villa, the town is 5 minutes away by taxi and there is everything you need on the property. The breakfast is delicious, so I would definitely recommend it. Shower has good water pressure, the balcony is spacious, and the bed very comfortable. What made the experience beyond amazing is the staff. Monica is an encyclopedia of information, an angel that will make sure all your needs are taken care of, and for someone like me traveling alone that is very important. Alina is absolutely fabulous at the bar/restaurant preparing great lunches, joking, laughing, making you feel like you are home. The night crew, Katerina will take care of you once Monica and Alina are gone, and will make you feel comfortable. The place is great, but the people working there is what makes it special! Thank you to the girls of Villa Elia for making me like I was home. P.S. the owner is great, but his son needs to at least say hello to the guest to avoid guests feeling uncomfortable. I would highly recommend this piece of paradise, and rest assured that these wonderful women have such a wonderful attitude and personality that you will feel at home!
9,6 Excelente
Ventajas: Friendly and helpful staff. Easy to get to most of the beaches by car.
Desventajas: The nearby beach is mainly for watersports, because of the high winds. The sea has a lot of marine plants.
10,0 Excelente
Ventajas: Nice clean and good location
Desventajas: None
10,0 Excelente
Ventajas: Comfortable, friendly and relaxing stay.
Desventajas: No complaints
9,2 Excelente
Ventajas: Beautiful resort at about 300m from the beach. Incredibly friendly staff including the owner, breakfast on the terrace perfect. Rich breakfast, everything always supplemented. Rooms spacious, clean, tidy every day. There are 2 beautiful swimming pools, tennis courts and a basketball court. Bar open until midnight.
Desventajas: Maybe a little neighborhood of area, but you do not perceive much
9,6 Excelente
Ventajas: The staf was very friendly. I did not have a car and they offered me several times te bring me to lefkas town. Early breakfast because of early return -flight was no problem. The breakfast was good. The only thing I can think of is that it was the same every day. But everything was fresh and tasteful!
10,0 Excelente
Ventajas: Couldn't be happier. High quality resort!
Desventajas: WiFi connection was poor at times in the room. Blazing fast in public areas tho.
10,0 Excelente
Ventajas: The property amenities were outstanding. We only stayed 2 nights here so we didn't take advantage of the tennis courts and other sport amenities, but we did relax at the 2 pools. They were both clean, had plenty of pool chairs and tables for relaxing, and plenty of shade so that you could escape the sun if needed. The restaurant staff was friendly and attentive, and the breakfast was fresh with plenty of healthy options to satisfy our whole group. I would gladly rent from Villa Elia the next time I come to Lefkada!
Desventajas: Everything was great!
Si decides alojarte en George de Lefkada, estarás junto al mar, a 5 min a pie de Estatua de Onasis y a 10 de Playa Perigiali. Tendrás check-in exprés, tintorería o lavandería y consigna de equipaje a tu disposición. Pagando un pequeño suplemento podrás aprovechar prestaciones como servicio de transporte al aeropuerto (ida y vuelta) (disponible las 24 horas) y aparcamiento sin asistencia gratuito.
2,5 Mediocre
Ventajas: Nothing
Desventajas: They overcharged their customers, no parking, no second room keys if you want to go out ,stuff rood to there customers you need more
10,0 Excelente
Ventajas: We really liked the location of the hotel, was easy accessible and everything was just on the corner. The breakfast was fresh and rich and we had a variety of coffies to choose among.
Desventajas: Everything was perfect
9,0 Excelente
Ventajas: The staff were efficient and friendly
Desventajas: A telephone in bedroom to communicate with reception.
10,0 Excelente
Ventajas: The hosts were great. Very friendly and nice people, helpful and caring on our needs. The breakfast was variuos and very tasteful. Near to the centre and tavernas, far from the crouded streets. George is the kind of place you can say that money have no value and no matter the price is the feeling makes the difference. I recommend it to anyone and I would come back each time I have the chance.
10,0 Excelente
Ventajas: Our stay at the hotel was wonderful! Maria and the entire staff were delightfully helpful and kind. Maria even assisted with arranging transportation from the airport to the hotel and made all aspects effortless on our part. The hotel itself was beautiful and in an absolutely perfect location. I have been coming to the Lefkada area for over thirty years and would recommend this hotel over and over again. 10/10
Desventajas: I had no complaints. Everything was wonderful.
8,8 Excelente
Ventajas: Very nice place. Clean, good value for money. Nice pool,with nice bar. Owner Maria very pleasant and polite. All was ok.
10,0 Excelente
Ventajas: We returned after 20 years and it was still as memorable.