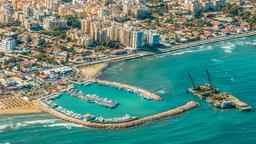 Hoteles en Lárnaca
Busca Lárnaca en cientos de webs de viajes en segundos
Información útil
| | |
| --- | --- |
| Temporada baja | marzo |
| Temporada alta | julio |
| Precio medio (entre semana): | $ 4847 |
| Precio medio (en fin de semana): | $ 4720 |
el mes más barato
31%
bajada de precio esperada
el mes más caro
41%
aumento de precio esperado
(precio promedio en las últimas 2 semanas)
dom. - jue.
(entre semana)
(precio promedio en las últimas 2 semanas)
vie. y sáb.
(noche de fin de semana)
Preguntas frecuentes al reservar hoteles en Lárnaca
¿Dónde hospedarse en Lárnaca?
Heatmaps te muestra la distancia entre tus opciones de hotel y las zonas principales de actividad para que encuentres el sitio ideal para hospedarte en Lárnaca
Las mejores habitaciones en Lárnaca
Los mejores hoteles en Lárnaca cerca de Church of Saint Lazarus
Ver todo
1
8,9 Excelente (1.175 opiniones)
Si decides alojarte en The Ciao Stelio Deluxe Hotel de Lárnaca, estarás en el barrio de ocio y a menos de cinco minutos en coche de Lago salado de Larnaca y Playa de Finikoudes. Tendrás un centro de negocios abierto las 24 horas, check-in exprés y check-out exprés a tu disposición. Hay un aparcamiento sin asistencia gratuito disponible.
9,7 Excelente
Ventajas: Es un hotel fantástico. Pero tuve que pagar extra para conseguir una cama doble. No puedo creer que los hoteles de lujo todavía alberguen a huéspedes individuales en habitaciones con una cama de tamaño adolescente. Pero en general, excelente.
Desventajas: Nada
10,0 Excelente
Ventajas: Es un sitio genial, personal
10,0 Excelente
Ventajas: Perfect location on McKenzie Beach and a quick taxi ride to the airport. Beautiful restaurant and bar area with spacious bedrooms and comfortable beds. Breakfast was excellent with lots of variety and complimentary offerings on arrival and in the room was very generous
10,0 Excelente
Ventajas: One of the best breakfasts I ever tried in hotels. A very nice and polite staff :) Great hotel for business travelers.
10,0 Excelente
Ventajas: Exceptional greeting and assistance throughout our stay from the concierge a very kind south African gentleman. Very good efficient check in. Much appreciated room upgrade. Excellent meal in the restaurant with excellent service and knowledge of the menu which helped with my wifes food allergies. We will stay there next time we visit Cyprus. Good position for airport access.
Desventajas: Everything was 5 star
1,0 Malo
Desventajas: Honeymoon is ruined by evacuation
2
8,1 Excelente (1.585 opiniones)
Si te hospedas en Blazer Residence, disfrutarás de una céntrica ubicación en Lárnaca, a solo diez minutos a pie de Puerto de Larnaca y Plaza de Europa. Tendrás tintorería o lavandería, un servicio de recepción las 24 horas y consigna de equipaje a tu disposición. Se ofrece servicio de transporte al aeropuerto (ida y vuelta) de pago (disponible las 24 horas).
10,0 Excelente
Ventajas: El staff que trabaja allí hacen tu estancia única! Encantadores y serviciales me. Sentí. Como en casa, Mil gracias a las 2 Katerinas y a Alexander!! Besos desde España Pedro.
8,0 Excelente
Ventajas: Muy bien ubicado, a pocos metros los puntos mas interesantes de Larnaca y zona de restaurantes.
Desventajas: La ducha con agua caliente sale con poca presión.
10,0 Excelente
Ventajas: Nice
Desventajas: Non
7,0 Bueno
Ventajas: Pretty close to the most popular streets Everything is clean Nice view of the street from windows and balcony
Desventajas: Nothing was written about parking. I asked additionally and got an answer that the hotel has a small parking. When I came, turned out there's nothing. Cold in winter. We used AC to warm it up, but it takes hours and it warms up only rooms, not the rest of the apartment.
8,8 Excelente
Ventajas: La ubicación, cercano al paseo marítimo. Habitación espaciosa.
Desventajas: Mal funcionamiento del wifi.
3,0 Regular
Ventajas: Clean fresh sheets every couple of days and towels.
Desventajas: No parking.i have used this hotel every year for the last eight years and have always used the parking area which was provided. I was not only disappointed but very upset to find that on checking in that the car park was no longer available for their own residences and I had to go looking for a car park at midnight. What I did find annoying was that upon leaving another residence from another hotel that had overbooked and was staying at Blazer was allowed to use the car park.
5,4 Aceptable
Ventajas: Ubicación céntrica. Recepción 24 horas que es importante si llegas a las 3 am.
Desventajas: Apartamento muy viejo y descuidado, limpieza mejorable, muy ruidoso por la noche porque da a la calle, muchísimo calor en las habitaciones y el aparato de aire acondiconado hacía mucho ruido para dormir con el aire encendido.
6,0 Bueno
Ventajas: Location is great.
Desventajas: The room was not the same as in the pictures. Conditioning was not working and it was winter time and first administrator said he can not do anything about it. When we asked to talk with the manager, he said he can arange that only in the morning, while it was only 5 pm on our arrival. Only after long negotiation our room was changed to the one that fit the pictures.
10,0 Excelente
Ventajas: Recomiendo
Desventajas: Todo bien
9,6 Excelente
Ventajas: Location is great, the room was spotlessly clean, 24 hours reception which is a big plus! The staff is great, they upgraded our room for free! Special thanks for the blankets, very comfortable. The residence has a small free parking, but they don't have this information anywhere on the website because it's almost always fully occupied, but we were lucky to get a place. Good value for the money, the only possible minus is WiFi quality, all the rest is perfect. Would recommend this place!
Desventajas: A little noisy because of the construction site next to the building, but the biggest issue is WiFi quality, the speed was very slow :(
6,0 Bueno
Ventajas: big room and nice location - a lot of restaurants and shops in walking distance helpful staff - wine opener was not a problem (but it was depending from the person at the reception desk)
Desventajas: no parking for guests, finding a place on the street takes hours.. furniture should be renewed not all staff members are helpful, for some even a wine opener was a big deal UK sockets in the wall, tv or bed lamps with EU plugs, which can be a real problem if you don't know the hack
2,0 Regular
Ventajas: The location is good.
Desventajas: They do not provide any parking if you travel by car. Most of the time the front parking is full and you have to find parking far away, plus most of the road is one way, so you have to be careful while driving there.
3
7,9 Bueno (540 opiniones)
Si decides alojarte en Atrium Zenon Hotel Apartments, disfrutarás de una fantástica ubicación en el centro de Lárnaca, a solo 5 min a pie de Plaza de Europa y a 6 min de Playa de Finikoudes. Tendrás un servicio de limusina o coche con chófer, tintorería o lavandería y un servicio de recepción las 24 horas a tu disposición. Este hotel pone a tu disposición 2 salas de reuniones donde celebrar todo tipo de eventos. Hay un aparcamiento sin asistencia gratuito disponible.
4,5 Aceptable
Ventajas: La piscina de la azotea
Desventajas: No hay acceso a internet. Tienes que pagar extra para tenerlo en tu habitación. El hotel está lejos de ser un 4 estrellas. Es equivalente a un hotel de 2 estrellas. La decoración está pasada de moda.
4,2 Aceptable
Ventajas: Lo único que me gustó fue la ubicación. Aparte de eso, no había mucho que me gustase.
Desventajas: Tuve que pagar extra por el aire acondicionado... la electricidad sólo funcionaba con la llave. Las camas eran horribles!!
9,2 Excelente
Ventajas: Me gustó todo. La atención de todo el personal fue muy buena como así también la ubicación. El departamento confortable. Volvería cada año.
Desventajas: Solo le faltó un microondas
9,6 Excelente
Ventajas: Peace and quiet place. Beautiful sun and warm sea. A lot of fruits and vegetables.
Desventajas: At the end of October staff of the hotel started some works near pool and take away some sunbeds and tables and chairs in a rest zone inspite the presense of tourists. It is not so good.
10,0 Excelente
Ventajas: Very family orientated accommodation and area. Amazing access to all restaurants shops and beach. Very friendly and helpful staff. Great value accomodation and caters excellently for those with children.
4,2 Aceptable
Ventajas: Wi fi was batter.
Desventajas: I have informed i shalll pay to propriety but they have took my money on the card.
5,8 Aceptable
Ventajas: The location is Great.
Desventajas: The room was not very clean. The beds Are very hard.
Lugares de interés en Lárnaca