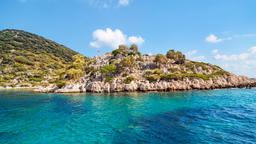 Hoteles en Kaş
Busca Kaş en cientos de webs de viajes en segundos
Información útil
| | |
| --- | --- |
| Temporada baja | febrero |
| Temporada alta | enero |
| Precio medio (entre semana): | $ 99231 |
| Precio medio (en fin de semana): | $ 1718 |
el mes más barato
93%
bajada de precio esperada
el mes más caro
307%
aumento de precio esperado
(precio promedio en las últimas 2 semanas)
dom. - jue.
(entre semana)
(precio promedio en las últimas 2 semanas)
vie. y sáb.
(noche de fin de semana)
Preguntas frecuentes al reservar hoteles en Kaş
¿Cuánto cuesta un hotel económico en Kaş?
Los usuarios de KAYAK encontraron habitaciones dobles en Kaş a partir de $ 833 en los últimos 3. El precio promedio es de $ 9271.
¿Cómo encuentro hoteles cerca de mi ubicación?
Echa un vistazo a nuestros
mapas de hoteles
y encuentra los mejores cerca de ti.
¿Dónde hospedarse en Kaş?
Heatmaps te muestra la distancia entre tus opciones de hotel y las zonas principales de actividad para que encuentres el sitio ideal para hospedarte en Kaş
Las mejores habitaciones en Kaş
Los mejores hoteles en Kaş cerca de Kaş Antik Tiyatrosu
Ver todo
1
8,7 Excelente (266 opiniones)
Si te hospedas en Aqua Princess Hotel, disfrutarás de una céntrica ubicación en Kaş, a solo diez minutos a pie de Puerto deportivo de Kas y Playa de guijarros grandes. Tendrás una sala de ordenadores, check-in exprés y check-out exprés a tu disposición. Pagando un pequeño suplemento podrás aprovechar prestaciones como servicio de transporte al aeropuerto (ida y vuelta) (disponible las 24 horas) y aparcamiento sin asistencia gratuito.
9,6 Excelente
Ventajas: Everybody was responsive to my requests, even the smallest ones regardless of their job. If it was not related to their responsibilities, they found the key person immediately. The key person solved the issue without delay. Food was very fresh and delicious.
Desventajas: They could improve the steps going into the sea. I came there for the pristine sea shore. Steps are looking old and very uncomfortable to go up and down, especially when sea is rough.
9,2 Excelente
Ventajas: Atmosphere in all the town.Location of the hotel.Bar tenders - pool and beach - Mr. Tahsin and Mrs. Sakine !
Desventajas: Very narrow baths...
10,0 Excelente
Ventajas: Was good value for money but the prices will go up in high season. They have a beach in front of the hotel and that's is a big bonus.
Desventajas: N/A
8,8 Excelente
Ventajas: helpful staff, great location
Desventajas: they don't have elevator
10,0 Excelente
Ventajas: The staff,the view,the food,the pool and beach club. It's location is superb and its atmosphere wonderful.
6,3 Bueno
Ventajas: Very average condition and room size very small
Desventajas: Decor and overall condition cosmeticly
9,2 Excelente
Ventajas: Perfect location, sea view, perfect management, I also like breakfast.
Desventajas: Room isolation could be little better but not a big problem.
10,0 Excelente
Ventajas: Breakfast was great, great selection of food. Staff were friendly and helpful, view from our balcony and the terrace was amazing. Would definitely return when staying in Kas again
Desventajas: Nothing I didnt like
6,7 Bueno
Ventajas: Well located, the breakfast was great and the view is very nice.
Desventajas: The room was quite small and the bathroom didnt smell good... I find the price expensive for the quality of the prestation...
7,5 Bueno
Ventajas: The location is good and you can walk easy to the town center. It's quiet and peaceful The people are very friendly
Desventajas: The prices for drinks are not in good comparison to the town. Too expensive The WiFi was horrible bad and slow No elevator and lots of stairs to walk. You could hear the neighbours flushing the toilet and speak in the small bathroom. It was not clear that you have to pay the fresh orange juice as well for the breakfast. Not so cool for a rather expensive hotel. It's not a good price -quality But we enjoyed it so much to be in Kaş!
2
7,2 Bueno (338 opiniones)
Si te alojas en Habesos Hotel, disfrutarás de una céntrica ubicación en Kaş, a pocos pasos de Playa de guijarros pequeños y a cinco minutos a pie de Estatua de Ataturk. Tendrás periódicos gratuitos en el vestíbulo, un servicio de recepción las 24 horas y una caja fuerte en recepción a tu disposición. Hay un aparcamiento limitado disponible.
5,4 Aceptable
Ventajas: The staff were AMAZING.
Desventajas: Bathroom smelt horrible and breakfast had no taste.
7,5 Bueno
Ventajas: Not a bad option just to the south of the city. About a five minute walk in to town. Quiet and peaceful. Close and well connected.
Desventajas: Maybe a little expensive for what it was. But still on the cheap side of things
5,4 Aceptable
Ventajas: Worst
Desventajas: Wifi didnt work
7,9 Bueno
Ventajas: This hotel is located right opposite a lovely beach club and a few minute walk to the harbour square, which is the centre of Kas. The hotel was very nice and very clean, and the staff where very attentive and helpful. Breakfast was buffet style and lovely, although it can get very busy, and sometimes there are limited tables.
Desventajas: Our room was on the forth floor. The booking confirmation and hotel details stated that it had an elevator. However, there is 2 buildings and our building didn't have an elevator. I found it very hard work climbing 4 flights of stairs numerous times a day. Our room was for 3 people - it was very small with a low ceiling (kept banging our heads) and limited wardrobe space. The air conditioning wasn't brilliant and wifi didn't work in the room.
7,5 Bueno
Ventajas: La ubicación, estaba muy cerca del centro y de la zona de bares y restaurantes. La zona de la piscina era agradable aunque en las fotos parecía más grande.
Desventajas: Estuvimos dos días y no nos limpiaron la habitación ni nos hicieron la cama, por el precio de la habitación asumiamos que este servicio debería estar cubierto. La habitación era bastante básica. Se indicaba que contaban con aparcamiento gratuito pero no había parking como tal sino que se podía aparcar el coche frente del hotel, en 2-3 filas con el inconveniente de tener que mover el coche si algún otro cliente quisiese salir antes que tú, optamos por aparcar en la calle contigua ya que era de aparcamiento gratuito.
7,5 Bueno
Ventajas: It was clean friendly staff great location all that we wanted
5,4 Aceptable
Ventajas: Piscina Ubicación
Desventajas: No limpiaron habitación en 5 días. No dieron toallas limpias en 5 días. Habitacion insegura. Fácil hurto
8,3 Excelente
Ventajas: Location was great
7,5 Bueno
Ventajas: Lo mejor la ubicación, muy céntrico. El desayuno bastante decente y la habitación era grande
Desventajas: Nuestro balcón estaba invadido por ramas de árboles que no han podado en la vida, con lo que era como si no tuviésemos balcón.
5,8 Aceptable
Ventajas: -Breakfast was good -Staff were ok -Pool area was nice
Desventajas: -Stayed for 5 nights and didn't get the room cleaned once -Room was much older than the pictures showed and much smaller -Wifi didn't work in the room at all -Air con was very old and not efficient at keeping room cool
9,0 Excelente
Ventajas: The great thing about this hotel is that it is so central. No frills but all one needs. very helpful staff.