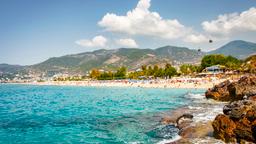 Hoteles en Alanya
Busca Alanya en cientos de webs de viajes en segundos
Información útil
| | | |
| --- | --- | --- |
| Temporada baja | enero | Mes más barato para alojarse con una media de 80% bajada en el precio. |
| Temporada alta | agosto | Mes más caro para alojarse con una media de 32% de aumento en el precio. |
| Precio promedio (entre semana) | $ 6610 | Precio medio para un dom. - jue.en las últimas 2 semanas. |
| Precio promedio (fin de semana) | $ 4924 | Precio medio para un vie. y sáb.en las últimas 2 semanas. |
Consejos para encontrar el hotel ideal en Alanya
Preguntas frecuentes al reservar hoteles en Alanya
¿Los hoteles son seguros en Alanya durante la crisis del coronavirus (COVID-19)?
¿Dónde hospedarse en Alanya?
¿Cuánto cuesta un hotel en Alanya?
¿Cómo encuentro hoteles cerca de mi ubicación?
¿Dónde hospedarse en Alanya?
Heatmaps te muestra la distancia entre tus opciones de hotel y las zonas principales de actividad para que encuentres el sitio ideal para hospedarte en Alanya
Las mejores habitaciones en Alanya
Los mejores hoteles en Alanya cerca de Alanya Aquapark
Ver todo
1
8,7 Excelente (1.175 opiniones)
Si decides alojarte en Riviera Hotel & Spa de Alanya, estarás a pie de playa, a 4 min a pie de Playa de Cleopatra y a 5 de Alanya Aquapark (parque acuático). Tendrás check-in exprés, check-out exprés y periódicos gratuitos en el vestíbulo a tu disposición. Se ofrece servicio de transporte al aeropuerto (ida y vuelta) de pago (disponible las 24 horas).
10,0 Excelente
Ventajas: Everything, from the food and drinks, to some of its' familiar staff. The location is superb, almost can't beat it. This August (2019) was our second visit - and will be returning again for our next vacation in Alanya!
Desventajas: Nothing.
9,6 Excelente
Ventajas: Nice, close to the beach (sandy beach, yet the sand looked rather like small rocks than actual sand), clean, large variety of food options for all meals.
Desventajas: It is not acceptable for a 4*hotel to not have alternative food for people which cannot eat pepper and hot chilly. Except for the breakfast, all the drinks had to be paid separately (including the water).
9,2 Excelente
Ventajas: Everything.
Desventajas: Nothing.
7,1 Bueno
Ventajas: Location was perfect Staff was helpful
Desventajas: The view was not in full sea side as expected, though we can still view the sea. No iron, coffee machine or boiler.
10,0 Excelente
Ventajas: Excelente ubicación en una zona céntrica pero tranquila a pocos metros del teleférico y de la playa. La comida absolutamente deliciosa y variada. El personal educado y gentil. La limpieza sobresaliente, tanto en el hotel y sus alrededores como en la playa.
8,3 Excelente
Ventajas: Location, cleanliness
Desventajas: Restaurants menu. Five days no fish for dinner. Any fish. Zero.
9,2 Excelente
Ventajas: It was my 5th stay in this hotel, so I will repeat my remarks. The location is perfect. I love the spa - it's really clean, the staff can modify the program if the client wants, and the price is OK. The hairdresser is in building C, and they are also friendly, professional and the prices are good. The hotel staff is not obtrusive, they are really helpful. The cleaning staff is professional and they clean the rooms every day. The air conditioner, Wi-Fi and TV work really well. The meals are really tasty, especially the desserts. They serve delicious coffee.
Desventajas: Certain rooms in building A have a wonderful view over the sea, but at the same time the noise from the street and cafes comes to the room, which lasts till late night hours. Because of a huge number of tourists this summer there were sometimes problems in the restaurant - it was not easy for a single person to find a small table. What's more, waiters tried to work fast in such conditions, and some of them didn't care much if the guest has finished the meal or not, they took plates and cutlery too early, almost from the guest's hand, which I consider rude.
10,0 Excelente
Ventajas: The hotel location is perfect, the room was very nice and clean. The staff was kind and professional. The beach which belongs to the hotel is excellent. I really recommended this hotel for everyone. Next summer we will go there again.
10,0 Excelente
Ventajas: Cleanliness, peaceful, good location, fresh and tasty food
5,0 Aceptable
Ventajas: Location is good
Desventajas: This was not my first time but the hotel changes negatively. Towels were not clean. Receptionists have the credit card information. They can charge extras with room numbers, that's fair. However, my room number and the number on my wristband are different. You can say your room number or show your wristband. I expected clean towels and those kinds of small details with that price. Be careful and check your credit card.
2
7,8 Bueno (227 opiniones)
Si decides alojarte en Villa Sonata, disfrutarás de una fantástica ubicación en el centro de Alanya, a solo cinco minutos a pie de Playa de Cleopatra y Cuevas Damlatas. Tendrás tintorería o lavandería, un servicio de recepción las 24 horas y una lavandería a tu disposición. Pagando un pequeño suplemento podrás aprovechar prestaciones como servicio de transporte al aeropuerto (ida y vuelta) (disponible las 24 horas) y aparcamiento sin asistencia gratuito.
8,3 Excelente
Ventajas: Location is amazing, stylish hotel
10,0 Excelente
Ventajas: The property is fabulous. It's located in the city, on the hill so you have the most beautiful views of Alanya. The staff is lovely and very attentive and always there whenever you need anything. Breakfast is delicious and they always would prepare something extra on the spot for you. Rooms are really comfy, especially the bed and from your balcony you have the whole city under your feet. They have a cute dog, so if you a pet lover, that's definitely a place for you to stay. Cleopatra Beach is literally 4 min walk from the property.
Desventajas: Everything was perfect! Nothing to dislike.
10,0 Excelente
Ventajas: Relax
Desventajas: No thing
10,0 Excelente
Ventajas: A lovely family run hotel, all staff exceptionally friendly and accommodating. Superb value for money, central location, views from panoramic apartments stunning.
Desventajas: The steep hill but short and sharp and taxis plentiful & cheap if needed.
3,3 Mediocre
Ventajas: The are outside and a pool are really nice
Desventajas: Was very bad food, room. My bathroom was like after war, full of hair in the shower sink, very dirty cabin and walls. I lived like that all week and nobody cleaned the bathroom. And if you need any assist, if you have questions, no one will help, it's just impossible to find someone on reception.
10,0 Excelente
Ventajas: La vista es maravillosa, la atención de los chicos es muy buena!
10,0 Excelente
Ventajas: The drinks and the pepper steak was very good. And the dancers and the entertainment was super!!!
Desventajas: The only problem is the way up to the hotel. Maybe a bigger sign would be good since our taxi didnt find the hotel.