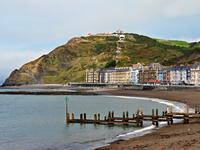 Información útil
| | |
| --- | --- |
| Temporada baja | diciembre |
| Temporada alta | agosto |
| Precio medio (entre semana): | $ 3496 |
| Precio medio (en fin de semana): | $ 4130 |
el mes más barato
6%
bajada de precio esperada
el mes más caro
40%
aumento de precio esperado
(precio promedio en las últimas 2 semanas)
dom. - jue.
(entre semana)
(precio promedio en las últimas 2 semanas)
vie. y sáb.
(noche de fin de semana)
¿Dónde hospedarse en Aberystwyth?
Heatmaps te muestra la distancia entre tus opciones de hotel y las zonas principales de actividad para que encuentres el sitio ideal para hospedarte en Aberystwyth
Las mejores habitaciones en Aberystwyth
Los mejores hoteles en Aberystwyth cerca de Aberystwyth Beach
Ver todo
1
8,7 Excelente (619 opiniones)
El Llwynygog es un pequeño establecimiento de gestión familiar de 3 estrellas. Se encuentra en un hermoso rincón del centro de Aberystwyth, a sólo 2 minutos a pie de la playa y de los numerosos servicios del centro de la ciudad. Las estaciones de tren y de autobús están a sólo 5 minutos a pie. A pocos pasos hay tiendas, discotecas, supermercados, pubs y un cine. Todas las habitaciones tienen calefacción central, TV con canales Freeview, menaje para preparar té y café y conexión inalámbrica a internet. El establecimiento dispone de habitaciones con baño privado y compartido. El Llwynygog Guest House es ideal para familias, solteros, parejas, mascotas y reservas de grupos.
9,0 Excelente
Ventajas: Great location, a couple of mins to the main street and the waterfront. Friendly hosts and a very clean and tidy place. The room was a nice large size and felt warm and cosy on a rainy night!
Desventajas: For me the bed was a little soft but that's just personal preference
8,0 Excelente
Ventajas: Location was great. Very central. Perfect for where I had to go. Also near the sea front and so I was able to take an evening walk by the sea. Breakfast was fine. Well cooked. Room was perfect for my needs.
Desventajas: Lack of 24 hour on road parking but I got lucky as I was able to park in a side street with no restrictions. The lack of available parking is not the fault of the owners but seems to be an issue in the town centre. However, the owners know of available parking nearby and can advise on where to park one's car.
9,0 Excelente
Ventajas: Friendly family-run guesthouse, great value for money, very convenient for the station and seafront. I had a single room with a washbasin, which was basic but perfectly good for the money.
Desventajas: The controls on the shower in the bathroom were damaged but still worked okay.
7,0 Bueno
Ventajas: Central location Parking can be a bit difficult ......... ................. ....
Desventajas: Nothing really .......................... ..................
10,0 Excelente
Ventajas: Exceptionally clean. Friendly staff. Very comfortable. Great location.
8,0 Excelente
Ventajas: Everything was as stated, exactly what we needed. Thanks guys.
Desventajas: Needed a lamp in our room.
6,0 Bueno
Ventajas: The hosts were sweet and helpful
Desventajas: The information about parking was not correct.
6,8 Bueno
Ventajas: Very friendly owners, excellent breakfast, very close to all that Aber has to offer.
Desventajas: Parking! If you are lucky you may get within 100 yards (maybe even outside at weekends) - if you're unlucky you may not be able to park anywhere near close!
3,2 Regular
Ventajas: Proprietor was friendly and ameniable and very helpful when we complained. The breakfasts were good. Free Broadband. Centrally located. Good parking.
Desventajas: We stayed in the annexed portion - Musty Smell in House -In Room Mismatched dated decor - No cupboard for clothes and no small fridge supplied - no bedside lamps - television remote dodgy - television minute and set very high on the wall- Bathrooms (not en suite) - Shared but Not cleaned on a daily basis.. only marginal improvement after complaints
6,0 Bueno
Ventajas: Nothing too much trouble for the guests, both by facilities and information. Very pleasant attitude and attention. Breakfasts extremely enjoyable.
7,0 Bueno
Ventajas: They were happy to put up an extra guest with only a small charge for breakfast.
Desventajas: Shared toilet facility
4,7 Aceptable
Ventajas: location,breakfast,
Desventajas:
6,7 Bueno
Ventajas: Extremely friendly and helpful family run hotel, well placed for town and seafront.
Desventajas:
6,0 Bueno
Ventajas: Cheap and cheerful but clean and efficient with friendly and helpful staff.
Desventajas: None.
3,6 Regular
Ventajas: Breakfast; friendliness
Desventajas: Not clean enough: poor quality of fitments/room.
6,4 Bueno
Ventajas: Really lovely owners, good breakfast, good location.
Desventajas: Could do with a bit of a facelift, quite expensive (even for non-en- suite, off-season).
2
8,5 Excelente (1.447 opiniones)
Si decides alojarte en Starling Cloud Hotel by Marston's Inns de Aberystwyth, estarás a menos de cinco minutos en coche de Aberystwyth University y Castillo de Aberystwyth. Hay un aparcamiento sin asistencia gratuito disponible.
7,0 Bueno
Ventajas: Changed menu for breakfast. New menu offered smaller window of choices but the main preferences were still there. Friendly staff. Room not as clean as previous stays.
Desventajas: Bathroom (easy access) was rather down at heel with old fittings in place and dark mould areas.
10,0 Excelente
Ventajas: Location. Restaurant. Comfort.
Desventajas: Hot water was barely hot enough both mornings. Reason unknown. Sink cold water trickled out.
10,0 Excelente
Ventajas: It was really easy to check in and a great location for me.
9,2 Excelente
Ventajas: The staff were very friendly and helpful. Our rooms were very clean and spacious and the food in the restraunt was very good.
Desventajas: The bar closed at eleven most hotel bars are open until at least 12 midnight on a Friday and Saturday.
7,5 Bueno
Ventajas: very clean and comfortable. convenient to the town.
8,8 Excelente
Ventajas: Fourth time stopping there, as usual lovely clean spacious room, kettle tea coffee morning biscuits as per usual
Desventajas: While the hotel part of the property is excellent for a stay, the pub was not up to previous standards, the staff seemed to be running round like headless chickens and the three meals we ordered arrived after a long wait and apart from the chicken portions was cold. We were to shocked to complain, left most of the meals and left to visit the town.
7,9 Bueno
Ventajas: Ideal for some where to sleep for a couple of nights when visiting our son. Staff were really friendly and helpful
7,9 Bueno
Ventajas: Very comfortable bed. Room was a good size and bathroom was a clean and plenty of towels.
3
7,5 Bueno (1.311 opiniones)
Si decides alojarte en The Four Seasons Hotel, disfrutarás de una fantástica ubicación en el centro de Aberystwyth, a apenas cinco minutos en coche de Aberystwyth University y Playa de Aberystwyth. Tendrás tintorería o lavandería, un servicio de recepción las 24 horas y consigna de equipaje a tu disposición. Hay un aparcamiento sin asistencia gratuito disponible.
7,5 Bueno
Ventajas: Amplia habitación
Desventajas: No tenía ascensor. La moqueta del suelo.
10,0 Excelente
Desventajas: Sorry did not stop at property illness in family unable to go thank you
7,5 Bueno
Ventajas: Exellent breakfast.
Desventajas: Mattress needed replacing.
2,5 Regular
Ventajas: Not a thing Want refund
Desventajas: 2.5 no 0! No option for 0. The lack of care for a visitor who asked about food, arrivibg at 8pm, sign said you can order until 830! no attempt to help. The room was the most filthy I have ever been in. Holes in floor, filthy tub, bathroom floor had areas it was lifting, linoleum etc, bathroom floor so filthy it was black in areas. Toilet hadn't been cleaned in a long time, reeked of urine. No wash rags, extra bedding on floor filthy in wardrobe. Pillows stained with drool, sweat etc. Carpet hadn't been vacuumed in awhile. Toilet paper holder falling off wall, tea kettle brownish yellow as if peed in. Blankets on bed full of hair, dust. I was so disgusted I didnt sleep. It was worse than anything I can imagine. The website shows clean, beautiful rooms. Maybe what they thought was a foreigner got the filthy run down room. I'm not a foreigner, I hold dual Citizenship, speak welsh, my family lives in swansea, I was over visiting. They were very non caring, I'm sure they knew what room they put me in. I do want refund, I have pictures if you would like them.
5,0 Aceptable
Ventajas: The staff were wonderful but the scaffolding on the entire front of the building was very off putting especially when the daily room rate was quite expensive for a room "out the back"
7,9 Bueno
Ventajas: Ubicacion
Desventajas: Camas demasiado blandas
10,0 Excelente
Ventajas: Good size family room. Great breakfast. Friendly staff.
Desventajas: The limited parking.
7,5 Bueno
Ventajas: El desayuno estaba muy bien, las camas eran cómodas y la habitación triple estaba bastante bien
Desventajas: Quizas debería haber personal para hacer el cheking las 24 horas
7,1 Bueno
Ventajas: Very good value, good location
Desventajas: No parking
2,0 Regular
Ventajas: Did not like much. Very disappointed They upgraded me as not great, As they only wanted the money .
Desventajas: Room dirty, room not up to scratch, not as described or pictures. front door left open all night, people staying in hotel disturbing no. As though booking .com it states book in times up till 12am, well not so, they leave key. Wouldn't recommend this place.