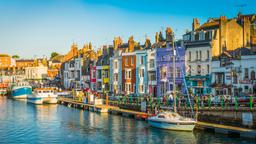 Hoteles en Weymouth
Busca Weymouth en cientos de webs de viajes en segundos
Información útil
| | | |
| --- | --- | --- |
| Temporada baja | diciembre | Mes más barato para alojarse con una media de 20% bajada en el precio. |
| Temporada alta | marzo | Mes más caro para alojarse con una media de 11% de aumento en el precio. |
| Precio promedio (entre semana) | $ 7335 | Precio medio para un dom. - jue.en las últimas 2 semanas. |
| Precio promedio (fin de semana) | $ 7764 | Precio medio para un vie. y sáb.en las últimas 2 semanas. |
Consejos para encontrar el hotel ideal en Weymouth
Preguntas frecuentes al reservar hoteles en Weymouth
¿Los hoteles son seguros en Weymouth durante la crisis del coronavirus (COVID-19)?
¿Cómo encuentro hoteles cerca de mi ubicación?
¿Dónde hospedarse en Weymouth?
Heatmaps te muestra la distancia entre tus opciones de hotel y las zonas principales de actividad para que encuentres el sitio ideal para hospedarte en Weymouth
Las mejores habitaciones en Weymouth
Los mejores hoteles en Weymouth cerca de Weymouth Marina
Ver todo
1
8,4 Excelente (1.742 opiniones)
Si decides alojarte en B&B Weymouth, disfrutarás de una fantástica ubicación en el centro de Weymouth, a unos pasos de Weymouth Bay y a solo 9 min a pie de Playa de Weymouth. Tendrás una sala de ordenadores, periódicos gratuitos en el vestíbulo y consigna de equipaje a tu disposición.
10,0 Excelente
Ventajas: Great breakfast!
10,0 Excelente
Ventajas: La ubicación me pareció excelente, está en pleno centro de Weymouth
Desventajas: No me gustó que en la sala del desayuno no llegaba el wifi
5,4 Aceptable
Ventajas: El desayuno estaba muy bien.
Desventajas: La habitación un poco claustrofóbica, la moqueta no muy limpia, el baño necesitaba una remodelación
10,0 Excelente
Ventajas: Un sitio excelente con buen trato y buen desayuno
Desventajas: Estaba todo bien
10,0 Excelente
Ventajas: First off, we loved Rachael who greeted us, helped us find things and even brought us hot chocolate while we gazed out the window at the rain covered streets. She was so nice and made a big impact on us. Then there is Kevin who only smiled and helped when I told him that my wife locked our keys in the room. The place was great but the staff made this place special. When we were writing out the highlights of our trip B&B Weymouth's own Rachael and Kevin made the list. I would recommend this place to our friends.
Desventajas: That we only stayed there one night. We were traveling through and would have loved to stay for a week or so.
7,0 Bueno
Ventajas: Large room, good breakfast choices very good location
Desventajas: Lack of lighting, either very bright overhead light or really dim bedside light
9,0 Excelente
Ventajas: Excellent location. Friendly staff. Very clean. Brilliant breakfast set me up for the days.
10,0 Excelente
Ventajas: Nice big room, nice veggie breakfast, great Location
Desventajas: If i had to be critical, the pillows were rock hard
6,3 Bueno
Ventajas: la cama era comoda.
Desventajas: hacia mucho calor y las ventanas no se podian abrir, todo el alojamiento era muy caluroso.
7,1 Bueno
Ventajas: Ubicacion
Desventajas: Subir a un 3º piso con la maleta. No disponer en la habitacion del habitual cafe (tenias que bajar 2 pisos a una sala comun). No tener parking
6,7 Bueno
Ventajas: La cama muy comodaina
Desventajas: Una silla más en el dormitorio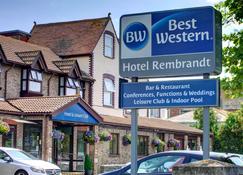 2
8,3 Excelente (1.858 opiniones)
Situado a poca distancia de una impresionante playa de arena, por no mencionar la histórica costa de Dorset, enclave Patrimonio de la Humanidad, el Best Western Hotel Rembrandt de Weymouth le ofrece la base idónea desde la que explorar las maravillas de Weymouth y de las proximidades. A poca distancia a pie del hotel podrá dar un magnífico paseo por el área de Esplanade para disfrutar de la costa británica en toda su extensión. Esta ciudad de la costa sur es famosa por su clima cálido y, una vez que nos visite, solo querrá volver una y otra vez. Nuestro hotel ofrece el espacio de alojamiento idóneo para sus viajes a Weymouth.El Best Western Hotel Rembrandt de Weymouth cuenta con una estratégica ubicación para visitar los principales enclaves de Dorset. Situado en la zona central de la famosa franja costera Jurassic Coastline de 155 kilómetros de longitud, el paisaje que encontrará aquí es sencillamente espectacular. Ubicado en un hermoso paisaje formado por millones de años de evolución, la zona alberga también pintorescos pueblos que podrá recorrer, por no mencionar la cercana isla de Portland.Tras un día de recorridos por las atracciones locales, regrese al hotel para descansar y dejarse mimar por nuestro personal. Disfrute de un masaje, tome una sauna en nuestro balneario o un baño en la piscina cubierta climatizada. A continuación, podrá pasar la tarde realizando catas de vinos y visitando nuestro exclusivo bar y restaurante. Descubra por qué el Best Western Hotel Rembrandt de Weymouth está considerado como uno de los mejores alojamientos de Weymouth.
5,8 Aceptable
Desventajas: The food and drink prices
9,0 Excelente
Ventajas: The staff could not be more helpful and even did balloons and sparkles on the table as it was my 60th along with another friends birthday and wedding anniversary
Desventajas: Potholes in the carpark
7,1 Bueno
Ventajas: Lovely pool with swim towels provided. Nice to have a hotel that provides family rooms for 5 people.
Desventajas: Not enough parking, we had to leave our car on the road a few streets away
4,0 Aceptable
Ventajas: The staff were exceptional in extremely difficiult circumstances, the onset of Coronavirus.
Desventajas: We were told all the facilities were open, only to be told on arrival they were shut. Had to remain in our room and eat food in our rooms.
3,0 Mediocre
Ventajas: Not much to be honest
Desventajas: The room was very dated, cramped and uncomfortable
10,0 Excelente
Ventajas: So clean and comfortable
5,8 Aceptable
Ventajas: The bar staff and reception were all friendly and helpful
Desventajas: The management! We had a soul music event in the ballroom but they had a sound limiter set up which kept the cutting dead every 10 minutes. Despite our complaints the management did little to assist us. If they did not want music at the event then don't accept the booking. Very poor