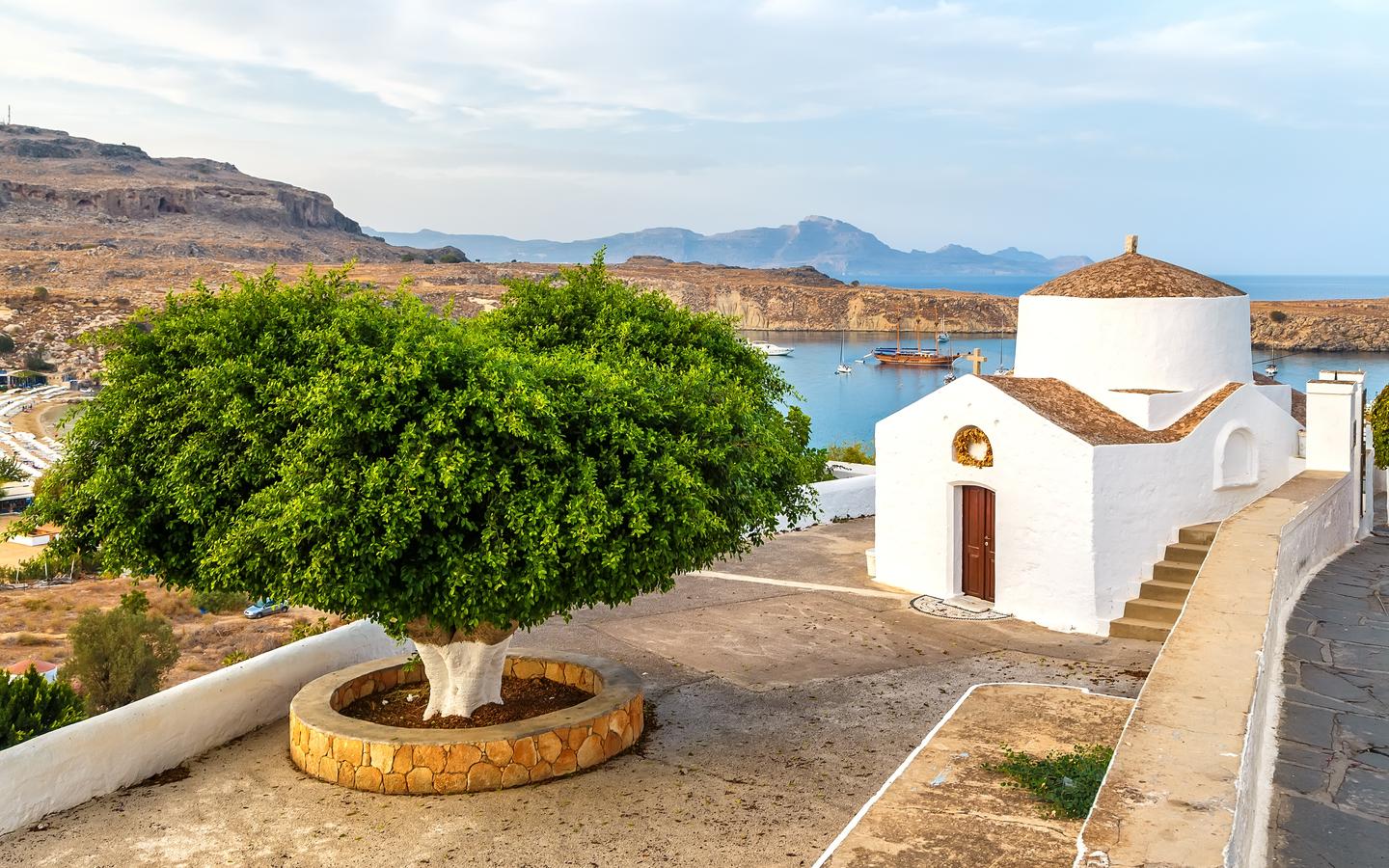 Información útil
| | |
| --- | --- |
| Temporada baja | febrero |
| Temporada alta | noviembre |
| Precio medio (entre semana): | $ 7263 |
| Precio medio (en fin de semana): | $ 6529 |
el mes más barato
85%
bajada de precio esperada
el mes más caro
136%
aumento de precio esperado
(precio promedio en las últimas 2 semanas)
dom. - jue.
(entre semana)
(precio promedio en las últimas 2 semanas)
vie. y sáb.
(noche de fin de semana)
Preguntas frecuentes al reservar hoteles en Rodas
¿Cuáles son los barrios más populares para hospedarse en Rodas?
For more information about Rodas' different neighborhoods, check out our
Rodas' City Guide
.
¿Cómo encuentro hoteles cerca de mi ubicación?
Echa un vistazo a nuestros
mapas de hoteles
y encuentra los mejores cerca de ti.
¿Dónde hospedarse en Rodas?
Nuestra herramienta Heatmaps te ayuda a encontrar el mejor lugar para hospedarte en Rodas mostrándote opciones de hotel próximas a las actividades que te interesan.
Los mejores hoteles en Rodas cerca de Diagoras Stadium
Ver todo
1
Si decides alojarte en Congo Hotel de Rodas, estarás junto al mar y a menos de cinco minutos en coche de Puerto de Rhodas y Museo Arqueológico de Rodas. Tendrás conexión a Internet por cable (de pago), una sala de ordenadores y un servicio de recepción las 24 horas a tu disposición. Hay un aparcamiento sin asistencia gratuito disponible.
9,6 Excelente
Ventajas: All good, service was amazing.
9,2 Excelente
Ventajas: Amazing staff. I really recomnend.
8,8 Excelente
Ventajas: Great staff, the owner is an absolute delight and so helpful.
9,2 Excelente
Ventajas: Personal del hotel encantador
7,1 Bueno
Ventajas: Staff is fantastic and friendly. Swimming pool in a quiet place.
Desventajas: So far away from City center: 25min To walk or 8€ for a taxi
9,2 Excelente
Ventajas: My normal standard is 2-3 star, less than 1 km from a railway station (walkable with ease with luggage). In Greece, that style was typically 1.5 km distant. The closer ones were beyond my budget. My ratings are relative to what I expect in a hotel in this class. This was comfortable and good value, with a generous interior bar/lounge, and a generous poolside exterior lounge. It was walkable to/from the tourist areas without luggage. At about 1.5 km from the wharf, I used a taxi when with luggage. The staff were friendly and helpful. Unlike other reviews, the free wifi worked in my room. There were about three restaurants close to the hotel; the one which I chose for dinner was excellent. For lunch, I used other excellent restaurants near the ferry wharf. A good supermarket was in a back street between the hotel and the cruise-ship wharf. I don't eat large breakfasts: the included one was plenty for me. There were distant glimpses of the Aegean from my room, but I don't need a room with a view.
9,2 Excelente
Ventajas: The owner is super friendly and helpful. Rooms are clean. Complimentary breakfast is very good too.
Desventajas: A little far from the old city, but a nice walk.
7,5 Bueno
Ventajas: Breakfast included. The staff is very kind.
Desventajas: No wifi in the room only at the reception. If you want so you have to pay an extra.
6,3 Bueno
Ventajas: Very very Kind staff. Excellent welcome drinks.
Desventajas: Old room. Quite small. Swimming pool is very small
10,0 Excelente
Ventajas: The hostess is amazing! I arrived early in the morning, 6 hours ahead of the check-in hour, and she kindly offered me some breakfast at no additional charge; and my room was ready in just a couple of hours. The place is nice, clean and quiet, just two minutes walk from the new Rhodes Marine.
8,8 Excelente
Ventajas: Muy tranquilo, había un lugar para estacionar frente al hotel. Queda a 5 minutos en auto del puerto turístico y a 25 caminando de la ciudadela antigua. La zona de bar y pileta están muy lindas.
Desventajas: Algo alejado del centro. Las habitaciones algo antiguas y básicas. Frente a una avenida por lo cual afecta un poco la tranquilidad en la pileta.
6,3 Bueno
Ventajas: Welcoming and friendly Very eager to assist The breakfast was acceptable In quality and quantity
Desventajas: The floor in our room was very dusty The shower tray was mouldy The floor around the pool was stained and dirty
2
7,4 Bueno (153 opiniones)
Si decides alojarte en Comfort Hotel de Rodas, estarás en el casco histórico y a menos de cinco minutos en coche de Puerto de Rhodas y Museo Arqueológico de Rodas. Tendrás una sala de ordenadores, check-in exprés y consigna de equipaje a tu disposición.
5,4 Aceptable
Ventajas: Very kind and helpful receptionist Good location - Not too far from the city centre
Desventajas: Cleanliness - room was not properly cleaned and cleaning staff was not cooperative- they would only clean at the time convenient to them
5,8 Aceptable
Ventajas: Location was good for what we wanted. Hotel very basic but clean. We came down for breakfast and were told ''you didn't tell us you wanted breakfast'' - I thought we would have been asked but maybe not. Not really a big deal as they did cook us a breakfast. Biggest problem was that on your website it said that we pay at the property but they took the payment from my credit card - NOT ONCE BUT TWICE! They said it will be refunded but I have now left there hoping that it is returned!!
Desventajas: Communication about payment and breakfast.
8,8 Excelente
Ventajas: Small and friendly
Desventajas: Some facilities weren't ready for the summer
10,0 Excelente
Ventajas: Hotel Comfort Hotel Aparts (Konstantinidi str. 5, Rodos) is a not big (rather small !) but homelike hotel. It can be considered that it is located more in the suburbs of Rhodes. But since Rhodes itself is a small city then it's walking distance from the hotel to the old town of Rhodes takes about 20 minutes of leisurely walk (along the street of Canada). The hotel has a small swimming pool with a depth of about 1,5 meters and a nearby pool for children. Especially it is necessary to say that the owners of the hotel George and Maria are extremely pleasant and hospitable people always ready to help their guests. The hotel is very clean, cleaned every day, every other day change linens. Breakfasts are simple but hearty, their price is 5 euros per person. At the reception, Maria will always help with car rental, taxi ordering and so on. Go to the hotel from Rhodes International Airport "Diagoras" is about 20 min by car. 300 meters from the hotel there is Zephyros beach (municipal beach). Probably this is not the best beach at Rhodes (often is very windy) but the sea is wonderful, warm and clean. Near the coast I found a live conch (rapan) but naturally left it in the sea. Rom my point of view, probably, the best beach is Anthony Quinn beach, behind the town of Faliraki (about 20 kilometers south of Rhodes – 15 or 20 minutes by car, but it is advisable to use a navigator). A 10-minute walk from the hotel by Canada Street there is a good supermarket "Pappu" with a fairly diverse selection of products. In 5 minutes by car to the direction of Faliraki there is very good supermarket "My Market". There are a lot of restaurants and taverns near the hotel, the food is tasty everywhere and the prices are approximately the same (for example, lunch for three persons will cost from 40 euros along with drinks - beer, coсa-сola, soft drinks etc.). The hotel certainly is not beach hotel, but it is very suitable for a quiet family holidays.
Desventajas: No
8,8 Excelente
Ventajas: On arrival check in was very easy .. only a 15 minute walk to the old town so pretty good location .. owners/managers were very helpful and accommodating .. free parking directly outside the hotel .. the room and bathroom was spacious .. would recommend to others...
7,5 Bueno
Ventajas: Room was really spacious and very clean. Well furnished. Overall it's a nice room.
Desventajas: Water was constantly leaking from the flush causing an irritating sound. The mattress needs to be changed cos it's not comfortable. When we arrived there was no remote control in the room. We asked for it in the reception and the very polite lady gave us one.
8,8 Excelente
Ventajas: Good friendly staff will to help in whatever we needed for out stay
Desventajas: Bit of noise in area because of other units next to our room
9,6 Excelente
Ventajas: The receptionist/owner was extremely helpful and generous when we arrived late at night and made us feel so welcome and was very thoughtful.
Desventajas: It was all great
10,0 Excelente
Ventajas: It was a very late booking, checked in swiftly, massive room, lovely comfortable bed and fantastic recommendations given for local amenities I.e restaurants and super markets, couldn't be more helpful, Thank You!!
9,2 Excelente
Ventajas: Although not the best apartments I stayed in you get good value here. The most important quality is cleanliness and it is very clean here. The hosts and staff are very friendly and helpful. Second time I've stayed and I'm looking forward to returning next year
Desventajas: I cannot really criticise .As I've stated this really is great value.
3
6,9 Bueno (350 opiniones)
Si decides alojarte en Panorama Hotel de Rodas, estarás a menos de 15 minutos a pie de Acrópolis de Rodas y Templo de Apolo. Tendrás un servicio de recepción las 24 horas, consigna de equipaje y una lavandería a tu disposición. Hay un aparcamiento sin asistencia gratuito disponible.
2,5 Regular
Ventajas: Spacious- but that was outweighed by the smell of mold and mildew.
Desventajas: It was in the slums, apartment smelled like mold, shower gel was half used when we arrived, dusty, garbage in front of the apartment, a man who seemed like the owner was incredibly rude to my family on both nights we stayed, facilities are dated, leaking air conditioning in front of our door. The manager didn't allow us to have one family member as a guest to talk for ten minutes in the large apartment that we paid for... there was nothing I liked minus the space in the apartment but the smell of mold and mildew outweighs that.
6,3 Bueno
Ventajas: La atencion del personal
Desventajas: Las habitaciones dejan mucho que desear, necesita una reforma, para mi no es un 3 estrellas, seria 1, y por la piscina
7,5 Bueno
Ventajas: Hotel was fine. Not fantastic, just fine. Nice pool. Clean.
Desventajas: Most ridiculous internet policy ever. We forgot to ask for the Wifi code when we checked in. When we asked 30 min later for the passcode, the receptionish said. "Why didn't you ask for the code when you checked in? Now, It's too late, I can't give you access to our wifi network until the morning"". Unbelievable - if they knew this was a problem they could have provided the code as part of the check-in process. But also a bit older and worn with not the most comfortable beds.
3,3 Regular
Ventajas: El bartamn stravros muy amable
Desventajas: La limpieza
8,8 Excelente
Ventajas: Extremely nice workers in the hotel. The room was as expected, a good stay for the price.
8,3 Excelente
Ventajas: Lovely staff, Very spacious, alot of apartment for the money. More than enough towels and 2 balconies
Desventajas: Shower could be improved, the curtain isn't long enough to keep the water in the little tray so the water goes everywhere, and if you put the shower on full power it flies out of the holder.
7,5 Bueno
Ventajas: The staff was excellent and helpful! Really appreciated! WiFi was perfect as well. It was sunny and located in a quiet area.
Desventajas: OK, it was a cheap room and you do not have to wait that It will exceed your expectations. But I think cleanliness should be a standard in hospitality. Moreover, the doors are old and because of the wind, they beat the night. The worst thing was that it sounded like something was ringing from another room on ours.
9,2 Excelente
Ventajas: Great views from top floors l and quiet ; pleasant location - a well run establishment.
Desventajas: all good ! Thank you :)
7,5 Bueno
Ventajas: Nice and comfy rooms supplied with the necessary equipment and facilities.
9,2 Excelente
Ventajas: large room
Desventajas: cooking odor & cleanliness of kitchenette is where less standard evident
9,6 Excelente
Ventajas: An older, seasoned and well organised property in a local neighbourhood ; on a hill with gorgeous views ! To the NE the changing colours & interesting 'moods' of the Aegean Sea and Turkish coast line with snow capped mountains beyond -quite lovely and a daily visual feast! To the East: spectacular sunrises most mornings of my extended Autumn-Winter stay. A great place to enjoy the large variety of bird life and butterflies around Rhodes town ;which is an unexpected, bonus surprise- especially from the top floors.The establishment and the surrounding area are serene, peaceful, low-key and safe. The sublime sounds of church bells drifting across the neighbourhood a few times during the week and of course on Sundays, complete this great choice of accommodation in Rhodes town. The apartment was adequate,clean, comfortable; and excellent value for money ; with joyously fast and reliable wifi. There is a big supermarket a few minutes away & a delightful organic farm produce shop around the corner. The taxis & buses is a convenient 3- min walk to the end of the street; with more shops & banks a little further on approx. 5-7 mins walking. Interspersed with modern island life are historical ruins dotted all around, in the vicinity of the hotel. The Acropolis is a pleasant and easy 15 mins walk from the hotel location. The staff and owners are discreet and welcoming.
Desventajas: What 's not to like?:)