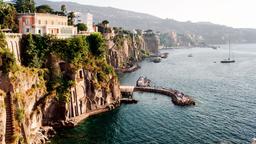 Hoteles en Piano di Sorrento
Busca Piano di Sorrento en cientos de webs de viajes en segundos
Información útil
| | |
| --- | --- |
| Temporada baja | noviembre |
| Temporada alta | noviembre |
| Precio medio (entre semana): | $ 14160 |
el mes más barato
0%
bajada de precio esperada
el mes más caro
0%
aumento de precio esperado
(precio promedio en las últimas 2 semanas)
dom. - jue.
(entre semana)
Preguntas frecuentes al reservar hoteles en Piano di Sorrento
¿Cuánto cuesta un hotel económico en Piano di Sorrento?
Los usuarios de KAYAK encontraron habitaciones dobles en Piano di Sorrento a partir de $ 3047 en los últimos 3. El precio promedio es de $ 5832.
¿Cuánto cuesta un hotel en Piano di Sorrento esta noche?
En las últimas 72 horas los usuarios encontraron Piano di Sorrento hoteles para hoy a partir de $ 3539. También encontraron hoteles 3 estrellas desde $ 3539 y 4 estrellas desde $ 9506.
¿Cómo encuentro hoteles cerca de mi ubicación?
Echa un vistazo a nuestros
mapas de hoteles
y encuentra los mejores cerca de ti.
¿Dónde hospedarse en Piano di Sorrento?
Heatmaps te muestra la distancia entre tus opciones de hotel y las zonas principales de actividad para que encuentres el sitio ideal para hospedarte en Piano di Sorrento
Las mejores habitaciones en Piano di Sorrento
Los mejores hoteles en Piano di Sorrento cerca de Piazza Tasso
Ver todo
1
7,7 Bueno (340 opiniones)
Si decides alojarte en Hotel Cosmomare de Piano di Sorrento, estarás junto al mar y a menos de cinco minutos en coche de Golfo de Nápoles y Corso Italia. Tendrás un servicio de recepción las 24 horas, consigna de equipaje y una caja fuerte en recepción a tu disposición. Pagando un pequeño suplemento podrás aprovechar prestaciones como servicio de transporte al aeropuerto (ida y vuelta) y servicio de transporte al punto de embarque del ferri.
10,0 Excelente
Ventajas: La vista!!! Espectacular
7,9 Bueno
Ventajas: La ubicación
Desventajas: El ascensor Q el estacionamiento queda en otro lugar
7,1 Bueno
Ventajas: I had requested gluten free options for the provided breakfast (if possible) and at breakfast was given an entire basket of individually packaged GF options. The breakfast buffet in addition to this was very nice (meats, cheeses, fruit, plus many other options I couldn't eat but my companion enjoyed). The staff was very kind and allowed us to store luggage for several hours after our checkout (prior to leaving the city). The room had a nice view of the water and was clean.
Desventajas: Getting to the hotel at night from the train station was difficult. The website states that they can arrange a shuttle, but when we called, we were told to call the local taxi. When we called the taxi company, we could not get through several times, and when we finally did we were told there was no taxi available and we MIGHT be able to be picked up in an hour. While this is not the hotel's problem, this service should not be represented as a "shuttle" because it is not. Upon checkout the next day when we asked the concierge if she could call a taxi for us, she initially said no because the taxi service often would not oblige her pickup requests, saying "they are difficult". I told her we had the same issue, except we don't speak Italian and the taxi service representative/driver spoke very little English (so it was an issue the previous day). For a hotel to say they offer a shuttle service then refuse to call seems like poor service. I asked her if she would please call, so she did and our pickup wait was less than 5 minutes. It seems like this option for transportation can be hit-or-miss. Unrelated, the water from the sink in our hotel room tasted strongly like salt water, to the point that we didn't feel comfortable drinking it. We reported this to the staff, unsure if the whole hotel has this issue or if it was just an issue with the plumbing in our room.
7,1 Bueno
Ventajas: The ocean view was amazing!!! The staff were very friendly and helpful!
Desventajas: The rooms are very small
10,0 Excelente
Ventajas: El lugar, limpieza, ubicación la vista de mi habitación y el personal muy amable gente linda!!!
Desventajas: Nada para devir
5,0 Aceptable
Desventajas: Very basic hotel with very basic service and amenities, not worth the price charged for it. Only plus is location, ignoring everything else.
10,0 Excelente
Ventajas: Tiene todo lo que se necesita: limpieza,desayuno sabroso y la atención de el personal formidable. Buena ubicación,lo recomiendo sin dudas!
Desventajas: Nada
9,6 Excelente
Ventajas: Location was very good and the rooms were also big and comfy.
Desventajas: May be a bit too costly
4,2 Aceptable
Ventajas: staff
Desventajas: The Bed and the stairs Had to drag four Suitcases up two flights! the bed was so hard my wife slept on the Couch!!!
7,1 Bueno
Ventajas: La ubicación es magnífica y el desayuno muy bueno y completo La limpieza perfecta
Desventajas: El aire acondicionado en mi habitación no iba bien algo antiguo y para un mes de agosto fue agobiante No tienen al menos una mininevera como ofrecen normalmente los hoteles El hotel es una 5 planta de un edificio
4,2 Aceptable
Ventajas: Close to the sea
Desventajas: Staff wasn't really helpful, hard bed. The breakfast wasn't great, bad coffee and orange juice.
3,8 Regular
Ventajas: I did't like anything at all. It wasn't a real hotel it was a little room with no refrigerator and just an uncomfort bed. It's not like in the photos. We had a very bad experience there
Desventajas: Everything
Popular en Piano di Sorrento
Lugares de interés en Piano di Sorrento