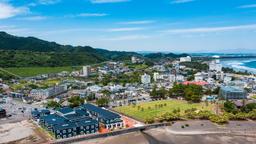 Hoteles en Miyazaki
Busca Miyazaki en cientos de webs de viajes en segundos
Información útil
| | |
| --- | --- |
| Temporada baja | mayo |
| Temporada alta | julio |
| Precio medio (entre semana): | $ 3403 |
| Precio medio (en fin de semana): | $ 14367 |
el mes más barato
44%
bajada de precio esperada
el mes más caro
85%
aumento de precio esperado
(precio promedio en las últimas 2 semanas)
dom. - jue.
(entre semana)
(precio promedio en las últimas 2 semanas)
vie. y sáb.
(noche de fin de semana)
¿Dónde hospedarse en Miyazaki?
Heatmaps te muestra la distancia entre tus opciones de hotel y las zonas principales de actividad para que encuentres el sitio ideal para hospedarte en Miyazaki
Las mejores habitaciones en Miyazaki
1
8,3 Excelente (2.521 opiniones)
Si decides alojarte en Holiday Inn ANA Miyazaki, te encontrarás en una fantástica zona de Miyazaki (Aoshima), a solo unos pasos de Costa de Nichinan-kaigan y a apenas 4 min a pie de Parque temático infantil Kodomo No Kuni. Tendrás conexión a Internet por cable gratis, un centro de negocios y tintorería o lavandería a tu disposición. ¿Estás organizando un evento en Miyazaki? En este hotel tienes a tu disposición 534 metros cuadrados de espacio con una sala de reuniones. Hay un aparcamiento sin asistencia gratuito disponible.
7,0 Bueno
Desventajas: Quality of breakfast could be better
6,3 Bueno
Ventajas: Facing the sea and ocean. Breakfast was well spread. It has a chapel near the beach. Clean.
Desventajas: The room was small for 5 tatami. Public bath was so so.
8,0 Excelente
Ventajas: The view is decent that you can enjoy the full seashore with shiningly blue seawater in front of you. There is a bus stop right at the hotel front that would take you to the airport, JR station, and down to Udo-jingū and Sun Messe Nichinan. The servants and officers are diligent and friendly.
Desventajas: There're not many stores or restaurants around so if you don't drive by yourself, you're pretty much stuck with the meals and services that the hotel provides but I guess it's all you can ask for in the remote south Kyushu.
10,0 Excelente
Ventajas: Location and ease of checking in
7,0 Bueno
Ventajas: Could felt Japanese tradition on Tatami with great ocean view. Kind staffs and good meals. It would be perfect if you go to here with rent a car.
Desventajas: No convenient store nearby.
10,0 Excelente
Ventajas: Sea view is beautiful and sighting is very good place. Very kind information and reception desk.
Desventajas: none
2
8,4 Excelente (2.053 opiniones)
Si decides alojarte en Miyazaki Daiichi Hotel de Miyazaki, estarás a menos de diez minutos en coche de Centro de información turística de la ciudad de Miyazaki y Oficina de la prefectura de Miyazaki. Tendrás una sala de ordenadores, tintorería o lavandería y un servicio de recepción las 24 horas a tu disposición. Hay un aparcamiento sin asistencia (de pago) disponible.
10,0 Excelente
Ventajas: Muy limpio, habitaciones bien organizadas. Un hotel muy bonito en general aunque muy sencillo. El desayuno era excelente, con muchas opciones. No probamos el spa pero parecía atractivo. Lo recomendaría para solteros y familias, turistas, así como los viajeros de negocios. Especialmente un gran personal. Poco inglés, pero muy útil.
9,0 Excelente
Ventajas: Friendly Staff and Free Bicycle Rental
8,0 Excelente
Ventajas: Good facilities and spacious room.
Desventajas: NIL
8,0 Excelente
Ventajas: Breakfast is very good. Hotspring is good and clean. The staff is friendly and helpful. Room is clean, too.
Desventajas: A bit far from Miyazaki station, need to walk about 15 mins.
8,0 Excelente
Ventajas: Just stay overnight therefore unable to comments
Desventajas: Just stay overnight therefore unable to comments
9,0 Excelente
Ventajas: Excellent stay and very comfortable bed. Extremely spacious for the triple room. The hotel staffs are very friendly and helpful. Easy to access, great location. We really enjoyed our stay here.
Desventajas: Could have a clean public bath for Female too. Add on the Free Parking will be perfect.
8,8 Excelente
Ventajas: Easy access to most scenery spots, with clean public bath (for men), spacious guest room and it is clean.
Desventajas: Na
3
8,9 Excelente (5.726 opiniones)
Nuestro centro vacacional de 45 pisos ofrece instalaciones de spa tradicionales, platos de gastronomía internacional y 736 habitaciones de estilo japonés y occidental con impresionantes vistas.
10,0 Excelente
Ventajas: location. rooms were as shown on website.. big and nice.
Desventajas: Breakfast... seems like all the foreigners were placed together in an particular area.. or was it coincidental? onsen's walking distance.. a bit of a walk from lobby.
7,0 Bueno
Ventajas: The rooms were huge and had a sea view - it was splendid to wake up to the sunrise every morning at the horizon. I like that the bathrooms were huge. Staff members were patient, kind and extremely polite, as all Miyazaki locals are. Hotel breakfast buffet was expensive but had varied cuisines - more fruits would be appealing
Desventajas: I absolutely cannot fathom why there is a need to pay for the fitness centre or indoor pool for hotel guests! I also didn't quite enjoy the onsen environment which was dark, dingy and a little grimy. There was a huge pond surrounding the outdoor onsen which was quite lovely though a little misleading (thought that was an onsen too). For an international hotel, I was a little taken aback by so many intimidating signs of no tattoos allowed. Although the culture is understandable, but perhaps providing covers for small tattoos are possible? The entire hotel has a rather tired and dated feel to it even though, as with all Japanese hotels, it was well maintained. Overall, still a pleasant stay
10,0 Excelente
Ventajas: Nearly everything, there is nice outdoor space with pool and restaurant. Room has nice view to the golf course and the ocean.
Desventajas: The onsen bathroom is too small given the scale of this resort. I don't like to line up for the breakfast.
10,0 Excelente
Ventajas: Magnificent views, clean and socialise rooms With good onsen facility Worths the price
7,5 Bueno
Ventajas: The hotel was lovely but the staff didnt speak english very well amd we were misles on a few activities which was disappointing. There is much to see and do but not easy to get to.so definately recommend hiring a car. Make sure you have an international DL. Otherwise beaitiful stay. Great food. Be aware pool is clised outside of aummwr months.
10,0 Excelente
Ventajas: The richness of the facilities. Ocean view.
Desventajas: Onsen was not as great as all other features
10,0 Excelente
Ventajas: Food and the room
Desventajas: NIL
Todos los hoteles en Miyazaki