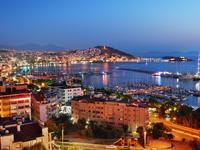 Información útil
| | |
| --- | --- |
| Temporada baja | enero |
| Temporada alta | agosto |
| Precio medio (entre semana): | $ 2437 |
| Precio medio (en fin de semana): | $ 2700 |
el mes más barato
63%
bajada de precio esperada
el mes más caro
172%
aumento de precio esperado
(precio promedio en las últimas 2 semanas)
dom. - jue.
(entre semana)
(precio promedio en las últimas 2 semanas)
vie. y sáb.
(noche de fin de semana)
Preguntas frecuentes al reservar hoteles en Kusadasi
¿Cuánto cuesta un hotel económico en Kusadasi?
Los usuarios de KAYAK encontraron habitaciones dobles en Kusadasi a partir de $ 922 en los últimos 3. El precio promedio es de $ 4744.
¿Cuánto cuesta un hotel en Kusadasi esta noche?
En las últimas 72 horas los usuarios encontraron Kusadasi hoteles para hoy a partir de $ 1481. También encontraron hoteles 3 estrellas desde $ 1481 y 4 estrellas desde $ 1303.
¿Cómo encuentro hoteles cerca de mi ubicación?
Echa un vistazo a nuestros
mapas de hoteles
y encuentra los mejores cerca de ti.
¿Dónde hospedarse en Kusadasi?
Heatmaps te muestra la distancia entre tus opciones de hotel y las zonas principales de actividad para que encuentres el sitio ideal para hospedarte en Kusadasi
Las mejores habitaciones en Kusadasi
Los mejores hoteles en Kusadasi cerca de Kadinlar Denizi
Ver todo
1
8,4 Excelente (1.950 opiniones)
Si decides alojarte en Le Bleu Hotel & Resort de Kusadasi, estarás junto al mar y a apenas 1 min en coche de Playa Kadinlar Denizi y a 7 de Playa de Kusadasi. Tendrás una sala de ordenadores, tintorería o lavandería y un servicio de recepción las 24 horas a tu disposición. Pagando un pequeño suplemento podrás aprovechar prestaciones como servicio de transporte al aeropuerto (ida y vuelta) (disponible las 24 horas) y aparcamiento sin asistencia gratuito.
10,0 Excelente
Ventajas: We had a wonderful stay at this hotel! The staff were friendly, the buffet was varied with lots of choice to suit all tastes, the swimming pools were generous and the views over the Aegean spectacular. Will definitely be coming back.
9,2 Excelente
Ventajas: The hotel grounds are beautiful and well kept. Everything is immaculate and stylishly decorated. There are many areas for you to enjoy around hotel with two pools, two jettys with loungers and cabanas (for additional cost) patio areas, and a private beach and cute little seating areas with swing chairs to watch sunsets that were quite private. The food was great, lots of choice. The patisserie for self service tea, coffee, drinks and cakes was available all day and at 4pm they operate an ice cream service from it. The cocktails and local beer on tap were lovely. The view from seaview room was amazing and sunsets and rises were memorising. The room cleaners were great and very friendly, ibrahim (bellboy) was such a gentleman and very very helpful and friendly as were the two receptionists Yasmin and Tugge. The staff make a hotel and bar the rude male manager on the first day I found all of the staff excellent and very professional throughout hotel. Special thank you to Tugge for organising a late check out for us which acted as recompense for the unsatisfactory check in experience. I will be recommending this hotel to friends and family and will definitely be returning.
Desventajas: My second visit to this hotel. We are a couple who booked a Seaview room.We were given a land view family room with a pull out bed taking up space in room. I went down to complain to receptionist Yasmin and was told I could be moved to a Seaview the next day. I went to room and we considered for a few minutes and decided we didn't want the disruption of moving again the next day. We went back down to reception and spoke with who seemed like the manager "serzai" or something like that on name tag who was very rude. He laughed and said it was a Seaview when it was clearly not.. It was 80% land 20% sea. He was dismissive and didn't look me in eye when I was speaking. Yasmin arrived back at reception and I proceeded to deal with her as he was completely unhelpful and rude. He continued to shout things in Turkish at her whilst we were speaking to her. She then sent me up to 5th floor with her colleague Ibrahim to look at another room.. Which again was partial sea view and not what I paid for, then another that wasn't clean over some air-conditioning machine and finally an actual Seaview 2528 was the number. There are only two female toilet cubicles off reception and there was nearly always a queue.
9,0 Excelente
Ventajas: Breakfast layout was excellent, lots of variety to choose from and had to control my diet as ended up eating more adding extra weight. The dining area was also great which could oversee the Aegean Sea with additional eating area to choose out in the open also convenient for smokers.
10,0 Excelente
Ventajas: Hermoso lugar. Muy divertido
Desventajas: Las bebidas de baja calidad. la comida no era rica
7,0 Bueno
Ventajas: Lovely hotel staff were very friendly and helpful hotel very clean
Desventajas: Food wasn't great could have been more choice
7,0 Bueno
Ventajas: Very frendly staff at the main buffet restaurant. Beautiful area, a lot of places for relaxation.
Desventajas: No iron and possibility to iron. Very noisy. A lot of food but quality is not very good sometimes.
4,2 Aceptable
Ventajas: El lugar y la oferta de playa. En la zona de arena el 60% de las reposeras estaban rotas
Desventajas: La habitacion. Tenia artefactos rotos. Lo unico rescatable era la vista.
6,3 Bueno
Ventajas: The bed was very comfortable, pool side peaceful and relaxing, fantastic seaview from the room, great entertainment at night.
Desventajas: Fitness center was derilict, dirty and most of the equipment was broken or non functional. The whole place seemed a bit run down. The staff was kind but obviously burned out from the summer season. But the worst part was all the flies everywhere, especially in the food buffet line. And it seemed nothing was done to mitigate the issue. Pretty gross. Also the food was very repetitive and i could tell many things were repurposed from lunch to dinner.
5,5 Aceptable
Ventajas: Me gustó la piscina natural y el tamaño de la habitación.
Desventajas: Hotel viejo, necesita renovación. Es sucio. La comida es mala. La red de la cancha de tenis rota. Faltan actividades para entretener. Los baños sucios. El problema de fondo es poco personal. No hay concierge. No lo visitaría de nuevo ni lo recomendaría.
10,0 Excelente
Ventajas: Su muelle con reposeras mirando al mar, la atención del personal , todas sus instalaciones la habitación con vista al mar
Desventajas: Mucha cantidad de gente a la hora del almuerzo y cena
10,0 Excelente
Ventajas: We loved the staff, how friendly and helpful they were. We loved the location, how close it was to ladies beach and sandal beach. We loved just about everything about the resort. It was so good we did not want to leave to go out as it had everything you could need.
Desventajas: Our view was supposed to be a sea view but it was blocked by the palm trees, we were not on the balcony enough for this to upset us though.
6,7 Bueno
Ventajas: El complejo en general.
Desventajas: El desayuno a partir de las 7 de la mañana fatal no hay de nada, hasta las 8/30 +/- que ponen de todo, en cuanto a las habitaciones hasta las 16 horas no te la hacen y en recepción te dicen que es así.
2
7,9 Bueno (399 opiniones)
Si decides alojarte en Derici Hotel de Kusadasi, estarás cerca de la playa y a apenas 1 min en coche de Playa de Kusadasi y a 5 de Playa Kadinlar Denizi. Tendrás tintorería o lavandería, un servicio de recepción las 24 horas y consigna de equipaje a tu disposición. Hay un aparcamiento limitado disponible.
8,8 Excelente
Ventajas: Good breakfast, nice location
7,5 Bueno
Ventajas: Excellent location in kusadasi Enjoyed a lot!
10,0 Excelente
Ventajas: Cama muy cómoda
6,7 Bueno
Ventajas: The breakfast was good. The location was fabulous.
Desventajas: Disappointed there were no tea making facilities in the room. The beds were very uncomfortable.
9,2 Excelente
Ventajas: faire but it could be a litter better
7,9 Bueno
Ventajas: Location - superb! Breakfast was good. Room & bathroom were clean.
Desventajas: Staff was talking during the breakfast and it was obvious they were chatting about the guests, who is fat, who is hot, who took that, who is eating bla bla bla... It was not nice And the room (its not a complain) without a view has "no view" literally. It was facing the wall. So just for the information. It was fine for us as we arrived late in the evening, had shower, slept and left in the morning. But it might be important for the others.
9,2 Excelente
Ventajas: The room had good views. And the cleaning was 100% . Had tv the only thing I think was missing was a kettle to make tea or coffee. The location was great and I was happy there
Desventajas: I had a late flight and was not being picked up till 7pm but had to be out of my room at 12, also they knocked off the wifi when I checked out so there was no way I can used it .
3
7,7 Bueno (103 opiniones)
Si decides alojarte en Happy Apart de Kusadasi, estarás junto al mar y a apenas 1 min en coche de Playa Kadinlar Denizi y a 6 de Playa de Kusadasi. Tendrás una sala de ordenadores, tintorería o lavandería y un servicio de recepción las 24 horas a tu disposición. Pagando un pequeño suplemento podrás aprovechar prestaciones como servicio de transporte al aeropuerto (ida y vuelta) (disponible las 24 horas) y aparcamiento sin asistencia gratuito.
10,0 Excelente
Ventajas: The Staff are amazing. So friendly and professional. Nothing is too much to ask them. They are all so courteous, obliging and extremely welcoming. Room was lovely, bright and airy, spacious and very clean.
10,0 Excelente
Desventajas: Booked for my mam and dad they stay here every year and love how the staff are the hotel and the location and just overall comfort! :)
10,0 Excelente
Ventajas: Wonderful, awesome, perfect accommodation. Very very friendly stuff, good value for money, swimming pool comes with the hotel, ladies beach is 5 minutes away by walking. Bus to the city center close to the hotel, 50 cents 1 ticket. You can get everything you need from the stuff 24/7.
3,3 Regular
Ventajas: Nice pool, clean water. Good location. 5 minutes walk from ladies beach.
Desventajas: It's like one of those budget airlines. Where you think you are saving, but you don't. You don't get anything and have to pay for basic things. They will charge for air conditioning. Despite whatever your booking says. The room were not cleaned in 3 nights. Towels were not replaced, when we asked they told us they are with the cleaners. Unimaginable. Sheets were also not replaced throughout our stay. No toiletries. Not even tissue papers were in the room. there was a toilet paper roll though. There is no warm water, incase you have kids the water is cold for them. There is absolutely no WiFi in the room. You only get the AC in one room even if you pay. If you are booking for more than two people. The rest will sleep in the hall. With no AC, there isn't even a mounted fan. We got a small pedestal fan when I complained. Had to rearrange the beds on my own to accommodate a mattress. I was asked to arrange the beds back at checkout. I paid the cleaner 10 Lira to avoid confrontation as I was getting late for my flight. Oh yes, so when you decide to hang the towels outside in the balcony because they haven't been replaced by clean ones, "your AC turns Off". This is because the balcony door is linked with the AC. Crazy, no? We opted to skip the breakfast on third day as the kitchen wasn't open till 8:45. The breakfast time starts from 8:30 AM.
4,5 Aceptable
Ventajas: Good location, just 5 min walk to the beach. A very nice swimming pool. We had all necessary kitchen facilities.
Desventajas: The staff didn't solve the problems we faced: * No hot water. First, they said somebody was going to come and repair it. The next day they said if we had needed some hot water, we should have informed them about it and they would have pushed a special button. The next time we did and the hot water was supposed to appear but it never did. * When we checked-in the room was dirty. And they cleaned it 2 days later after some ammount of our complaints. Nevertheless they never cleaned the bathroom ((. * AC didn't work properly, it was just making noise not cooling the air. We had to open the windows during the night, and so were tortured by mosquitos. That wasn't a good experience especially for our child. The staff pretended there weren't any problems with the AC, but later they gave us a fan. The only one thing the staff did every day was just making fun with guests, who were drinking some beer in the hotel bar. To sum up, if you want to have the hotel staff as a tourist entertainer, this is the right place for you. But if you look for a comfortable stay search for another hotel.
7,1 Bueno
Ventajas: The staff were kind and nice. The hotel was almost clean. The pool was clean. Breakfast was good.
Desventajas: Our sofa was broken but they were not replaced. There is a mosque near the hotel, where the morning Azan is very loud. You must be asleep! the biggest problem: The internet only worked in the lobby and the rooms had no internet.
7,9 Bueno
Ventajas: The personal was very kind and helpful I like this hotel and those personal
Desventajas: Not hot water on the night and some electrical problem with our phones because we can't charge our phones easy
10,0 Excelente
Ventajas: Staff were so friendly and helpful. Food was lovely have a very fussy eater so dey did everything for her to have some food she liked