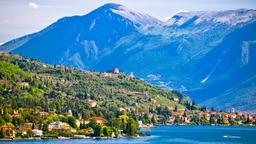 Hoteles en Gardone Riviera
Busca Gardone Riviera en cientos de webs de viajes en segundos
Información útil
| | | |
| --- | --- | --- |
| Temporada baja | septiembre | Mes más barato para alojarse con una media de 13% bajada en el precio. |
| Temporada alta | mayo | Mes más caro para alojarse con una media de 24% de aumento en el precio. |
| Precio promedio (entre semana) | $ 19284 | Precio medio para un dom. - jue.en las últimas 2 semanas. |
| Precio promedio (fin de semana) | $ 11219 | Precio medio para un vie. y sáb.en las últimas 2 semanas. |
Consejos para encontrar el hotel ideal en Gardone Riviera
Preguntas frecuentes al reservar hoteles en Gardone Riviera
¿Los hoteles son seguros en Gardone Riviera durante la crisis del coronavirus (COVID-19)?
¿Cómo encuentro hoteles cerca de mi ubicación?
¿Dónde hospedarse en Gardone Riviera?
Heatmaps te muestra la distancia entre tus opciones de hotel y las zonas principales de actividad para que encuentres el sitio ideal para hospedarte en Gardone Riviera
Las mejores habitaciones en Gardone Riviera
Los mejores hoteles en Gardone Riviera cerca de Vittoriale degli Italiani
Ver todo
1
9,2 Excelente (381 opiniones)
Si decides alojarte en Hotel Villa Sofia de Gardone Riviera, estarás en un lago y a apenas cinco minutos a pie de Parco Alto Garda Bresciano y Jardín Botánico Fundación André Heller. Tendrás check-in exprés, check-out exprés y periódicos gratuitos en el vestíbulo a tu disposición. Hay un aparcamiento sin asistencia gratuito disponible.
10,0 Excelente
Ventajas: Beautiful hotel Lovely location, nice pool and rooftop hot tub. Extremely helpful staff
Desventajas: Nothing
9,2 Excelente
Ventajas: Great staff , excellent location , nice little pool , on the spot parking . The + +++for us was breakfast under the shade of the luxurious garden . For book readers , there 's a book exchange possibility , some shelves in ground floor lounge and on 1st floor landing . Some foreign newspapers were also available . Vittoriale , the must visit , is at a close walking distance .
Desventajas: Bedding could have been a bit more modern . The last uphill bit of walk to the hotel door could be a problem for older people .
10,0 Excelente
Ventajas: Very nice pool and garden
10,0 Excelente
Ventajas: Everything, staff, facilities, breakfast & pool all fabulous
Desventajas: Disliked the bath, slippery and without rails to get out, also without a screen water everywhere !
9,6 Excelente
Ventajas: Fantastic view, large balcony, bath as well as shower, kettle in room, comfortable bed, excellent air conditioning, very helpful staff. Great location within easy walking distance of lake and Gardone Sopra.
Desventajas: Hairdryer in bathroom very basic, not suitable for hair styling, overheating and cutting out. The addition of boiled eggs to the breakfast menu would be appreciated.
9,2 Excelente
Ventajas: Great location. Staff outstanding and service level high. Breakfast wonderful. View from our room brilliant and according to what we expected. Wonderful retreat and we will be back for sure
10,0 Excelente
Desventajas: Agua caliente ducha va y viene.
9,6 Excelente
Ventajas: The location was perfect and so peaceful. Located up and away from the noisy main road through Gardone but an easy 5 min walk down to the lakeside, slightly longer to walk up , ,and 5 mins walk up from hotel to lovely old part with several Restaurants.
Desventajas: The corner bath with a hand held shower, it was difficult to keep the bathroom dry when using this . It needed a fixed shower head and curtain around bath.
8,8 Excelente
Ventajas: the location the garden the breakfast were excellent
Desventajas: all about the shower and the bath room was old and need a improvement
2
8,6 Excelente (502 opiniones)
Si decides alojarte en Hotel Savoy Palace, disfrutarás de una magnífica ubicación en pleno centro de Gardone Riviera, a solo unos pasos de Parco Alto Garda Bresciano y Parque Rimbalzello Adventure. Tendrás periódicos gratuitos en el vestíbulo, tintorería o lavandería y un servicio de recepción las 24 horas a tu disposición. Hay un aparcamiento sin asistencia (de pago) disponible.
6,7 Bueno
Desventajas: Mucho ruido de la carretera
9,6 Excelente
Ventajas: The proximity was perfect. It was beautifully clean , lovely unspoilt traditional Italian hotel. The staff were lovely and friendly and our room was spacious , immaculate with a lake view. The pool was lovely set in a beautifully manicured garden with a little path that took you straight onto the promenade. Lovely clean pool and beach towels provided. Close to catching the fast boat which takes you to the various locations around the Lake. Beds were comfortable.
Desventajas: The only criticism would be the breakfast. It was ok, but not of great imagination or quality. Other than that I would highly recommend the Hotel.
7,5 Bueno
Ventajas: Upgraded room on 5th floor was excellent, nice welcome buffet on Saturday night.
Desventajas: We paid extra for a 'superior' room with lake view. We were initially given a pokey room on the 2nd floor with a very small window, so we up had to pay extra again for a much improved 5th floor room with window balcony. The 2nd floor room should not be advertised as Superior.
8,8 Excelente
Ventajas: Lovely room with terrace. Friendly staff Breakfast very nice . great location
Desventajas: Dinner was just ok we went outside hotel second night and had fabulous meal for same price.
10,0 Excelente
Ventajas: The staff and the cleaners was so lovely and polite so helpful the views from the room was spectacular the location was amazing just a lovely Hotel cannot wait to go back next year on top of all lovely restaurants and shops
7,5 Bueno
Desventajas: Revisan con puntualidad increíble el horario del Parking azul del hotel y te multan . No aconsejo dejar el coche allí . El parking gratuito del hotel siempre está ocupado por lo que prácticamente no te dejan más opción que pagar 12 euros diarios por el parking del hotel
10,0 Excelente
Ventajas: Excellent evening terrace view of the like. Friday and Saturday live music. Possibility of nice candle light dinner at the swimmingpool. Atmosphere of classic grand hotels. Staff is very attentative.
10,0 Excelente
Ventajas: Fantastic Hotel everything great! Beautiful building, extremely nice rooms, very clean high quality amenities, great breakfast buffet! We had an idyllic holiday
Desventajas: Nothing
Popular en Gardone Riviera
Lugares de interés en Gardone Riviera