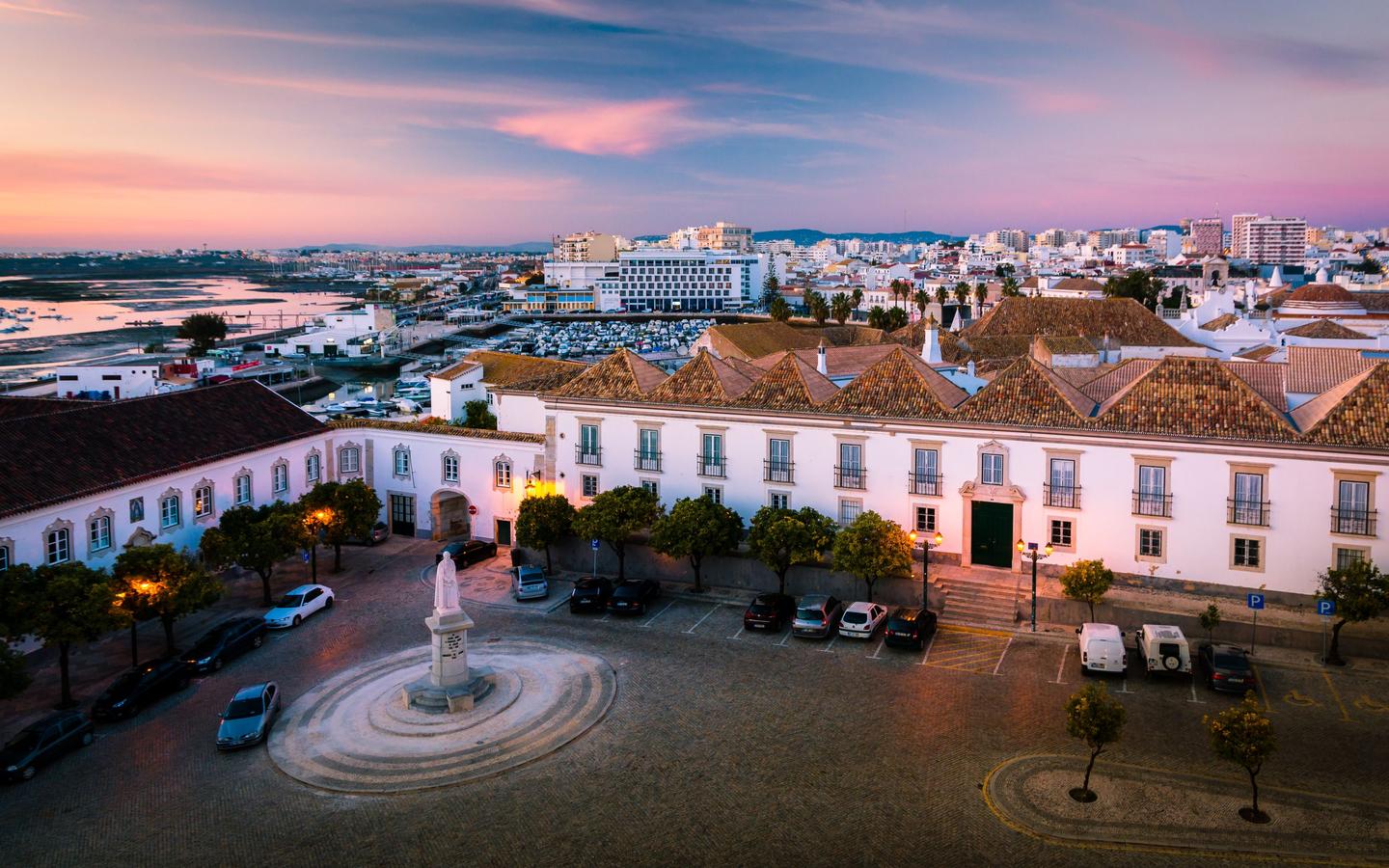 Información útil
| | |
| --- | --- |
| Temporada baja | julio |
| Temporada alta | junio |
| Precio medio (entre semana): | $ 4686 |
| Precio medio (en fin de semana): | $ 4753 |
el mes más barato
79%
bajada de precio esperada
el mes más caro
147%
aumento de precio esperado
(precio promedio en las últimas 2 semanas)
dom. - jue.
(entre semana)
(precio promedio en las últimas 2 semanas)
vie. y sáb.
(noche de fin de semana)
Preguntas frecuentes al reservar hoteles en Faro
¿Cuánto cuesta un hotel económico en Faro?
Los usuarios de KAYAK encontraron habitaciones dobles en Faro a partir de $ 1444 en los últimos 3. El precio promedio es de $ 5569.
¿Cómo encuentro hoteles cerca de mi ubicación?
Echa un vistazo a nuestros
mapas de hoteles
y encuentra los mejores cerca de ti.
¿Dónde hospedarse en Faro?
Nuestra herramienta Heatmaps te ayuda a encontrar el mejor lugar para hospedarte en Faro mostrándote opciones de hotel próximas a las actividades que te interesan.
Los mejores hoteles en Faro cerca de Catedral de Faro
Ver todo
1
8,6 Excelente (5.606 opiniones)
Si decides alojarte en EVA SENSES HOTEL, disfrutarás de una fantástica ubicación en el centro de Faro, a solo 3 min a pie de Parque natural Ría Formosa y a 7 min de Iglesia del Carmo (Igreja do Carmo). Tendrás un centro de negocios abierto las 24 horas, periódicos gratuitos en el vestíbulo y tintorería o lavandería a tu disposición. ¿Estás organizando un evento en Faro? En este hotel tienes a tu disposición 560 metros cuadrados de espacio con zona para conferencias. Pagando un pequeño suplemento podrás aprovechar prestaciones como servicio de transporte al aeropuerto (ida y vuelta) (disponible las 24 horas) y aparcamiento sin asistencia gratuito.
5,7 Aceptable
Ventajas: El personal era realmente genial, la ubicación era buena, las camas eran bastante cómodas aunque eran dos individuales y como que me prometí que queríamos una doble.
Desventajas: Internet wi-fi no funcionaba, las camas estaban encajadas- y había tres, cuando sólo necesitabamos una doble- el servicio de habitaciones selección era muy pobre, las instalaciones estaban bien, pero la piscina era absolutamente fría, la ducha goteaba por todas partes y el baño tenía moho en lechada, control de la temperatura de la habitación no funcionaba así que en un día caluroso estaba derramando aire caliente en la habitación ... que decir que era un hotel de cuatro estrellas, tiene dos estrellas Me alegro de que el personal es fantástico porque el resto de era muy pobre. Sin duda nunca volvería.
10,0 Excelente
Ventajas: The breakfast was very good, with an excellent selection ranging from continental to fruit and cereal to a fully cooked breakfast.
Desventajas: A relatively minor issue, but the fact that my wife wished to borrow an iron to press some of her clothes and was unable to do so, as reception informed us that there was only one iron in the hotel available for guests to use. She was unable to get hold of said iron during our week long stay.
10,0 Excelente
Ventajas: Great location, pool and bar on the roof are great for after a day of strolling the old town. Breakfast was great
9,2 Excelente
Ventajas: Location, comfort, cleanliness and friendly helpful staff
Desventajas: Plug sockets poorly located, noise of scraping furniture from floor above that woke me up a little earlier than hoped. However these are small points compared to the overall excellent experience.
9,6 Excelente
Ventajas: This is amongst the best hotels of its style and class that we have stayed in. Location was perfect to explore Faro and the staff were exceptionally friendly and helpful. We particularly appreciated the assistance with parking, given that we were staying 4 nights. The breakfast was very good and the breakfast venue on the top floor overlooking the ocean was amazing. A great selection of bars and sitting spaces scattered around the venue.
Desventajas: This hotel would have attracted a perfect score if it was not for its wi-fi speed - far too slow and had to revert to 4G for anything beyond a basic email
10,0 Excelente
Ventajas: Very centrally located in Faro. Extremely helpful and courteous staff, Breakfast in pristine settings
Desventajas: Nothing
9,2 Excelente
Ventajas: Very comfortable beds & room facilities. Pool area nice but not a lot of comfortable seating.
Desventajas: Nothing
6,3 Bueno
Ventajas: El desayuno
Desventajas: Las vistas
6,5 Bueno
Ventajas: Very good breakfast
Desventajas: Small room
7,5 Bueno
Ventajas: El desayuno espectacular
Desventajas: La limpieza mejorable
6,3 Bueno
Ventajas: Staff very friendly and spoke perfect English. Swimming pool and pool bar on the roof in the sunshine open 10am to 7pm. Very comfortable and a great place to chill. Hotel is 2 mins walk from Faro old town. Great place to be if visiting Faro or, as we were doing, having a lay-over waiting for a flight.
Desventajas: Clearly a drainage problem because the bathrooms had a persistent sewage smell. It was fine but not reflective of paying nearly €200 a night. Pool on the roof is great, but the airport is nearby so you hear the planes landing/taking off. Breakfast was a buffet, which was ok but overall quality not reflective of price. Coffee from a machine using powdered milk so was sweet.
8,3 Excelente
Ventajas: Great marina view..excellent breakfast
Desventajas: Pool area a bit noisy for us...mainly loud music or live act
9,2 Excelente
Ventajas: Roof Top Bar; Great Location /Views..the Beds. Reception staff, very helpful & friendly
Desventajas: Placed a Do Not Clean / Disturb sign on the door, this was ignored and cleaning staff came in
2
8,5 Excelente (3.067 opiniones)
Si decides alojarte en Hotel Faro & Beach Club, te encontrarás en una fantástica zona de Faro (Freguesia de Sé) y estarás a pocos pasos de Iglesia de la Misericordia y a apenas 3 min a pie de Ermita de Nuestra Señora de Guia. Tendrás una sala de ordenadores, tintorería o lavandería y un servicio de recepción las 24 horas a tu disposición. Este hotel pone a tu disposición 4 salas de reuniones donde celebrar todo tipo de eventos. Hay un aparcamiento sin asistencia (de pago) disponible.
10,0 Excelente
Ventajas: Great hotel in perfect location. The staff were great and the restaurant on the roof was amazing for breakfast and dinner.
Desventajas: The building itself and the corridors are a little dated.
7,1 Bueno
Ventajas: Breakfast was dreamy
Desventajas: The pool was tiny and very shallow
10,0 Excelente
Ventajas: las vistas desde el hotel
Desventajas: el aparcamiento esta situado en el bajo del hotel y no puedes reservar plaza, a veces llegas y no tienes donde aparcar, tienes que dar vueltas para poder aparcar, llegue aparcar a 1 km
10,0 Excelente
Ventajas: View from rooftop, situation and Ria Formosa restaurant for dinner. Tasting menu superb
Desventajas: No view from room apart from building next door. Pool is plunge pool with jacuzzi, no swimming
5,8 Aceptable
Ventajas: The location of the hotel and beach club , very good.
Desventajas: The hotel room was very small, it said a extra bed could be added but that would not have been possible room so small, we were given a balcony but no way could you sit out it was all rooftop no view at all.
9,6 Excelente
Ventajas: Rooftop bar and breakfast area
Desventajas: Signs for parking
9,2 Excelente
Ventajas: El zumo de naranja natural del desayuno y el transporte a la playa
Desventajas: Me gustaría que el agua en la ducha saliera con más presión y que el aire acondicionado fuera más potente
10,0 Excelente
Ventajas: Location I. Town centre
Desventajas: Trace to beach
7,1 Bueno
Ventajas: Desayuno y terraza con vistas increíbles
Desventajas: La habitación olía a humedad
10,0 Excelente
Ventajas: Ubicación y un gran desayuno en la terraza
8,8 Excelente
Ventajas: El desayuno y la vista del restaurante.
Desventajas: La limpieza de la piscina, mal cuidada!!!
Lugares de interés en Faro