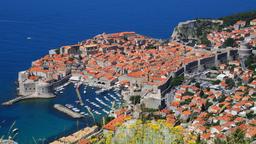 Hoteles en Dubrovnik
Busca Dubrovnik en cientos de webs de viajes en segundos
Información útil
| | |
| --- | --- |
| Temporada baja | febrero |
| Temporada alta | agosto |
| Precio medio (entre semana): | $ 6663 |
| Precio medio (en fin de semana): | $ 6304 |
el mes más barato
62%
bajada de precio esperada
el mes más caro
50%
aumento de precio esperado
(precio promedio en las últimas 2 semanas)
dom. - jue.
(entre semana)
(precio promedio en las últimas 2 semanas)
vie. y sáb.
(noche de fin de semana)
Preguntas frecuentes al reservar hoteles en Dubrovnik
¿Cuánto cuesta un hotel económico en Dubrovnik?
Los usuarios de KAYAK encontraron habitaciones dobles en Dubrovnik a partir de $ 1316 en los últimos 3. El precio promedio es de $ 7000.
¿Cuáles son los barrios más populares para hospedarse en Dubrovnik?
¿Cómo encuentro hoteles cerca de mi ubicación?
Echa un vistazo a nuestros
mapas de hoteles
y encuentra los mejores cerca de ti.
¿Dónde hospedarse en Dubrovnik?
Heatmaps te muestra la distancia entre tus opciones de hotel y las zonas principales de actividad para que encuentres el sitio ideal para hospedarte en Dubrovnik
Las mejores habitaciones en Dubrovnik
Los mejores hoteles en Dubrovnik cerca de Murallas de Dubrovnik
Ver todo
1
9,4 Excelente (265 opiniones)
Si decides alojarte en Hotel Kazbek de Dubrovnik, estarás cerca de la bahía y a menos de cinco minutos en coche de Playa de Lapad y Playa de Copacabana. Tendrás un servicio de limusina o coche con chófer, una sala de ordenadores y check-in exprés a tu disposición. Si estás organizando una reunión en Dubrovnik, este hotel pone a tu disposición 70 metros cuadrados de espacio para eventos. Pagando un pequeño suplemento podrás aprovechar prestaciones como servicio de transporte al aeropuerto (ida y vuelta) (disponible las 24 horas) y aparcamiento sin asistencia gratuito.
9,6 Excelente
Ventajas: wonderful staff...comfortable and clean rooms...location was great...perfect distance from main tourist sites (could reach them by longish walk or very easy Uber ride...but area wasn't overrun by tourists...handful of decent restaurants nearby too).
Desventajas: Expensive, so not the best value...hotel restaurant is a bit funky/gourmet
9,2 Excelente
Ventajas: La atención del personal fue perfecta. Limpieza y comodidad excelente y el servicio en general, tanto en recepción como en el restaurante fue perfecto.
Desventajas: Todo correcto. Solo comentar la distancia al centro, unos 3 km, pero se puede hacer en transporte público o incluso andando (30-40 min)
10,0 Excelente
Ventajas: El hotel es muy confortable y sus instalaciones son muy buenas Situado a 3,5 km del Centro Histórico, en una zona de Marina muy agradable Desayuno muy bueno.
Desventajas: Debido a los cambios en la meteorología, nos llovió y la temperatura no era elevada, las habitaciones estaban frías al tener el aire acondicionado preparado para el calor (dos días antes hacía calor) y no para la temperatura a la que estábamos. El hotel trató de solucionarlo.
10,0 Excelente
Ventajas: Beautiful hotel, breakfast area and pool, peaceful location and excellent service from all the staff.
10,0 Excelente
Ventajas: Everything a boutique hotel has to offer: quiet, secluded and extremely well looked after by every member of staff. The hotel is spotlessly clean and the front desk staff are very well informed and could not do enough for all the guests.
Desventajas: The only little criticism I may have is perhaps the dinner menu could be more varied.
9,5 Excelente
Ventajas: El edificio y las habitaciones. Además el personal es muy amable
Desventajas: En los alrededores no hay muchos restaurants
10,0 Excelente
Ventajas: The high standard of decor, the fantastic breakfast, the outlook from the terrace, the warm welcoming staff.... i could continue all night extolling the virtues of this hotel
Desventajas: Nothing! This place is great!
10,0 Excelente
Ventajas: Lovely room and nice location. Nice touch with added cakes. Nice room.
Desventajas: Woken up by the sound of lift doors opening/closing from 5 am onwards - not great, because I was exhausted. One tiny window which could not be opened without triggering the alarm.
9,6 Excelente
Ventajas: Beautiful hotel in a wonderful location and the s tree aff were very friendly with an excellent breakfast
Desventajas: Our attic room did not have a view and the air conditioning was noisy
7,9 Bueno
Ventajas: La tranquilidad del hotel, la elegancia de las estancias y salones y comedor, la calidad en general y el desayuno
Desventajas: Podría mejorar el baño, la ducha estaba integrada en la bañera y era complicado entrar y salir
10,0 Excelente
Ventajas: Precioso lugar, la atención del hotel es espectacular. Recomiendo comer y tomar desayuno en el hotel, todo muy fresco y riquísimo.
10,0 Excelente
Ventajas: Great location by harbour near local restaurants and Sunset Beach. Welcoming hardworking staff (Angela and Palma in particular) Spotless rooms, plentiful toiletries, perfect food and wonderful pool. A trip to remember!
Desventajas: Absolutely nothing!
2
8,5 Excelente (3.530 opiniones)
Si decides alojarte en Hotel Adria de Dubrovnik, estarás en las afueras y a menos de diez minutos a pie de Puerto de Gruž y Puerto de ferries de Dubrovnik. Tendrás tintorería o lavandería, un servicio de recepción las 24 horas y consigna de equipaje a tu disposición. ¿Estás organizando un evento en Dubrovnik? En este hotel tienes a tu disposición 43 metros cuadrados de espacio con zona para conferencias. Pagando un pequeño suplemento podrás aprovechar prestaciones como servicio de transporte al aeropuerto (ida y vuelta) (disponible las 24 horas) y aparcamiento sin asistencia gratuito.
9,6 Excelente
Ventajas: Habitaciones acogedoras, bonita decoración y limpia con unas vistas espectaculares. Personal muy agradable y atento.
Desventajas: Que está lejos del centro, pero tienes la opción de coger el bus casi en la puerta y te deja justo en el centro
3,8 Regular
Ventajas: La verdad q los camareros como en recepción muy serios y poco comunicativos
Desventajas: Nada me gusto muy apartado de todo la comida malísima y muy caro todo
8,2 Excelente
Ventajas: Overall very nice hotel,with a very friendly staff. Location is up on the hill which at first seemed far but the views of the harbor are beautiful especially at sunset and in the evening. There is a bus that run pretty regularly so it easy to get around. Rooms and all facilities were very clean and well kept.
Desventajas: Only thing I would say was bad is the food at the hotel restaurant. Went up to try it one evening and found out it was buffet style, which is fine but unfortunately all the food I tasted was awful except the fries. The fish tasted old, the tortellini chewy, and the pork was bland, Felt like such a waste of a meal especially since all my other meals were amazing! This place certainly got the prize of the worst meal in Dubrovnik. Maybe the breakfast is better but the dinner was surely a disappointment.
7,5 Bueno
Ventajas: Vistas y desayuno
Desventajas: Algunas habitaciones sin vistas
10,0 Excelente
Ventajas: Instalaciones modernas o renovadas y una muy buena atencion
Desventajas: Nada
8,2 Excelente
Ventajas: Needed to catch an early flight and return a car to the Split airport. So expect plane and road noise. However, short walk to a beautiful, community beach with locals is lovely. Just fine for the last night, especially if it's Saturday and the airport is a jammed.
7,1 Bueno
Ventajas: Las vistas parciales t las instalaciones
Desventajas: Los edificios viejos que hay casi delante
8,8 Excelente
Ventajas: Las vistas, además de la piscina y el jacuzzi que también con las mismas vistas se puede disfrutar en la planta cuarta; también en esa planta se puede disfrutar de un pasillo que la recorre, en el que un lateral es la misma piedra natural del acantilado, que a modo de decoración se ha dejado visto, realmente precioso.
Desventajas: Las vistas excepcionales de toda la ciudad y de la bahía, dejando ver más islas sobre Dubrovnik debido a que el hotel se encuentra en una de las zonas más elevadas.
7,0 Bueno
Ventajas: good breakfest, good staff, good view because of uper floor
Desventajas: it was ok
9,2 Excelente
Ventajas: El trato del personal
Desventajas: El acceso, se encuentra en la parte alta, dependes de taxi o bus pero la carretera no está habilitada para transitar al no tener apenas arcén
8,0 Excelente
Ventajas: Las vistas Atención del personal Desayuno
Desventajas: Nada
9,6 Excelente
Ventajas: Hotel en general y su vista
Desventajas: falta de locomoción para ir a la ciudad hiistorica