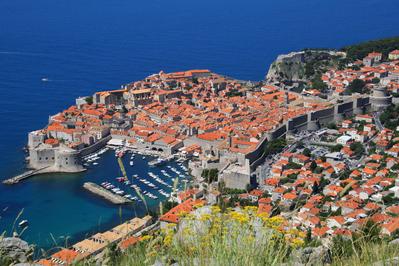 Información útil
| | |
| --- | --- |
| Temporada baja | marzo |
| Temporada alta | julio |
| Precio medio (entre semana): | $ 9491 |
| Precio medio (en fin de semana): | $ 10325 |
el mes más barato
66%
bajada de precio esperada
el mes más caro
241%
aumento de precio esperado
(precio promedio en las últimas 2 semanas)
dom. - jue.
(entre semana)
(precio promedio en las últimas 2 semanas)
vie. y sáb.
(noche de fin de semana)
Preguntas frecuentes al reservar hoteles en Dubrovnik
¿Dónde hospedarse en Dubrovnik?
Nuestra herramienta Heatmaps te ayuda a encontrar el mejor lugar para hospedarte en Dubrovnik mostrándote opciones de hotel próximas a las actividades que te interesan.
Los mejores hoteles en Dubrovnik cerca de Murallas de Dubrovnik
Ver todo
1
9,2 Excelente (252 opiniones)
Si decides alojarte en Hotel Kazbek de Dubrovnik, estarás cerca de la bahía y a menos de cinco minutos en coche de Playa de Lapad y Playa de Copacabana. Tendrás un servicio de limusina o coche con chófer, una sala de ordenadores y check-in exprés a tu disposición. Si estás organizando una reunión en Dubrovnik, este hotel pone a tu disposición 70 metros cuadrados de espacio para eventos. Se ofrece servicio de transporte al aeropuerto (ida y vuelta) de pago (disponible las 24 horas).
9,5 Excelente
Ventajas: Lovely staff. Very friendly Great breakfast Very good location Lovely pool
Desventajas: I have no complaints
8,3 Excelente
Ventajas: The receptionists are very helpfull. The hotel is very clean. It is nice to stay in an authentic hotel with hand maded furniture. We didn't eat at the restaurant so i could not give any comment on this. The breakfast was good.
Desventajas: I don't have any negative comments but it is a bit too expensive in my opinion...
10,0 Excelente
Ventajas: This was our last night in Croatia and we certainly left on a high note! Wonderful, spacious accommodations with cozy details - welcome cookies and water in our rooms, lush bathrobes, and turndown service. As our flight was very early the next morning, we appreciated the staff making our departure so seamless - getting us a taxi and waving us farewell at 4am. The hotel was a short drive (taxi or bus) to the Old Town. While we were originally nervous about not being in walking distance, it was honestly such a relief to stay in a calm neighborhood outside of the very touristy walled city.
Desventajas: Nothing at all!
5,8 Aceptable
Ventajas: The pool was nice. Having a bathtub and a shower was great after the beach.
Desventajas: It is a poncy hotel with stuck up staff. We never felt welcome. The room had a good size but just a small window high up. It made it dark, and there was no view. I guess it was also not worth to look out as the surroundings were not very nice. The breakfast had a very strange concept. One had to order every single item (butter, jam, etc.) from the menu. I would have preferred to choose from different types of breakfast or just take it in buffet form. For a boutique hotel there was nothing special on the menu. The fruit salad tasted like it had been in the fridge from the day before and there was mold on some of the fruits. We regretted we had prepaid for this type of service. We wanted to treat ourselves to a good hotel in expensive Dubrovnik but we would not recommend this experience. Croatia has a lot nicer and more welcoming apartments in this area.
9,5 Excelente
Ventajas: Everything
Desventajas: Nothing
10,0 Excelente
Ventajas: Staffs are very kind. Facilities of the hotel is excellent. I stay at the hotel even during the daytime.
Desventajas: Nothing
10,0 Excelente
Ventajas: A fantastic hotel, brilliant staff with nothing too much trouble. The breakfast was superb with a variety of choices, hot, cold, continental. Our room was beautiful over looking the pool and rear terrace.
Desventajas: Nothing
8,8 Excelente
Ventajas: Excellent
Desventajas: Nothing
9,5 Excelente
Ventajas: This is a fab hotel in a great location. It has only 13 rooms and so you are made to feel special. The breakfast on the terrace was fantastic and was the pool area. Quiet and serene.
Desventajas: I have no comments to make.
8,0 Excelente
Ventajas: La tranquilidad del hotel, la elegancia de las estancias y salones y comedor, la calidad en general y el desayuno
Desventajas: Podría mejorar el baño, la ducha estaba integrada en la bañera y era complicado entrar y salir
10,0 Excelente
Ventajas: Precioso lugar, la atención del hotel es espectacular. Recomiendo comer y tomar desayuno en el hotel, todo muy fresco y riquísimo.
10,0 Excelente
Ventajas: This was one of our best hotels we stayed at in Croatia. The staff were extremely professional and helpful and were very informative and knowledgeable of the area. The hotel exuded charm and history and our room was extremely comfortable, clean and spacious. The swimming pool area was inviting and private and we used it every day. We walked to the Old Town but for those that wish to not start their day this way then the bus system was excellent as we did used this to return to the hotel each day.
Desventajas: There is nothing we didn't like about this hotel
2
8,3 Excelente (308 opiniones)
El Bed & Breakfast Old Town Selection ofrece alojamiento independiente en Dubrovnik, a tan solo 100 metros del famoso paseo marítimo de Stradun. Dispone de conexión Wi-Fi gratuita y de habitaciones modernas que presentan una decoración única. Las habitaciones tienen aire acondicionado y una zona de estar pequeña. También cuentan con baño privado con ducha, secador de pelo y artículos de aseo gratuitos. El establecimiento se encuentra intramuros, en el centro histórico, a 4,3 km de la conocida playa de Copacabana. El puerto de Gruž está a 2.5 km, mientras que el aeropuerto de Dubrovnik se halla a 15 km.
10,0 Excelente
Ventajas: Everything. We had the top room and it was so cool and comfortable.
Desventajas: Narrow stairs to carry heavy suitcase but good luck if you can find a property here without this. It really added to its charm
7,5 Bueno
Ventajas: El desayuno era muy completo pese a ser en otro lugar.
Desventajas: No sabíamos que el desayuno era en otro lugar. Además, hubo un pequeño mal entendido.
8,8 Excelente
Ventajas: Excellent location, clean, easy to locate, welcome liquor
Desventajas: One of the beds in the twin room No 3 was very uncomfortable
5,5 Aceptable
Ventajas: la ubicacion es buena, con mas de dos tramos de escaleras que es lo indican en sus datos
Desventajas: en una cama de dos plazas, tenian puestas sabanas de una plaza, las que terminan enredandose.
9,3 Excelente
Ventajas: The host and breakfest is excellet!Location is in the downtown, but fairly quiet.
Desventajas: The insulation is not good, we have heard footsteps of others.
5,8 Aceptable
Desventajas: The bed had old mattresses so not good for the back, the beddings were old too. The fridge in the room was not working nor was the safe. The shower and location were good. No interaction with any staff
9,3 Excelente
Ventajas: Great location in Old Town
9,5 Excelente
Ventajas: great location in dubrovnik with an excellent breakfast every morning and a wonderful staff
9,3 Excelente
Ventajas: Excellent information from the hotel regarding everything: how to get there, what to do in Dubrovnik etc. Check in was possible very late in the evening and the breakfast was good. Good location in the beautiful old town.
Desventajas: Location in central old town and you have to climb a lot of steps to get there. A problem if you have a lot of luggage but otherwise nothing to complain.
8,3 Excelente
Ventajas: Villa Flora is a traditional house with a ground floor entrance and three bedrooms. It is part of a group of similar properties, so check in was via email contact and key left for us at the property, breakfast was served in another property close by. Evertything was well thought through and welcoming. We had to top floor room with a small balcony with view onto other rooftops, but no far reaching views) and twin beds. The streets in this part of Dubrovnik (running north south from the town walls to Stradum) are narrow footpaths with lots of steps! Restaurants are withing a minute's walk.
Desventajas: The aircon is not adjustable however and it was quite cool in the room especially over one of the twin beds.
6,8 Bueno
Ventajas: Excellent location - perfect in fact. Nice brandy
Desventajas: Cramped room, poor breakfast and no hot water in our room - not what you expect at all when paying a reasonable amount in a European city.
6,8 Bueno
Ventajas: Excellent location Coffee and liqueur available in lobby
Desventajas: Steep steps make access a struggle especially with heavy luggage. Traffic not allowed inside Old Town. Codes needed to access hotel and breakfast cafe. No reception staff and keys were left in envelope with name on. Our key had wrong name!
8,0 Excelente
Ventajas: Clean & comfortable. Very welcoming and helpfull staff.
Desventajas: None.
6,7 Bueno
Ventajas: The position of the apartment we stayed in was excellent inside the old town of Dubrovnik and right near Pile Gate (for local bus to the bus station). On our arrival, the manager collected us from the central bus station, which was very kind.
Desventajas: The floor of apartment needed a good clean, a fryinpg pan for the kitchen would be useful, and the is no internetaccess inside the apartment or outside the windows - the only potential access is the city's free WiFi network, that you might be able to pick up in a small outdoor area down the other end of town (We had a usb modem & bought a data sim card from Vip/Vodafone, which worked a little in the apartment). Still, we had a great stay here.
7,3 Bueno
Ventajas: The hotel is just inside the town, it's a very old building in one of the narrow streets of the town. We had a room with balcony, it was clean and very comfortable. It was just like home in the old city! Thanks for everything.
8,0 Excelente
Ventajas: The location, value for money and the room was great. Plus the awesome wine bar, D'Vino, a few doors away!!!
7,7 Bueno
Ventajas: The best things about these apartments were their central location in the middle of the old town, the helpfulness and friendliness of the owners and the value for money they offered
Desventajas: I found the breakfast somewhat repetitive with very little choice available however there was enough to eat and the hostess was lovely.
5,7 Aceptable
Desventajas: No internet eventhough it is written that there is a wireless connection!
6,4 Bueno
Ventajas: Muy bien ubicado, en la ciudad vieja de Dubrovnik. Desayuno muy bueno.
7,0 Bueno
Ventajas: Estuvo muy bien, super bien ubicado en el cerca de donde te bajas del bus en el casco antiguo. Comfortable y limpio, con una pequeña terracita en mi habitaciòn. Cada habitaciòn es un piso asique imagino que son todas grandes. Volverìa a elegirlo.
Desventajas: Cuando llegas tienes que aclarar muy bien el horario en el que lo haces o llamar del aeropuerto asì alguien t puede ir a abrir porque no siempre hay gente en recepcìòn. No hay ascensor.
7,0 Bueno
Ventajas: Lo mejor, sin duda, su ubicación junto a la catedral, en pleno centro historico. El tamaño de la habitacion correcto, Se pueden encontar apratmentos más baratos.
Desventajas: No hay servicios ya que se trata de un apartamento que alquila un particular. Hay que subir escaleras (no hay ascensor).
6,3 Bueno
Ventajas: Su ubicación en pleno viudad antigua y sus comodidades y diseño modenoPor favor, escribe al menos 15 palabras
Desventajas: No advertir a la llegada que hay que dejar las maletas fuera del apartamento a las 12 pm el día de salida igual que en un hotel
6,3 Bueno
Ventajas: La buenísima ubicación del apartamento
Desventajas: Está en un tercer piso sin ascensor, pero merece la pena pq es una buhardilla