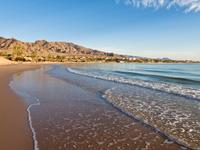 Información útil
| | |
| --- | --- |
| Temporada baja | febrero |
| Temporada alta | octubre |
| Precio medio (entre semana): | $ 1558 |
| Precio medio (en fin de semana): | $ 4423 |
el mes más barato
5%
bajada de precio esperada
el mes más caro
11%
aumento de precio esperado
(precio promedio en las últimas 2 semanas)
dom. - jue.
(entre semana)
(precio promedio en las últimas 2 semanas)
vie. y sáb.
(noche de fin de semana)
¿Dónde hospedarse en Dahab?
Heatmaps te muestra la distancia entre tus opciones de hotel y las zonas principales de actividad para que encuentres el sitio ideal para hospedarte en Dahab
Las mejores habitaciones en Dahab
Los mejores hoteles en Dahab cerca de Dahab Beach
Ver todo
1
8,2 Excelente (1.233 opiniones)
Si decides alojarte en Dahab Plaza Hotel, disfrutarás de una fantástica ubicación en pleno centro de St. Catherine, a solo 5 min a pie de Playa de Dahab y a menos de 5 min en coche de Bahía de Dahab. Tendrás conexión a Internet por cable gratis, un centro de negocios abierto las 24 horas y un servicio de limusina o coche con chófer a tu disposición. Si estás organizando una reunión en St. Catherine, este hotel pone a tu disposición 5 metros cuadrados de espacio para eventos. Pagando un pequeño suplemento podrás aprovechar prestaciones como servicio de transporte al aeropuerto (ida y vuelta) (disponible las 24 horas) y aparcamiento sin asistencia gratuito.
7,0 Bueno
Ventajas: location is great , dedicated 8 man staff , good value for money
Desventajas: colors of walls are horrible , they serve only breakfast
8,0 Excelente
Ventajas: El dueño del hotel es muy agradable y te ayuda en todo lo que puede. Las habitaciones están bien y las camas cómodas aunque bien es cierto que se le nota el paso del tiempo, con poco más lo podría tener mejor acondicionado y más con la cantidad de chavales que hay en el hotel trabajando. El desayuno está muy bien y te ofrece cafés, té y agua todo el día. Bien situado para coger GoBus y para moverte a lugares de interés o a última hora del día dar un paseo por el pueblo. Si volviese a Dahab me volvería a quedar pero lo combinaría con algún día en las cabañas que están en blue lagoon
Desventajas: Cuando no está el dueño los ayudantes que están todo el día en el hotel y son muchísimos no entienden muy bien el inglés lo que puede provocar confusiones, como la que nos pasó, que creíamos que se había confirmado un tour ya que los chicos nos decían que sin problema, y no se estaban enterando de nada...:)
7,1 Bueno
Ventajas: La ubicación y el trato del dueño y del personal
Desventajas: El polvo que lo cubría todo...estaban de obras, sin embargo daba la sensación de estar descuidando las instalaciones.
9,2 Excelente
Ventajas: The staff were helpful the location was simply perfect near from every thing
Desventajas: Nothing at all, the owner and the staff are very friendly and helpful thanks alot guys
4,2 Aceptable
Ventajas: The staff was friendly and the breakfast was ok
Desventajas: The room was not clean, there were ants and we even found a cockroach in the bathroom. The covers had stains and there was no room service. The overall level of cleanliness was horrible.
7,9 Bueno
Ventajas: La atención del personal excelente. La ubicación cerca de la calle peatonal y la parada de GoBus. El desayuno bien
Desventajas: El hotel es viejo, pero suficiente para lo que se necesita
10,0 Excelente
Ventajas: Un alojamiento de 10. El dueño es extremadamente amable. Las instalaciones del hotel muy buenas con piscina. En el precio del alojamiento entra el desayuno y es muy completo. Y esta muy cerca de la playa, restaurantes y tiendas. Totalmente recomendable. Volveremos seguro.
9,2 Excelente
Ventajas: Muy buena ubicación, desayuno muy rico, el personal súper amable
Desventajas: No se me ocurre nada
9,6 Excelente
Ventajas: Habitación amplia y muy limpia. Hotel muy bien situado, desayuno genial. Personal muy amable
7,5 Bueno
Ventajas: El dueño es una persona muy especial que va hacer lo imposible por agradarte y ayudarte en lo que sea. El desayuno es abundante y el precio es muy competitivo.
Desventajas: No hay servicio de habitaciones. El personal no va uniformado y no es nada profesional.
2
7,9 Bueno (506 opiniones)
Dyarna Dahab Hotel de St. Catherine está junto al mar y a menos de cinco minutos en coche de Playa de Dahab y Bahía de Dahab. Tendrás un servicio de recepción las 24 horas, consigna de equipaje y una lavandería a tu disposición. Hay un aparcamiento sin asistencia gratuito disponible.
5,0 Aceptable
Ventajas: La situación y la ubicación.
Desventajas: La habitación antigua, vieja y pequeña
8,8 Excelente
Ventajas: Location is Perfect. Never dreamed that I would ever be able to get up in the morning and see this awesome see view. Location is near the main street in Dahab with all facilities around the Hotel. Staff Members are great (Recipients, Barman, Chef) Housekeeping services are good. Breakfast was served well with a lot of options to choose from. Very good laundry service with reasonable prices.
Desventajas: Doors and dreeser wasn't in a good condition. Pool always cold (No warming system).
9,2 Excelente
Ventajas: Amazing location .. friendly staff ..
Desventajas: Nothing
6,3 Bueno
Ventajas: The air conditioning the room worked perfectly (although VERY loud). The view from the room was really nice. The pool and pool chairs were clean and comfortable, lots of shade from the sun was provided. Mini fridge in the room was great. 24 reception made it easy to check in as flight times were in the middle of the night (however when we left for the airport at 01:00 no one was around so it was good we settled our bill earlier in the day). Cheap stay.
Desventajas: The room was extremely basic and run down, it could really use a small renovation. The sheets on the bed felt like they were 25 years old and the mattress was falling apart. The shower was a trickle and there wasn't warm enough water. I don't need a hot shower when it's 40 degrees outside but I need enough warm water to shower without goosebumps. The door at the entry to the room has a space at the bottom, I found cockroaches in the bathroom twice. We were told the pool bar would open at 12, but no one was there. Only has breakfast at the hotel once, it was not good. You are better off paying for breakfast elsewhere.
7,9 Bueno
Ventajas: La amabilidad de los recepcionistas, de Amgad poniendo el dessyuno y del chico del bar de ls piscina
Desventajas: La limpieza del baño y la dificil accesibilidad a la playa... Una plataforma para poder tirarse y hacer snorkel sería lo ideal
9,2 Excelente
Ventajas: The location was really good, since the hotel is placed with somewhat the same distance to either end of Dahab - from the lighthouse to the lagoon - and this is very convenient. You can then go diving during the day and go for the sunset in the late afternoon. The hotel is calm and quiet, which I liked, and the staff is helpful and friendly.
Desventajas: Breakfast could offer a little more options.
10,0 Excelente
Ventajas: Great view, great staff ❤️
3
7,5 Bueno (239 opiniones)
9,6 Excelente
Ventajas: They were extremely friendly and the cats where extremely friendly
3,3 Regular
Ventajas: Nada, solo la posición.