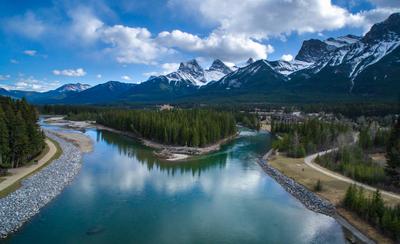 Información útil
| | |
| --- | --- |
| Temporada baja | octubre |
| Temporada alta | agosto |
| Precio medio (entre semana): | $ 11748 |
| Precio medio (en fin de semana): | $ 13068 |
el mes más barato
48%
bajada de precio esperada
el mes más caro
13%
aumento de precio esperado
(precio promedio en las últimas 2 semanas)
dom. - jue.
(entre semana)
(precio promedio en las últimas 2 semanas)
vie. y sáb.
(noche de fin de semana)
¿Dónde hospedarse en Canmore?
Nuestra herramienta Heatmaps te ayuda a encontrar el mejor lugar para hospedarte en Canmore mostrándote opciones de hotel próximas a las actividades que te interesan.
Los mejores hoteles en Canmore cerca de Canmore Museum and Geoscience Centre
Ver todo
1
9,2 Excelente (1.851 opiniones)
Stoneridge Mountain Resort by CLIQUE de Canmore está en la montaña, a apenas 4 min a pie de Proveedor de depores de aventuras Yamnuska Mountain Adventures y a menos de 5 min en coche de Cuevas de Canmore. Tendrás un centro de negocios, check-out exprés y un servicio de recepción las 24 horas a tu disposición. ¿Estás organizando un evento en Canmore? En este complejo tienes a tu disposición 139 metros cuadrados de espacio con una sala de reuniones. Hay un aparcamiento sin asistencia gratuito disponible.
10,0 Excelente
Ventajas: The staff was excellent. Great value for the money. Well worth it. Having the Black Dog Cafe on site is a definite plus!
Desventajas: Underground parking is a nice amenity but the clearance was so low only cars would fit. I had to park my standard size pickup on the street.
10,0 Excelente
Ventajas: My family thoroughly appreciated the attention to detail in everything.....room, staff and of course, the heated parking lot. We will definitely use again next time we are in Canmore, Alberta.
Desventajas: no.
8,0 Excelente
Ventajas: Underground parking is helpful during blizzards. Short drive or long walk to restaurants. Its a typical condo. Better than a hotel room, but not your home. Gas fireplace is nice. Mattresses are satisfactory. Coffee, cream, sugar and filters all provided.
Desventajas: Bed pillows are too hard.
9,3 Excelente
Ventajas: i had very good time. room was large enough. staff were very friendly. alot of free parking lot.
Desventajas: leaving there
9,5 Excelente
Desventajas: Although I fully paid for the room for the week, the desk clerk said we had only paid for one night. We had to use another credit card to pay again. That charge showed up as "processing" online but never went through.
10,0 Excelente
Ventajas: Fantastic return visit. Accommodation perfect. Spectacular views. Attentive staff.
Desventajas: All good.
10,0 Excelente
Ventajas: I saw bunnies in my lawn
Desventajas: nothing
4,0 Aceptable
Desventajas: Good evening. I checked in on July 21th, and my room number is 112. I came back to my room today and I found that someone have stolen nearly half of my estee lander face cream out of the jar. It is really obvious because my face cream was bought in July in Beijing International Airport and it worth 3800 Chinese RMB which is 725 CAN$. I do give tips before I went out today, but I didn't know why you treated your customers like this, is that because I'm a foreigner? I was angry that this had happened on the first day of my stay. I feel disrespected. I have already take photo for evidence. I hope you could find a way to solve to problem. 2019/7/22 Zhang Ying
7,0 Bueno
Ventajas: The king bed was great and the kitchen was amazing
Desventajas: The sofa bed was very uncomfortable and we had to go out and buy a blow up mattress
10,0 Excelente
Ventajas: Amazing! Room was clean, cozy and comfy. It honestly felt like we were at home. The staff were super friendly and accommodating. Very quick to react to any issues. I would 100% stay here again. Loved every aspect of it, including the location.
Desventajas: Would've preferred a better mountain view. There was a partial view which was still ok. It did however rain most of the days we stayed and it was cloudy so that hid a bit of the view. Regardless, it was a beautiful room.
8,8 Excelente
Ventajas: Excellent location
Desventajas: Beds are too soft, we preferred to sleep in floor.
10,0 Excelente
Ventajas: Everything. What a lovely hotel. From top to bottom it was excellent.
Desventajas: We have absolutely nothing to note here.
2
7,8 Bueno (2.671 opiniones)
Grande Rockies Resort - Bellstar Hotels & Resorts de Canmore está en la montaña y a menos de cinco minutos en coche de Canmore Museum and Geoscience Centre (museo científico) y Proveedor de depores de aventuras Yamnuska Mountain Adventures. Tendrás un centro de negocios abierto las 24 horas, un servicio de recepción las 24 horas y consigna de equipaje a tu disposición. Hay un aparcamiento sin asistencia gratuito disponible.
4,0 Aceptable
Desventajas: Un montón de cosas en el baño no funcionaban.
8,5 Excelente
Ventajas: Pedimos que mejorara nuestra habitación para la segunda estancia de noches y el personal era muy servicial. Un niño hizo caca en la piscina, mientras que estaban allí, por lo que sólo pude utilizar la piscina un día por desgracia, pero lo que ya puede hacer?! De todos modos disfrutamos de nuestra estancia seguro!
6,5 Bueno
Ventajas: El colchón era cómodo y el personal de la mañana era bastante amable.
Desventajas: Nuestra ubicación en la habitación era terrible, poder acceder a todas las comodidades era bastante desafiante. El estacionamiento fue tenía un diseño extraño y sólo después de la llegada nos enteramos de que ni siquiera proporcionan champú. No volveré a este complejo.
7,7 Bueno
Ventajas: The view from our room and the swimming area was nice for a family.
Desventajas: The change area was very small for the pools and no change tables. The water was cold in the kiddie pools but we kept alternating from the hot tub. The breakfast was a really long wait.
9,7 Excelente
Ventajas: We travelled with a toddler and the stay here was perfect! Our kid loves the pool. The only downside was that we wanted to upgrade and even though a room was available we couldn't upgrade because it wasn't clean. But yo make up for it the housekeeping gave us a microwave which got to the room even before we did! Great staff. We had breakfast at the Habitat everyday and it was decent. We did appreciate their willingness to let us switch items or order stuff on the side for our kid. Overall, great place!! Very clean! Nice facilities.