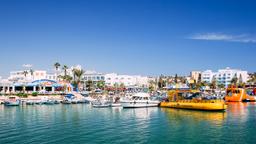 Hoteles en Ayia Napa
Busca Ayia Napa en cientos de webs de viajes en segundos
Información útil
| | | |
| --- | --- | --- |
| Temporada baja | abril | Mes más barato para alojarse con una media de 29% bajada en el precio. |
| Temporada alta | septiembre | Mes más caro para alojarse con una media de 18% de aumento en el precio. |
| Precio promedio (entre semana) | $ 9528 | Precio medio para un dom. - jue.en las últimas 2 semanas. |
| Precio promedio (fin de semana) | $ 10891 | Precio medio para un vie. y sáb.en las últimas 2 semanas. |
Consejos para encontrar el hotel ideal en Ayia Napa
Preguntas frecuentes al reservar hoteles en Ayia Napa
¿Los hoteles son seguros en Ayia Napa durante la crisis del coronavirus (COVID-19)?
¿Dónde hospedarse en Ayia Napa?
¿Cuáles son los mejores hoteles cerca de Grecian Bay Beach?
¿Cuánto cuesta un hotel en Ayia Napa?
¿Cómo encuentro hoteles cerca de mi ubicación?
¿Dónde hospedarse en Ayia Napa?
Heatmaps te muestra la distancia entre tus opciones de hotel y las zonas principales de actividad para que encuentres el sitio ideal para hospedarte en Ayia Napa
Las mejores habitaciones en Ayia Napa
Los mejores hoteles en Ayia Napa cerca de Limanaki Beach
Ver todo
1
8,9 Excelente (1.414 opiniones)
Si decides alojarte en Grecian Bay Hotel de Ayia Napa, estarás cerca de la bahía y a solo 15 minutos a pie de Museo Municipal THALASSA y Parque con esculturas Ayia Napa. Tendrás un centro de negocios, check-in exprés y periódicos gratuitos en el vestíbulo a tu disposición. Hay un aparcamiento limitado disponible.
8,8 Excelente
Ventajas: The hotel sits on the best sandy beach in Cyprus. It was irresistible I had to swim and I swam in December!!
Desventajas: I don't know how they rate hotels or who rates them but this is a very good four star hotel and not five. The missing point is on the fine details. For example the beach towel lady could tell me politely to give back my towel from the inside rather than gesturing me
10,0 Excelente
Ventajas: Cleanliness, very good service and food
9,6 Excelente
Ventajas: Overall great hotel with all the extras (jacuzzi, sauna, heated pool) contained in the price for the night!
Desventajas: The water had no pressure in our room. The cleaning staff knocked on the door at 11:45 telling us that its time to go, whereas the checkout time is 12:00. The only way to go to the heated pool from the main building is to go from outside, there was no easy access from our room!
9,6 Excelente
Ventajas: Good location, perfect beach, comfortable rooms with stunning sea view, good breakfasts
Desventajas: Rooms need some renovation, especially bathrooms
8,0 Excelente
Ventajas: Dinner and breakfast was nice. The bed was very comfortable and the view from the balcony was amazing. The service was great and the staff was all very polite.
Desventajas: The water flowing from the toilet and the washing basin was not clean.
10,0 Excelente
Ventajas: I was very pleased overall with the stay, the staff and also the accommodation. Everything was very clean, cozy and beautiful ! I loved the sea view room and for sure i'm considering visiting the property again !
Lugares de interés en Ayia Napa