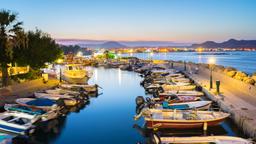 Hoteles en Faliraki
Busca Faliraki en cientos de webs de viajes en segundos
Información útil
| | | |
| --- | --- | --- |
| Temporada baja | mayo | Mes más barato para alojarse con una media de 40% bajada en el precio. |
| Temporada alta | agosto | Mes más caro para alojarse con una media de 29% de aumento en el precio. |
| Precio promedio (entre semana) | $ 9101 | Precio medio para un dom. - jue.en las últimas 2 semanas. |
| Precio promedio (fin de semana) | $ 7753 | Precio medio para un vie. y sáb.en las últimas 2 semanas. |
Preguntas frecuentes al reservar hoteles en Faliraki
¿Los hoteles son seguros en Faliraki durante la crisis del coronavirus (COVID-19)?
¿Cómo encuentro hoteles cerca de mi ubicación?
¿Dónde hospedarse en Faliraki?
Nuestro mapa te ayuda a encontrar el lugar ideal para alojarte en Faliraki, ya que te muestra la ubicación exacta de cada hotel.
Los mejores hoteles en Faliraki cerca de Faliraki Beach
Ver todo
1
9,3 Excelente (59 opiniones)
Si decides alojarte en Apollo Beach de Rodas, estarás cerca de la bahía, a apenas 3 min a pie de Playa de Faliraki y a 5 en coche de Playa de Kallithea. Tendrás conexión a Internet por cable gratis, una sala de ordenadores y check-in exprés a tu disposición. Hay un aparcamiento sin asistencia gratuito disponible.
9,0 Excelente
Ventajas: The hotel is nicely located, at the sandy beach and near the center of the town, so it was easy to reach cafes around if wished. Helpful personnel - we've got a room upgrade for free (great view directly to the sea!) and all questions and requests were dealt in a nice and quick way. Tasty food, we had half board and there was always something to choose from.
Desventajas: Nothing really serious to complain about. During the week of stay, there was a couple of evenings with music played by the bar outside. Since we were with a small baby, we would prefer less noise after 10pm.
8,8 Excelente
Ventajas: Great location in faliraki
9,6 Excelente
Ventajas: Service, food, swimningpools
Desventajas: Please do something about the distribution of the towels for swimming!!!
6,7 Bueno
Ventajas: 1. The location of the hotel was excellent, as it was in the heart of Faliraki close to many bars, restaurants, etc. 2. The beach was amazing, it was all sandy and the water was crystal clear.
Desventajas: 1. The hotel needs renovation. The rooms, especially bathrooms are old. 2. The quality of the food was below average. 3. There was a very strange smell in the corridors
10,0 Excelente
Ventajas: everything was heavenly!
Desventajas: nothing. everything is devine we cant stop smiling
4,3 Aceptable
Ventajas: Good location. Nice breakfast.
Desventajas: Staff could have been politer -we were checked in three hours late and told by the manager that this is because the maids had been sent off to lunch -very silly considering checkout is at 12 and checkin at 1. Check out also a headache as they attempted to charge my card twice. Hotel has a good location but is overpriced for what it is.
5,6 Aceptable
Ventajas: We enjoyed the proximity of the beach to the hotel and the huge grassy area as well.
Desventajas: there was a sewage odour as you walked in to the main driveway.
2,8 Mediocre
Ventajas: The beach
Desventajas: Everything!!!! Style of room.furniture.bathroom.smell of the towels.terrible noise for the room near the restaurant.in one word the hotel needs urgently renovation!!!
2
8,9 Excelente (109 opiniones)
Si decides alojarte en Apollo Blue de Rodas, estarás a pie de playa, a pocos pasos de Playa de Faliraki y a apenas 4 min en coche de Playa de Kallithea. Tendrás un centro de negocios, tintorería o lavandería y un servicio de recepción las 24 horas a tu disposición. Las instalaciones para eventos de este hotel incluyen centro de conferencias y una sala de reuniones. Pagando un pequeño suplemento podrás aprovechar prestaciones como servicio de transporte al aeropuerto (ida y vuelta) (disponible las 24 horas) y aparcamiento sin asistencia gratuito.
10,0 Excelente
Ventajas: Great hotel. Very nice staff. Great location. Very nice big rooms. Nice spa. Many swimming pools.
7,9 Bueno
Ventajas: Delicious food in the restaurant. Sloping entrance to the sea, clean beach
Desventajas: We didn't like the fact that several times we were denied a warm juice at the restaurant (most often by a Vaso waitress) (the baby had a sore throat). They had to contact the manager. We still didn't like the fact that the hotel has no relaxation area for the elderly who want peace of mind))) We were not comfortable because we were asked to close our children 's mouth because it prevented them from laughing.
7,5 Bueno
Ventajas: Loved the private pool.
Desventajas: Air conditioning was below what I would have expected. Not enough choice for children at evening dinner.
6,7 Bueno
Ventajas: Facilities are great, location and beach is very good
Desventajas: Breakfast was terrible, the same food over and over again, we even found a moth in the food.
10,0 Excelente
Ventajas: Todo!! Las piscinas, la gente amable todo!!
7,5 Bueno
Ventajas: Good breakfast, very nice staff in the breakfast restaurant. Inside of the room was clean. Nice pools, not too crowded. The entire hotel didn't feel too crowded which is great. And during the day it was rather quiet (until the night). Good location, near some nice restaurants (walking distance).
Desventajas: Very noisy - we were traveling with a baby, and requested a quiet room. Every night there was loud music (show or wedding) and fireworks around the pool until 11-11:30pm. Could hear anything in the room. Also any noise from hallway and outside of the room. The balcony was infested with ants. The manager did say he's sorry but it's still unfortunate. When AC on it's too cold during the night (and when it's off it was too hot). Seems like the AC control (temperature) didn't change anything. Pool towels - need to go and take pool towels from spa (depositing a card) on the first day, and keeping them, and then come back once a day to replace them - that's quite a hassle and really inconvenient.
7,7 Bueno
Ventajas: The room was spacious, light, modern and close to a lovely pool. Very good service, excellent breakfast.
6,7 Bueno
Ventajas: The Greek people were very friendly. The location was great, right on the beach.
Desventajas: Water leaks in hallways, no airconditioning the first night. We booked a junior suite with sharing pool, but we were on the second floor, so to access the shared pool we had to go down one floor -others were able to access the pool directly from their rooms.
8,0 Excelente
Ventajas: Nice Wiew, good location close to the beach. Excelent breakfast.
Desventajas: The Zink level in the Bathroom was very low. Very odd with dresscode for dinner in the resturant. Whant to where leisure on my holiday
5,7 Aceptable
Ventajas: quiet hotel
Desventajas: HB/All inclusive system doesn't work
8,0 Excelente
Ventajas: Very pleasant sty, relaxing. Accomodation was excellent & luxurious. Sharing pool was fantastic. Location was fantastic
Desventajas: Internet connection was poor & should have been free for guests
8,0 Excelente
Ventajas: Cool pools (hotel attached) - plus great beach location.
Desventajas:
8,0 Excelente
Ventajas: Brilliant hotel, adventure located, very good service.
Desventajas: No
7,6 Bueno
Ventajas: Situacion al lado de la playa, servicio bueno,
6,4 Bueno
Ventajas: Nice and new
Desventajas: Bed was too hard