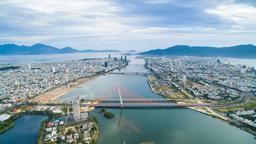 Hoteles en Da Nang
Busca Da Nang en cientos de webs de viajes en segundos
Información útil
| | |
| --- | --- |
| Temporada baja | febrero |
| Temporada alta | octubre |
| Precio medio (entre semana): | $ 5666 |
| Precio medio (en fin de semana): | $ 5172 |
el mes más barato
50%
bajada de precio esperada
el mes más caro
146%
aumento de precio esperado
(precio promedio en las últimas 2 semanas)
dom. - jue.
(entre semana)
(precio promedio en las últimas 2 semanas)
vie. y sáb.
(noche de fin de semana)
Preguntas frecuentes al reservar hoteles en Da Nang
¿Cuánto cuesta un hotel económico en Da Nang?
Los usuarios de KAYAK encontraron habitaciones dobles en Da Nang a partir de $ 372 en los últimos 3. El precio promedio es de $ 3140.
¿Cuánto cuesta un hotel en Da Nang esta noche?
En las últimas 3 horas los usuarios encontraron Da Nang hoteles para hoy a partir de $ 399. También encontraron hoteles 3 estrellas desde $ 399 y 4 estrellas desde $ 972.
¿Cómo encuentro hoteles cerca de mi ubicación?
Echa un vistazo a nuestros
mapas de hoteles
y encuentra los mejores cerca de ti.
¿Dónde hospedarse en Da Nang?
Heatmaps te muestra la distancia entre tus opciones de hotel y las zonas principales de actividad para que encuentres el sitio ideal para hospedarte en Da Nang
Las mejores habitaciones en Da Nang
1
8,7 Excelente (4.524 opiniones)
Si decides alojarte en Danang Golden Bay, te encontrarás en una fantástica zona de Da Nang (Centro de la ciudad de Đà Nẵng), estarás a 3 min en coche de Han River y a otros 6 min de Centro comercial Vincom. Tendrás un centro de negocios abierto las 24 horas, check-in exprés y periódicos gratuitos en el vestíbulo a tu disposición. ¿Estás organizando un evento en Da Nang? En este hotel tienes a tu disposición 500 metros cuadrados de espacio con centro de conferencias. Se ofrece un servicio de transporte desde el aeropuerto hasta el hotel gratuito (disponible las 24 horas) y servicio de transporte desde la estación de tren también gratuito.
8,0 Excelente
Ventajas: Infinity pool was amazing
Desventajas: Location isn't great. Far from beach. Can only do things at the hotel
9,6 Excelente
Ventajas: Todo. Excelente calidad en todos sus servicios.
Desventajas: Está un poco alejado del centro, pero tiene servicio de lanzadera gratis para visitar el centro y la playa.
9,6 Excelente
Ventajas: Me gustó mucho el servicio y el trato recibido. Tuvimos un problema con la maleta en el aeropuerto y desde el hotel estuvieron muy pendientes respondiendo con rapidez los mensajes. El desayuno es excelente, con muchísima variedad para todos los gustos. Tienen además un autobús gratuito que hace una ruta por la ciudad para que puedas ir/volver sin tener que preocuparte por el traslado. Además incluye un té/merienda por cada noche que te alojes. Camas comodisimas y la piscina es un lujazo.
Desventajas: Más tumbonas en la piscina y el espectáculo del hotel terminó sobre las 23:00. Si te pilla la habitación al lado y necesitas acostarte pronto es un inconveniente.
9,0 Excelente
Ventajas: Everything
Desventajas: None
6,7 Bueno
Ventajas: We are a family of four we could book the family suite.
Desventajas: Being vegetarian we found the breakfast options a bit repetitive at time and also the milk quality wasn't great. Check in and Check out processes were slow.
9,6 Excelente
Ventajas: The view and the infinity pool were absolutely amazing. Shuttle bus services to city/beaches and airport.
Desventajas: Location was a bit out of the city.
8,8 Excelente
Ventajas: They have free shuffle bus, which makeup for the location. The scenic and garden was great, breakfast was very good it has variety of everything. Staff was very helpful and friendly.
Desventajas: Only the location, but they had free shuffle bus.
10,0 Excelente
Ventajas: Great service
Desventajas: Not much around - shops
7,1 Bueno
Ventajas: La habitación era grande y las camas cómodas. La piscina tiene unas vistas increíbles. El servicio de shuttle era muy puntual. Las recepcionistas son muy amables. La cerveza en el bar del lobby es muy barata.
Desventajas: Anuncia varios restaurantes pero en realidad no funcionan, tienen horarios mas acotados o menus cerrados por lo que nunca comimos ahi. Fuimos un dia a tomar algo al bar en la ultima planta y casi morimos por una baldosa floja. La zona de piscina es una pena porque tiene solo 10 reposeras por lo cual no se puede pasar mucho tiempo ahi. Esta ademas llena de gente ya que el tamaño es insuficiente para la cantidad de habitaciones. La espera en los ascensores es mortal. El aire acondicionado es muy fuerte y no se puede regular. El te de la tarde que ofrecen gratis es una bandeja de sobras secas. Pocas toallas en la habitación. Shampoo y acondicionador de mala calidad. Muy poca calidad en general para lo que se espera de un hotel cinco estrellas.
8,8 Excelente
Ventajas: Nice view - Thuan Phuoc Bridge from the room and from the swimming pool. The staffs was helpful and friendly. Amazing tea Afternoon. The staff told us about free transport to city, that was so useful, but the grab (like uber) was so easy also.
Desventajas: For a 4*+ hotel, this breakfast was not so good, maybe that good for Korean guests only. One thing but the staffs answered the customer in different ways. Maybe that was a new one.
2
8,8 Excelente (2.190 opiniones)
Disfrute de una escapada de lujo en el Four Points by Sheraton Danang, un hotel estilo resort situado en la costa de Da Nang. Aquí, gracias a la impresionante vista panorámica a la inmaculada playa y a la dinámica ciudad de Da Nang, los huéspedes disfrutarán de una brillante combinación de encanto de lujo y servicio cordial. Con 390 habitaciones distribuidas en 36 pisos, nuestros alojamientos están exquisitamente diseñados para promover la relajación y la productividad. Coma en el exclusivo restaurante The Eatery o relájese en la piscina en la azotea mientras bebe un cóctel refrescante o una cerveza artesanal en Horizon Bar. Deléitese con una gran variedad de tratamientos orgánicos en Serenity Spa, que ofrece una impresionante vista al mar y al horizonte. Los visitantes aventureros desearán conocer los cercanos lugares declarados Patrimonio de la Humanidad por la UNESCO (la antigua ciudad de Hoi An, la ciudad imperial de Hue y el santuario My Son).
7,0 Bueno
Ventajas: Location of hotel. Good spread of breakfast mainly asian
Desventajas: SPA service and charges
8,8 Excelente
Ventajas: Very good service, staffs always have smiles on their faces.... they are friendly.
Desventajas: Not of my notice
10,0 Excelente
Ventajas: Perfect location to city and attractions. Friendly and very helpful staffs, exceptional customer service. Special thanks to Ms. Hien from Marketing (Sales) Dept for making our trip more memorable.
6,0 Bueno
Ventajas: The view
Desventajas: More like a 4 star hotel
5,8 Aceptable
Desventajas: Location is "out of nowhere ". Bad sound proof, bathroom water, talkingand door closing sounds. Worst thing next door there's construction working until midnight and start working before the sun rises.
8,8 Excelente
Ventajas: Close to city center and the beach. And to our surprise all restaurants inside the hotel have tasty local and fusion cuisine at a reasonable rate.
10,0 Excelente
Ventajas: Dealing and helpful of staff I trust it . Mr. Tino in reception more kind and helpful
Desventajas: Location , variety of food in breakfast
10,0 Excelente
Ventajas: Great location, friendly helpful staff, clean and new facilities, really enjoyed it and right across from the beach.
Desventajas: Nothing
Lugares de interés en Da Nang