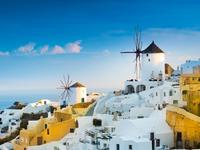 Información útil
| | |
| --- | --- |
| Temporada baja | enero |
| Temporada alta | diciembre |
| Precio medio (entre semana): | $ 7555 |
| Precio medio (en fin de semana): | $ 7912 |
el mes más barato
55%
bajada de precio esperada
el mes más caro
78%
aumento de precio esperado
(precio promedio en las últimas 2 semanas)
dom. - jue.
(entre semana)
(precio promedio en las últimas 2 semanas)
vie. y sáb.
(noche de fin de semana)
Preguntas frecuentes al reservar hoteles en Míkonos
¿Dónde hospedarse en Míkonos?
Nuestra herramienta Heatmaps te ayuda a encontrar el mejor lugar para hospedarte en Míkonos mostrándote opciones de hotel próximas a las actividades que te interesan.
Los mejores hoteles en Míkonos cerca de Mykonos Town Hall
Ver todo
1
9,4 Excelente (274 opiniones)
Si decides alojarte en Myconian Korali de Míkonos, estarás cerca de la playa y a menos de cinco minutos en coche de Molinos de Míkonos y Playa de Ornos. Tendrás un servicio de limusina o coche con chófer, un servicio de recepción las 24 horas y una lavandería a tu disposición. Se ofrece servicio de transporte al aeropuerto (ida y vuelta) gratuito a petición.
9,6 Excelente
Ventajas: El desayuno increíble, las habitaciones, los ammenities, los cocktails, la situación y la amabilidad del personal.
Desventajas: La ambientacion de la piscina con los plasticos amarillos y la piscina en si, algo pequeña para ese hotel. Igualmente a mi me daba igual ya que tenia piscina privada.
10,0 Excelente
Ventajas: Excelente Hotel, servicio y ubicación. Muy bueno el restaurante, en especial el menú degustación.
10,0 Excelente
Ventajas: What a place! From the moment we arrived the staff were absolutely amazing, so welcoming, explained everything in detail about the hotel places to visit etc. Nothing was too much to ask and they were all happy to help. Amazing hotel would highly recommend. Location was great too about 10 min walk to Mykonos Town.
9,2 Excelente
Ventajas: Very nice hotel with extremely good service across the board.
Desventajas: On the pricey side for what it is - but it is Mykonos.
10,0 Excelente
Ventajas: The hotel was excellent. The staff and amenities were amazing. Everyone was so kind and helpful. Always asking us how our day was and if they could help with anything. Bonus was that you have three hotels on one property so you have 3 pools and 3 restaurants/bars to choose from. The food was amazing. 5 stars for this property. I will definitely be visiting again!!
8,3 Excelente
Ventajas: Amazing stay at the Korali. The service and staff were exceptional and the property is lovely... However, this is not a 5 star standard hotel. For the price we paid we would at the very list expect a proper bathroom facility in the room, what we got was not that at all unfortunately. Also they do not provide tea, coffee and water as complimentary in the room, again to me that is not a five star offering. Lovely stay, but unfortunately not 5 star.
9,6 Excelente
Ventajas: Amazing Hotel, the view of our room is amazing , the best service and the stuff many gentle and educated with the smile on their face all the time, will definitely return, me and my friends love the days there..!!
Desventajas: Nothing
10,0 Excelente
Ventajas: Very friendly staff, that takes cares about everything. One of the best staff that we have every met in hotels. Always with smile and ready to help. The rooms with pool are very comfortable with amazing view. Baos restaurant is very recommended - for our opinion the best restaurant in Mykonos for the fine dinner at sunset.
Desventajas: The way to the city (Hora) is very problematic, narrow road with no shoulders at all. Especially at night it's not just uncomfortable but it's also very dangerous. We used the car to park at the port parking outside of the city - although the walking distance is similar to the walk distance to the hotel but at least it's safe.
10,0 Excelente
Ventajas: Excellent. Great staff, view, comfort, delicious choices at the breakfast buffet. Everyone is very nice. It must come from the top. Whoever hires and trains staff deserves kudos.
Desventajas: My willpower to eat less at the breakfast buffet.
9,6 Excelente
Ventajas: Location and services
Desventajas: Nothing
10,0 Excelente
Ventajas: Fantastic Staff, very professional and plesant. Pay attention to all details and provided all information request. We would like to come back! We really recommend this Hotel.
Desventajas: We like everything!
9,2 Excelente
Ventajas: Exceptionally good service! Comfortable room with a beautiful view. Great breakfast with champagne. Beautiful modern decor. Walking distance to the town although along a narrow and busy road.
2
8,8 Excelente (278 opiniones)
Si decides alojarte en Tharroe of Mykonos de Míkonos, estarás en el casco histórico y a menos de cinco minutos en coche de Playa de Ornos y Iglesia de Panagia Paraportiani. Tendrás un centro de negocios, un servicio de limusina o coche con chófer y check-in exprés a tu disposición. ¿Estás organizando un evento en Míkonos? En este hotel tienes a tu disposición 80 metros cuadrados de espacio con una sala de reuniones. Pagando un pequeño suplemento podrás aprovechar prestaciones como servicio de transporte al aeropuerto (ida y vuelta) (disponible las 24 horas) y servicio de transporte al punto de embarque de cruceros.
10,0 Excelente
Ventajas: Loved everything about this hotel . One thing I want to add is that not only the hotel was fantastic , the staff was lovely and so very accommodating . Really enjoyed staying there.
9,2 Excelente
Ventajas: The location, the staff, the breakfast and it felt like a private villa as the hotel was not crowded at all. The veranda was nice.
Desventajas: There were no sockets in the toilet to charge toothbrush and the hairdryer. The bathroom needed renovation.
10,0 Excelente
Ventajas: Just that Awesome.
Desventajas: Nothing it was always beyond my expectations
5,0 Aceptable
Ventajas: Transfers to and from the port. Good views of the town.
Desventajas: Instant coffee in a superior room was terrible. I expect a pod machine in 5 star hotels. Very small shower. Poor service in the bar and restaurant. No wine knowledge.
10,0 Excelente
Ventajas: everything was great.
9,2 Excelente
Ventajas: Super comfortable bed, lovely clean hotel with fresh towels, very good breakfast, in room tea and coffee facilities with a free large bottle of mineral water every day, friendly welcoming staff, spectacular roof terrace with pool, jacuzzi and breathtaking sunset view.
Desventajas: Suggestion: replace the complimentary shower gel/soap/shampoo bottles with locally sourced products such as Greek olive oil based samples which many 4/5* hotels now seem to be offering (nicer than coming all that way on holiday only to discover London toiletries). In room coffee was sachets of Nescafé original instant which was fine as a one-off but could be better.
9,6 Excelente
Ventajas: The staff were fantastic. All so friendly and made you feel really welcome and comfortable. The room was lovely as was the breakfast. And that view is worth the climb!
10,0 Excelente
Ventajas: Staff is service oriented and they anticipate your needs
Desventajas: Need bigger Van for multiple transportation
4,6 Aceptable
Ventajas: The view, the staff , the restaurant was good but very limited menu
Desventajas: The room was incredibly small, shower was extremely small, which made it hard to move in . Way way over price $ $650/night . The Tv in the room is 20 inch , the furniture is old . The pictures of the room looks much better the the actual room. We were 3 person and I had booked a room for 3 but the room that I got was not big enough even for 2 and we felt we were stuck.
8,3 Excelente
Ventajas: La atención del personal fue muy buena, muy amables y serviciales. La ubicación y la vista del hotel excelentes. El desayuno también muy bueno
9,2 Excelente
Ventajas: Everything was perfect
Desventajas: The location was to far
10,0 Excelente
Ventajas: La hospitalidad y diligencia del equipo del hotel.