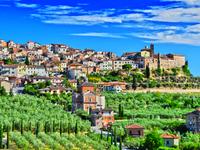 Información útil
| | |
| --- | --- |
| Temporada baja | noviembre |
| Temporada alta | diciembre |
| Precio medio (entre semana): | $ 6516 |
| Precio medio (en fin de semana): | $ 6670 |
el mes más barato
0%
bajada de precio esperada
el mes más caro
1%
aumento de precio esperado
(precio promedio en las últimas 2 semanas)
dom. - jue.
(entre semana)
(precio promedio en las últimas 2 semanas)
vie. y sáb.
(noche de fin de semana)
¿Dónde hospedarse en Chianciano Terme?
Heatmaps te muestra la distancia entre tus opciones de hotel y las zonas principales de actividad para que encuentres el sitio ideal para hospedarte en Chianciano Terme
Las mejores habitaciones en Chianciano Terme
Los mejores hoteles en Chianciano Terme cerca de Chianciano Art Museum
Ver todo
1
8,9 Excelente (615 opiniones)
Si decides alojarte en Hotel Reali de Chianciano Terme, estarás a apenas 1 min a pie de Val di Chiana y a 10 de Baños termales Terme di Chianciano. Tendrás periódicos gratuitos en el vestíbulo, consigna de equipaje y una caja fuerte en recepción a tu disposición. Hay un aparcamiento sin asistencia gratuito disponible.
2
8,9 Excelente (368 opiniones)
Si decides alojarte en Albergo Martini, disfrutarás de una magnífica ubicación en pleno centro de Chianciano Terme, a solo unos pasos de Val di Chiana y a apenas 10 min a pie de Baños termales Terme di Chianciano. Tendrás atención multilingüe, un ascensor y café o té en las zonas comunes a tu disposición. Este hotel pone a tu disposición 2 salas de reuniones donde celebrar todo tipo de eventos.
7,9 Bueno
Ventajas: Mr. Martini and his family. The price was good, cheaper than prices at hotels in nearby villages. Very engaging with guests. It's very 1970s style with few updates so it's a trip back in time. It even has the telephone booths. The 4-course dinner at the hotel was good, with salad, first and second courses for about €18. The breakfast was fine and if you like pastries like cakes, Mr Martini offers many of his homemade specialties. It's a fine spot for a night or two stopover to sleep along the way in Tuscany. The hotel has a lot of rooms so you can always count on finding a spot here.
Desventajas: Parking was up the street, although free, a bit inconvenient. Although there was an air conditioner in the room it was not turned on. If we wanted to use it, it would cost an extra €4-5 for half a day and €7+ for a full day. Although possibly reasonable, not convenient. Also the refrigerator wasn't available, unless you paid extra. The hallways were dark and it'd be nice if sensors would be installed so to not have to find the hallway switches in the dark. The lime green in the dining room was too much and too vibrant. But it fit the 60s-70s theme.
9,6 Excelente
Ventajas: The location is excellent.
Desventajas: The entire building is in need of maintenance ,particularly fittings in the bathroom.
9,6 Excelente
Ventajas: El personal es muy simpático y amable, tanto el dueño como el personal de recepción y comedor. El desayuno y la habitación estaban muy bien.
Desventajas: El aire acondicionado no funcionaba.
10,0 Excelente
Ventajas: El desayuno todo casero
Desventajas: Un sitio muy tranquilo, el dueño muy atento a todo. Muy recomendable
10,0 Excelente
Ventajas: We liked our experience from the very start. The staff and the owners were all very helpful, eager to please and to make our stay as comfortable as possible. The town has seen better times, and we discovered a lot of the hotels are permanently shut. This appears to be because going to a health spa for holidays is no longer as fashionable as it once was. We went to the thermal pool "Piscine Theia" for the morning and loved the experience of being in a steaming thermal pool outdoors in Autumn in the Tuscan countryside. The pools are well designed, clean, well maintained and have a good cafe. It's a great addition to the normal holiday activities. The hotel staff were only too happy to lend us towels to take. On our first evening, we decided to eat at the hotel. We didn't realize we needed to give them notice first, and they were very accommodating, so the next night we let them know at breakfast!! The meal was truly a surprise, and far exceeded expectations. They have a good chef at the hotel, and his cooking is country style home cooking. Excellent quality, simple and delicious. They had a small buffet table with antipasto and vegetables, and then they served 4 courses. I can only say excellent value for money, and it would be difficult to find a better meal in a family style restaurant. Breakfast was typical Italian, with delicious cakes and biscuits home made. They also had cereals and yoghurt, bread with cheese and salami and prosciutto and fresh fruit. MMore than adequate. The location is great, hence I can't understand why there are so many hotels closed. Close to Montepulciano, Val D'Orca, Pienza and so many other lovely villages and towns. Chianciano is a great place as a base to explore this region, and it would be difficult to find a better package than at Albergo Martini.
6,3 Bueno
Ventajas: Hotel was clean, staff helpful. The owner is very proud of how tidy his hotel is (and fetched a dictionary so he could tell me so in English). There are a lot of options for breakfast (most of them cake).
Desventajas: I was surprised to be told that aircon cost extra, as this wasn't mentioned on the listing when I booked (although I was using the app on my phone, so perhaps it would be easier to find on the website). Given that it was August, aircon was definitely neccessary. Shower featured a rather elderly concertina door, which stuck.
8,3 Excelente
Ventajas: Wonderful staff. Incredibly kind and helpful! Also, the room and lounge were very clean.
Desventajas: There is no parking; only street parking. The bar fridge in the room did not work well and there was an extra fee to use it.
8,8 Excelente
Ventajas: The owner Mr. Martini was exceptionally kind and hospitable to help us with parking and unloading luggage for checking in our room. He even gave us an intro of the breakfast buffet the next morning.
Desventajas: Room and bathroom was a bit small. No view in our room. The window in bathroom was very small and unattractive...
3
8,3 Excelente (545 opiniones)
Si decides alojarte en Hotel Del Buono Centro Benessere de Chianciano Terme, estarás cerca de un campo de golf, a pocos pasos de Val di Chiana y a solo 3 min en coche de Balneario Piscine Termali Theia. Tendrás check-in exprés, consigna de equipaje y un ascensor a tu disposición.
10,0 Excelente
Ventajas: Good breakfast, home made cakes
9,2 Excelente
Ventajas: We truly loved our stay at his hotel, especially because of the inspiring hospitality the people showed us. This Hotel is fully managed by an Italian family, their kindness and helpfulness is outstanding. We would reccomend this hotel to everyone!
Desventajas: May be the bathroom was a little bit small, but this was only a problem in our room. We were able to pick different rooms, with bigger bathrooms. We wanted to be next to the terrace and pool, so our problem actually.
10,0 Excelente
Ventajas: La atención del personal, que fue excelente, y las instalaciones.
Desventajas: La almohada era un poco baja para mi gusto.
10,0 Excelente
Ventajas: Delicious breakfast including home made light cakes. We strongly recommend the Spa therapist "Marta" for massages she is amazing and very professional. Warm welcome from the team in general.
4,2 Aceptable
Desventajas: Bad breakfast, ugly neigbourhood. Would not recommend staying here at all. The receptionist advised us that we got a very good price (€72), because normally the room is €87. This seems very expensive for this outdated hotel. Oh and if you want to go in the pool you are obliged to wear a haircap for which you have to pay yourself. Book elswehere!
10,0 Excelente
Ventajas: We came back after a first trip since we were impressed by the place and the people. We will be back.
10,0 Excelente
Ventajas: Family run hotel. Staff is very friendly. English is possible. Rooms are renovated and spacious. Continental breakfast is included. Price is very good for what you get. Swimming pool on the roof top has nice views. Extra offerings include Spa facilities (turkish bath, kneipp treatment and cave-like hot tub pool) and massage.
10,0 Excelente
Ventajas: Great place and awesome hospitality. The massage is not to pass up, truely floated back to my room after. Highly recommend.
9,6 Excelente
Ventajas: La habitación grande y la cama muy cómoda
Desventajas: El pueblo no es especialmente bonito, aunque estas cerca de los sitios que hay que visitar
10,0 Excelente
Ventajas: Amazing hospitality, always ready to help and make the stay comfortable. Awesome spa..hotel location is close to all facilities. Would love to come back!
9,6 Excelente
Ventajas: Family run hotel, very welcoming of solo travel.
6,7 Bueno
Ventajas: La atención del personal. La piscina en la azotea.
Desventajas: Las fotos no tienen nada que ver con la realidad. La mayoría son del spa, al cual no fuimos porque no estaba incluido en el precio (son 20 euros más por persona). Pero viendo las dimensiones del hotel, no es de esperar que sea muy amplio. En la azotea tiene una piscina pequeña, pero bonita y con buenas vistas. La otra piscina que aparece en las fotos está en una finca privada a 2 km del alojamiento. En cuanto a las habitaciones, en general todo muy antiguo (sobre todo el baño). Yo le daría categoría de hostal con poca reforma. La nevera no funcionaba cuando llegamos a la habitación, pero el dueño nos solucionó el problema cambiándola por otra de otra habitación vacía. El desayuno muy normalito, con bollería fresca pero muy mejorable.